Atlanta is synonymous with Southern food, but our sandwich game deserves just as much attention. You can find a good version of nearly every type of sandwich somewhere in the metro area, from bahn mi to po'boys to fried chicken to Philly cheesesteaks. There's a artistic process to sandwich construction, and the following five have that down perfectly. Whether you want something spicy, crisp, cool, or gooey, these are just a few of my favorites that are guaranteed to satisfy. Go ahead, try to resist them.
1. The Italian Grinder at Fred's
Chef Todd Ginsberg's version of this classic at Fred's Meat & Bread uses housebaked Cuban rolls to cradle paper-thin folds of provolone, mortadella, salami, and roasted pork shoulder. The meat is topped with tangy and incredibly spicy chopped peppers and a mound of shredded iceberg lettuce dressed in olive oil and red-wine vinegar. The blend of flavors is so classically Italian American, you'll feel as if you've been transported to a grinder shop somewhere in New England. 99 Krog Street, 404-688-3733; 75 5th Street
2. Cheesesteak at Mad Italian
Along a nondescript access road, you'll find this stalwart serving one of the most perfect cheesesteaks around. Griddled onions and gooey, white, melted, American cheese smother thin slices of tender steak. All of it is stuffed inside an airy but strong "proper roll"—bread so important that it has its own page on the Mad Italian website. 2089 Savoy Drive, Chamblee, 770-451-8048
3. The Roasted Lamb at Alon's
The success of this sandwich starts with the country French bread made in-house at the Dunwoody location (the original Alon's is in Morningside). Between the bread, perfectly rosy slices of lamb redolent of garlic couple beautifully with sweet red-onion marmalade—a flavor combination that should be as classic as lamb and mint jelly. 1394 North Highland Avenue, 404-872-6000; 4505 Ashford Dunwoody Road, 678-397-1781
4. Just Veggin' at LottaFrutta
The Just Veggin' is further proof that meat is hardly a prerequisite for sandwich perfection. The shop's Latin-style, grilled "sanduches" are served on soft, sweet, toasted bread, and this particular variant is composed of avocado, tomato, cucumber, sprouts, and warm, creamy Havarti cheese. It's hearty, healthy, and totally dreamy. 590 Auburn Avenue, 404-588-0857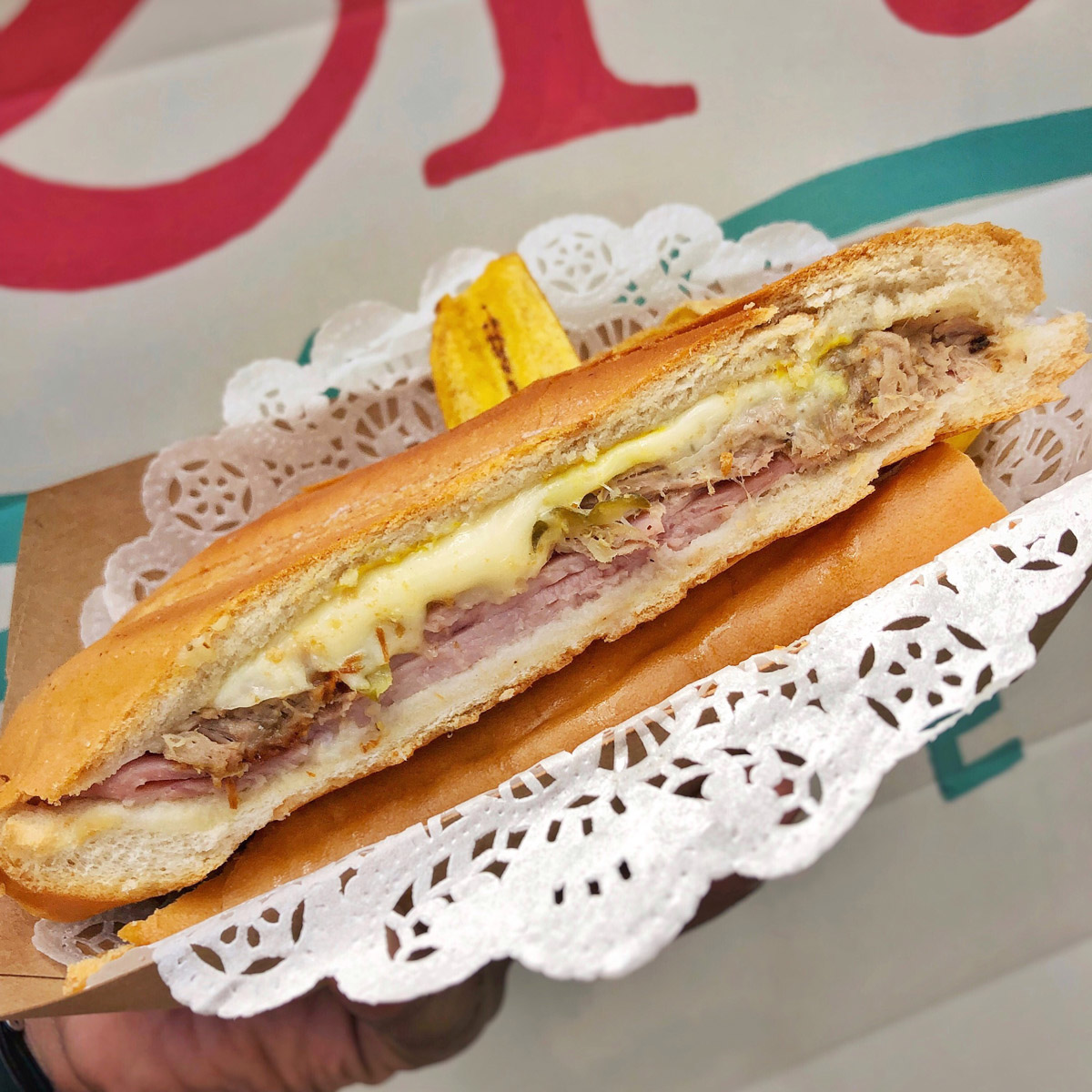 5. The Cuban at Buena Gente
No other Cuban sandwich comes close to this version from peripatetic food truck Buena Gente, whose daily stops are announced weekly on Instagram. A boneless shoulder pork marinates overnight in homemade mojo and roasts for four hours. The pork then joins ham, Swiss, mustard, and pickles on crusty bread slathered with salted butter, and the whole thing is compacted on a sandwich press weighted down with foil-wrapped bricks. The result is a crackly exterior like creme brulee that gives way to the salty, porky filling. buenagenteatl.com
This article appears in our July 2019 issue.