Spiller Park Coffee has quietly started selling bagels on Fridays and Sundays. As it turns out, this is not just an attempt at a new menu item, but a taste test for a bagel shop and delicatessen called Dear Friend, Bagels. Spiller Park owner and operator Dale Donchey makes all the bagels himself, and plans to open Dear Friend early next year as a way to explore his Jewish heritage through food.
"I'm an explorer who wants to feed people. There needs to be a Southern Jewish voice to the food that's created here," he says. "New York and Montreal shouldn't be the only two voices represented."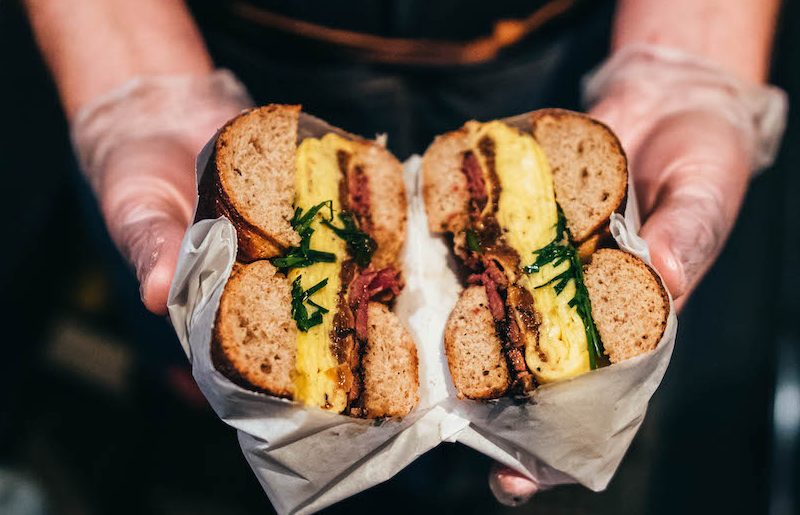 He uses fresh milled rye and whole wheat in his bagel dough, and malt and honey when he boils them. The result is what he believes is the perfect ratio of chew versus crust. He'll sell these at Dear Friend in flavors like everything, salt, cinnamon and sugar, and poppy with sumac, along with sandwiches piled high with corned beef, egg salad, and whitefish salad. Traditional Jewish foods like matzo ball soup, knishes, latkes, and challah will be served. Spiller Park baker Caroline Martin will make babka, black and white cookies, and other pastries popular at New York delis.
"For me, the delicatessen is the Jewish experience. Comfort food is what got us through a long history of hard times," Donchey says.
Dear Friend will serve breakfast and lunch via counter service. There will be egg creams, celery soda, and house-roasted Intelligentsia coffee, but no alcohol (at least at the beginning).
Donchey is still searching for Dear Friend's forever home. He's considering Ponce City Market, where Spiller Park currently has a location, as well as on Mitchell Street Downtown. Until then, you'll find him—and his bagels—at Spiller Park. 675 Ponce de Leon Avenue Northeast and 2929 North Druid Hills Road