Ever since Jonathan Waxman's Italian restaurant Brezza Cucina closed at Ponce City Market last year, the cold, industrial-looking space has sat vacant, like a ghost amid an otherwise vibrant food hall. Tal Baum and her Olivia Restaurant Group (Bellina Alimentari, Aziza, and Rina) are set to change that with the opening of Atrium Monday, January 31.
"Before, everything was exposed. We wanted to close it off to create an intimate and different experience," Executive Culinary Director Brandon Hughes says.
To do that, the team divided the space into two distinct areas with a lounge-style entryway and plastered arches connecting them. A neon-lit, floral-backed "Atrium" sign greets guests, and the green-and-white mazelike floor design and fringed chandeliers set the tropical mood as you enter. The interior windows have been moved so those in the market can see shadowed movement, enticing them into the parlor on the left, with bar tiles hand-painted by local ceramicist Charlotte Smith. Inside, the whimsical pink-and-green decor is welcoming without overwhelming the senses. Rounded pink banquettes are paired with cocktail tables. The barback is mint with white subway tile underneath. In the far corner, the walls are anointed with a Kipper Millsap hand-painted bird mural so precise it looks like wallpaper. There's a faux fireplace with dried adding some space between the banquettes.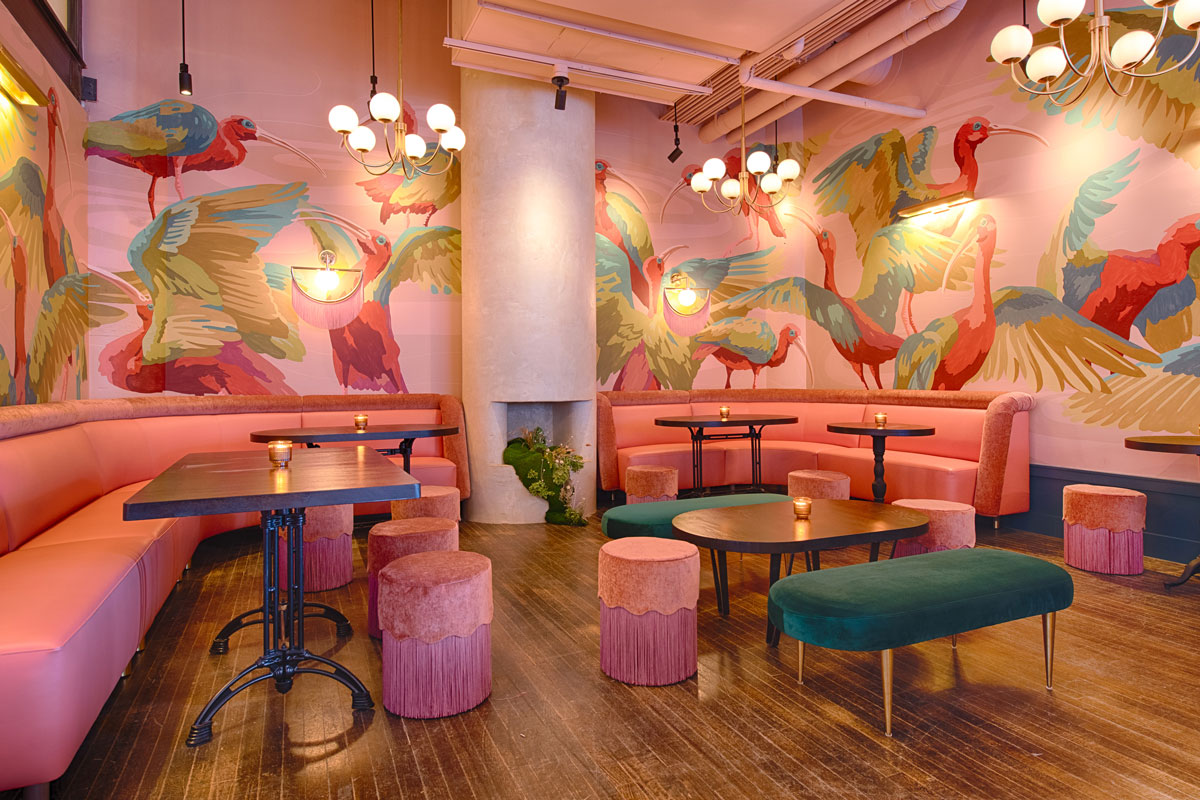 "We're creating a space that is fun and engaging and takes you somewhere else. [Here], we can transport you to a different world," Baum says.
This world is light, airy, and even a bit feminine. Compiled by beverage director Demario Wallace, it offers "a very aggressive" cocktail list (in terms of size), Hughes says, and a comparable wine list to that at Bellina, except with varietals from across the world instead of just Italy. There will be a "good number" of bubbles.
"We like funky. If it tastes good, it's going on the menu," Hughes says.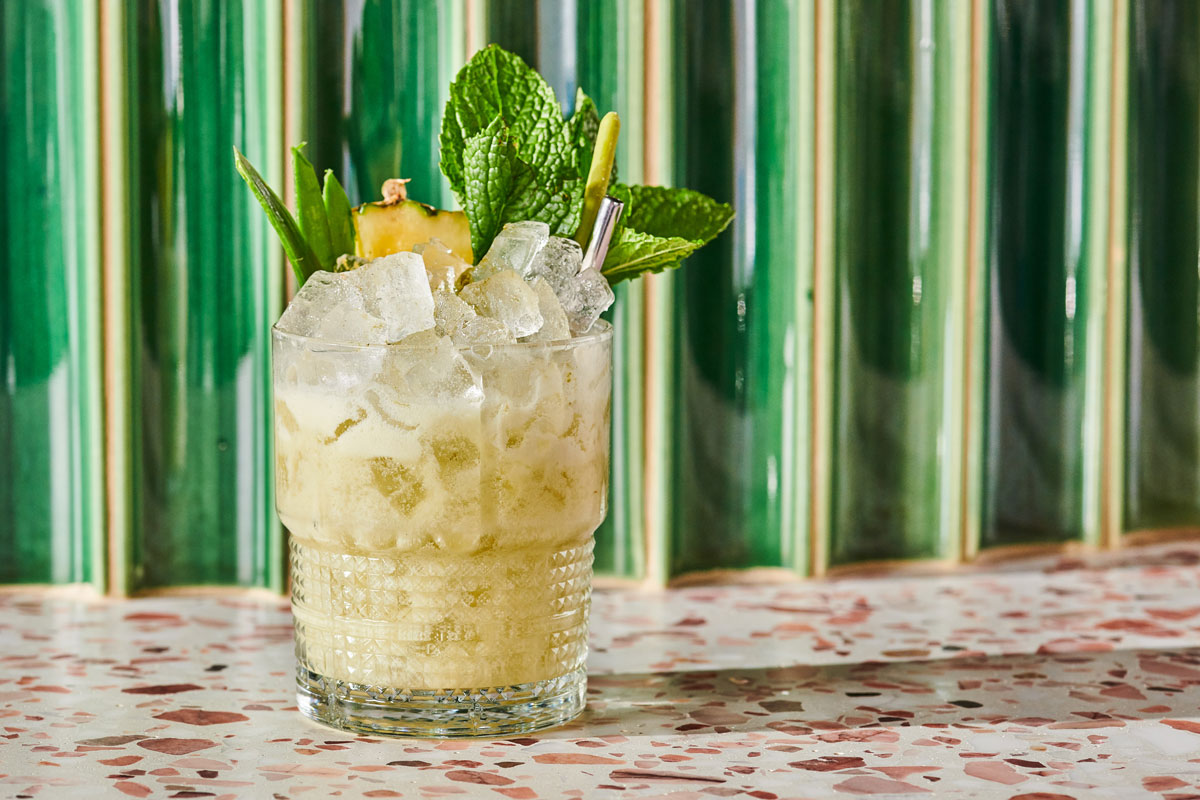 As with the beverages, the food is not tied to a certain cuisine. "It's dishes that make us feel good and we want to share with others," Baum says.
She explains that the food at Atrium represents her next chapter. "I lived in Italy (Bellina). I grew up in Israel (Aziza). Rina is my grandmother," she says. "Atrium and our future projects represent where we're going as a restaurant group. This is our vision, it's what inspires us."
This includes seasonal dishes with a focus on seafood and vegetables. There will be crudo, raw seafood, and vegetarian dishes like roasted honeynut squash with curry made with carrots and coconut milk, grilled bok choy, preserved lemon, and toasted pepitas. The burger has dry aged beef trim in it and "fancy sauce" on top. In addition to lighter items like octopus with winter squash marmalade and a yuzu tart with basil granita and honey cremeux, there will be duck and bistro steak. Lunch and dinner will share a menu with an eight-item weekend brunch offering in the works.
"We're using super classic, French cooking techniques," says Hughes, who is working with executive chef Cole Pate.
The dining room features big windows overlooking Ponce de Leon Avenue, dried flowers and greenery from Pinker Times hanging from the ceiling, and wood floors with white diagonal lines. Seating 170, its Olivia Restaurants' biggest space yet. However, it will offer a paired down cocktail list from the bar, highlighting drinks that pair with well food. Martini service will be self-serve, tableside.
"We want to push the boundaries at the market," Baum says.
When she's satisfied with her work there, she'll turn her attention to Buckhead Village, where she's opening a coastal cuisine restaurant called Carmel in the second half of 2022. Named for her daughter, the California city, and her Israeli hometown, Carmel will feature bright, bold flavors—fish and seasonal items cooked over a 72-inch hearth.
View the menu below. (Tap to enlarge.)