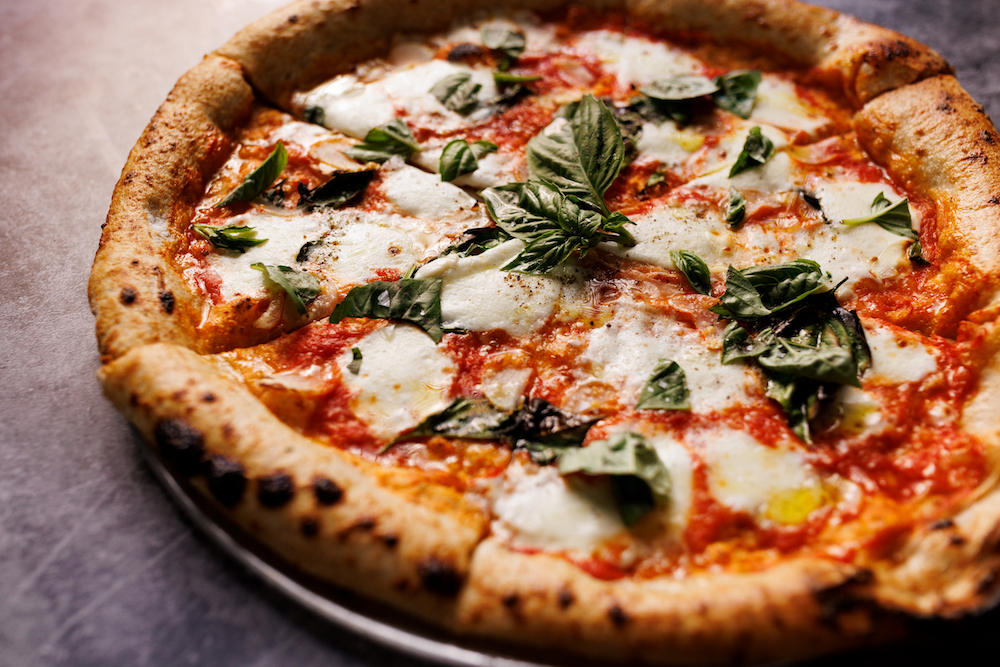 With a recent wave of accolades for Lazy Betty and Juniper Cafe, chefs Ron Hsu and Aaron Phillips have a lot to be proud of. But the duo strives to be humble with a mutual respect for their staff and the farmers and purveyors who provide the basis for their restaurants. Even the ingredients themselves are placed in the spotlight, treated with the lightest touch and utmost care to let them shine. This is the inspiration for Humble Pie, Phillips and Hsu's new venture in the Interlock on the Westside. Designed to be a neighborhood restaurant, Humble Pie will serve pizza, burgers, and other quintessential American fare. It's slated to open January 18.
"We wanted a name that resonates with our values and an indication of the type of food. Pizza is a pillar of American cuisine," Hsu says.
"It's about hospitality and how we make people feel," Phillips adds. "There's been a lot of turmoil in the world. We want to create a place where all that falls away."
Diners will be able to see the wood-burning pizza oven, where the whole wheat-sourdough-based pies will cook. The crust will most closely resemble New York-style, but the toppings and varieties allude to all different areas of the U.S.: clams for New England, Cajun shrimp for New Orleans, and broccoli and cheese for Hsu's childhood in Atlanta. Aaron and Phillips will make a truffle butter dip for the pizza similar to the one they made when they worked at Le Bernadin. Other menu items include burgers, oven-roasted chicken, salads, eggplant steak, and potato pie.
Hsu's cousin, Evelyn Ling is the executive chef. She brings experience from Juniper Cafe, as well as Pancake Social and Bacchanalia. Pastry chef Carelys Vazquez will be preparing a seasonal selection of pies and desserts, including cranberry slab pie, chocolate mudslide pie, and apple buckle cake. 
In the spirit of staying humble, the beverage menu will focus on local beers and ciders from places like Orpheus Brewing, Wild Heaven Beer, Three Taverns Brewery, and Urban Tree Cidery. The wine list will emphasize natural, biodynamic, and organic options; cocktails will utilize local spirits. Options include Apple Picking (mezcal, apple cider, negro amaro reduction, cinnamon, honey, mint, and Sorrento lemons) and Buzz Cap (Malfy gin, Tangelo, rosemary, cardamaro, egg white, and soda).
Located on the south side of the Interlock between Velvet Taco and Maple Street Biscuit, the 4,300-square-foot space is decorated with steel and industrial elements, balanced by pops of color and plenty of greenery alluding to Atlanta as a "city in the forest." Pie shapes are sprinkled throughout the restaurant from the floor to the exterior signage.
The pie theme even applies to the kitchen staff's pay. Humble Pie will give 3.14 percent of sales, or the mathematical approximation of pi, to hourly kitchen employees. "Cooks work really long hours. They get burned and cut. It's a stressful job, and they usually earn significantly less than servers and bartenders," Phillips says. "The cooks should be able to support themselves with a livable wage."
Reservations are available on Resy.
Tap to view the full menu below.