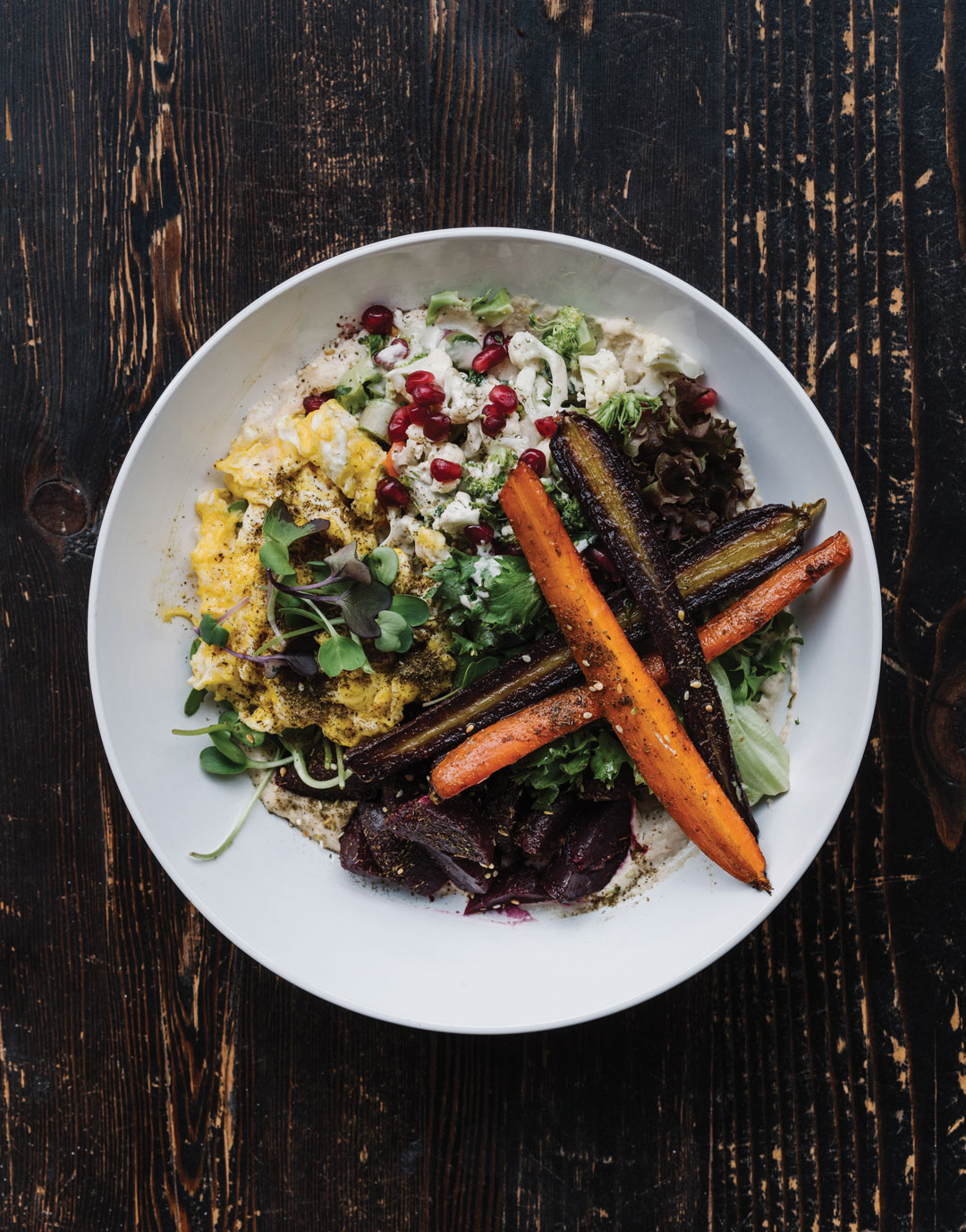 On one side of Bellina Alimentari, customers can buy prosciutto crudo, balsamic vinegar from Modena, and more than 10 shapes of dried pasta. On the other side, they can sip lambrusco made in Emilia Romagna and eat chicken cooked Milanese style, pounded thin and coated with breadcrumbs and Parmesan cheese.
The 4,000-square-foot market and wine bar in Ponce City Market is clearly, fiercely Italian. Its owner, perhaps less obviously, is Israeli.
Tal Baum was born in the northwest port city of Haifa and grew up eating shawarma and bourekas, pastries filled with savory ingredients such as potatoes or spinach. But she wasn't convinced Atlanta was ready for that food when she opened Bellina Alimentari four years ago. Or maybe it was her own hesitation: "It's a complex culinary culture," she says, one she wasn't quite prepared to represent. The "safer bet," she decided, was to focus on "already familiar and loved" Italian cuisine.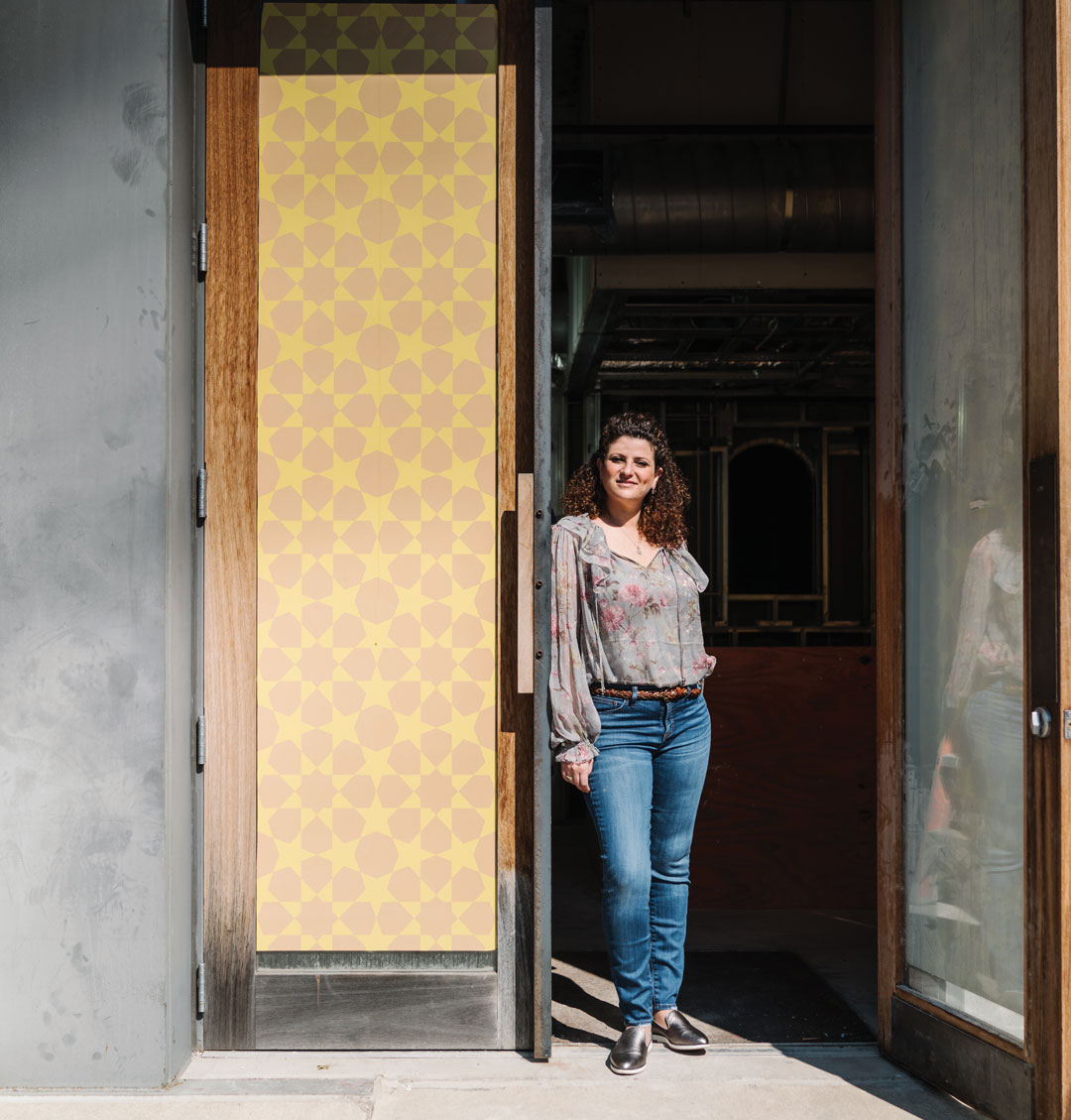 To be fair, that wasn't exactly a difficult choice. Baum got to know and love polenta and porchetta and pinzimonio herself, as a young adult studying architecture at the University of Florence. "I felt like I left my heart there," she says of Italy, where she lived for seven years before moving to Atlanta.
Now, after proving that "I know what I'm doing" with Bellina Alimentari, Baum is working on two new restaurants, scheduled to open this summer, that are closer reflections of her identity: "100 percent Israeli."
Though there are abundant "Middle Eastern" restaurants in Atlanta, ones designated as "Israeli" are rare; Baum and a few other chefs are trying to change that. Rina, which Baum refers to as an "Israeli diner," will be a family-friendly spot in the Ford Factory Lofts offering salads, hummus, falafel—Baum's grandmother's recipe—and grilled meats reminiscent of those found in a shipudia, or a skewer house. ("It basically means skewer-ria; I don't know how to translate that!") Over in the Westside Provisions District, Baum will use Aziza and its wood-burning oven to serve more Sephardic-leaning foods. "That's where I want to highlight the Israeli dishes that people don't necessarily know about, the ones that have roots in Persia and Syria and Lebanon and Morocco and Iran." (Baum is an Ashkenazi Jew; her husband is a Sephardic Jew.)
Baum admits that, until recently, she was nervous about the idea. "Some people love Israel," she says, putting it simply, "and some people do not."
The Israeli-Palestinian conflict is older than the country itself, and the question about what exactly constitutes Israeli food can be a heated source of debate. When Rachael Ray tweeted a photo in late 2017 of an "Israeli feast" including hummus and stuffed grape leaves, complaints about Israel's so-called appropriation of dishes that had long been staples of Arab kitchens were swift. "First, the Israelis take the land and ethnically cleanse it of Arabs," James Zogby, president of the Arab American Institute, responded. "Now, they take their food and culture and claim it's theirs, too!"
Who first mixed chickpeas, tahini, garlic, and lemon? The Lebanese, Turks, and Syrians have all said it was their ancestors. And when Israelis claim ownership of hummus—or tabbouleh or falafel—Palestinians see it as one more form of oppression.
The history that led to this fraught present might not feel so foreign to Southerners. For far too long, enslaved Africans who shaped Southern cuisine weren't given the credit they deserved, and while overdue gratitude is finally being paid to cooks like James Hemings, who worked for Thomas Jefferson at Monticello, the reckoning forces us to lock eyes with an abhorrent past. "Embedded in the fried chicken at Busy Bee in Atlanta is the story of former governor Lester Maddox and his fight to keep the Pickrick Cafeteria segregated," Southern Foodways Alliance director John T. Edge told Atlanta in 2017. "Order a barbecue plate at Fresh Air down in Jackson, Georgia, and that 'cue connects you to the mid–20th century pitmasters who worked the political rallies of demagogic Southern politicians."
Of course, the only way to categorize or define Israeli food (or Southern food) is to take stock of the cooking of all its people. Israeli is therefore a cuisine informed by Bulgarian, Romanian, North African, Yemenite, Lebanese, Syrian, and Turkish immigrants, among others—all citizens of a country that's only been around for 70 years.
Julia Kesler is proud to say that her food is inspired in part by her Israeli roots. Born in South Africa and raised in Georgia, she spent several summers visiting extended family in Israel. When she was 20, she worked on an organic farm outside Haifa "harvesting beets, crushing mustard seeds, and eating watermelon straight off the vine during afternoon breaks," she says. Now a private chef and caterer in Atlanta, Kesler serves what she calls "Israeli-influenced breakfast" to the public monthly at the Grant Park Farmers Market, Freedom Park Farmers Market, and the Spindle Kitchen. (Look for signs that read "Brekkie," and follow @stopthinkchew to find out where else Brekkie is served.)
In Israel, she says, you'll see savory items such as salad, cottage cheese, and meat on the breakfast table. "It's not pancakes and oatmeal." The key to the extra-creamy hummus in her Middle Eastern Eggs (which are scrambled with za'atar and served with greens and roasted peppers) is Lebanon's Alkanater brand tahini. "I buy the gallon buckets."
Her dishes sell out fast, she says, because they're vegetable-heavy but satiating. It's a style of eating that's caught on; Israeli-style cooking is having a moment across the country. The food is colorful, fresh, flavored with spice as opposed to fat, and meant to be shared. "It appeals to a wide range of dietary needs," Kesler says. Restaurants from Los Angeles to Chicago to New York are getting rave reviews with their Israeli or Israeli-inspired menus.
"I've wondered why we don't see more of it in Atlanta," Kesler says, standing in her friend Shay Lavi's kitchen. (She points out that Yalla, the food stand from the team behind the General Muir, is a popular spot—though it should be noted that it bills itself as "modern Middle Eastern" rather than straight-up Israeli.)
Lavi moved here from Israel in 2014. "There's a constant war that never ends, and issues that never resolve—it was very hard for me to make a real living there," he says. Earlier this year, he opened Rozina Bakehouse & Coffee on Hurt Plaza downtown, where he serves shakshuka (eggs poached in tomato sauce) and a falafel burger with tahini and pickled cabbage.
Lavi says that his customers, who range from students to nearby office workers, "go crazy" for that falafel burger, which makes him especially happy because he sees the dish as an opportunity to educate. "Falafel is Egyptian," he claims. "I learned to pickle cabbage from my grandma, who was Libyan. And tahini? Everyone has it, so that represents the whole Middle East." Much like the United States, Lavi says, Israel "is a place where everybody came in and just got mixed."
Lavi, Kesler, and Baum didn't plan to simultaneously bring more Israeli food to Atlanta. It just happened that way.
"I don't think Americans know what Israel really is unless they go there," says Lavi. "I want to give them a little taste of it."
This article appears in our May 2019 issue.