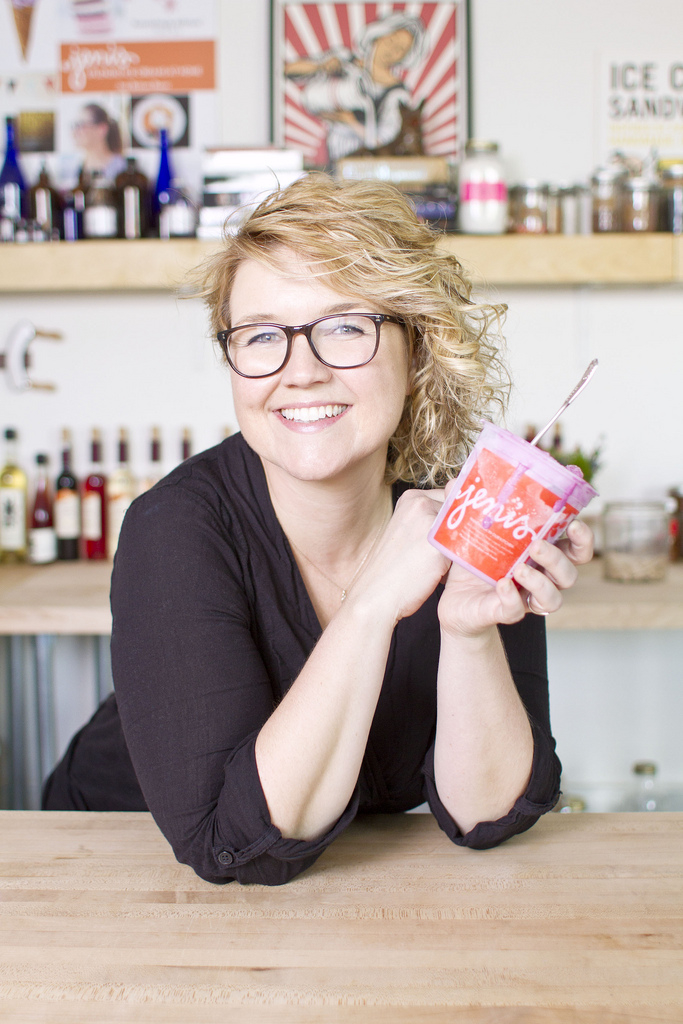 After much ado, the Ohio-based gourmet ice cream company Jeni's Splendid Ice Creams will open in the Westside Provisions District on October 23 with complimentary scoops for all. Located at 1198 Howell Mill Road, next to Star Provisions, the party goes from 7 p.m. to 10 p.m. and includes access to all flavors (numbering between twenty and twenty-five) being sold in the store. That means fall flavors like Cinderella Pumpkin and Sweet Potato with Torched Marshmallows are fair game! Founder and chief creative officer Jeni Britton Bauer will be there for the kickoff as well as for the store's first full day of regular operations (11 a.m. to 11 p.m.) on October 24.
A James Beard Award winner for her cookbook "Jeni's Splendid Ice Creams at Home," Bauer founded Jeni's in 2002. The brand soon developed a cult following among fans who crave its unique flavors made with carefully sourced and fair-trade ingredients, including cream made from grass-fed Ohio cows.
"Atlanta is one of the biggest markets for us to ship ice cream," Bauer says. (Jeni's is also sold at the Fresh Market, Dancing Goats Coffee Bar, and Star Provisions.) "We think it will fit very well in the neighborhood with all of the local merchants."
Upon opening, Jeni's will have its signature Black Coffee flavor—made with Batdorf & Bronson Coffee—on hand, as it prepares limited-edition and holiday offerings like White Chocolate-Peppermint.
There will also be Riesling Poached Pear Sorbet and house-made toppings like honey butterscotch, salted caramel sauce, smoked almonds, in addition to a variety of cookie-like crumbles called "gravel." Oatmeal cream pie ice cream sandwich and a macaroon sandwich with vanilla ice cream and black currant sauce round out the selection.
Bauer says she's researching American history and Atlanta's role in it and working to create local flavors that will reflect her findings.
The Jeni's Atlanta space itself is designed to be warm and welcoming with a focus on natural light, Bauer says, including simple fixtures, wooden communal tables, and and a big chalkboard announcing special flavors.
As for the rumors that Jeni's is opening additional Atlanta locations? "We'll have our eyes open. We just don't know," she says.