Most restaurants don't invite a steady stream of customers in to their kitchens, but Local Three (3290 Northside Parkway Northwest) welcomes it—once a week during their Sunday brunch, that is.
In pre-pandemic times, the Buckhead restaurant's brunch was iconic, known for laying out a fabulous spread of dishes in the kitchen itself, allowing guests to wind through and see where the magic happens (and take in the charming knickknacks the adorn the space). When the pandemic began, the buffet brunch ended, and Local Three switched to an à la carte menu.
It just wasn't the same.
In December, Local Three teased the buffet's return during their annual Santa brunch and again on New Year's Day. "People were super happy," says Jimbo Irvin, the director of culinary operations of Unsukay, the restaurant group that owns Local Three. "The response was great, so we were like, maybe it's time to go back to the old classic way that we've done for a while."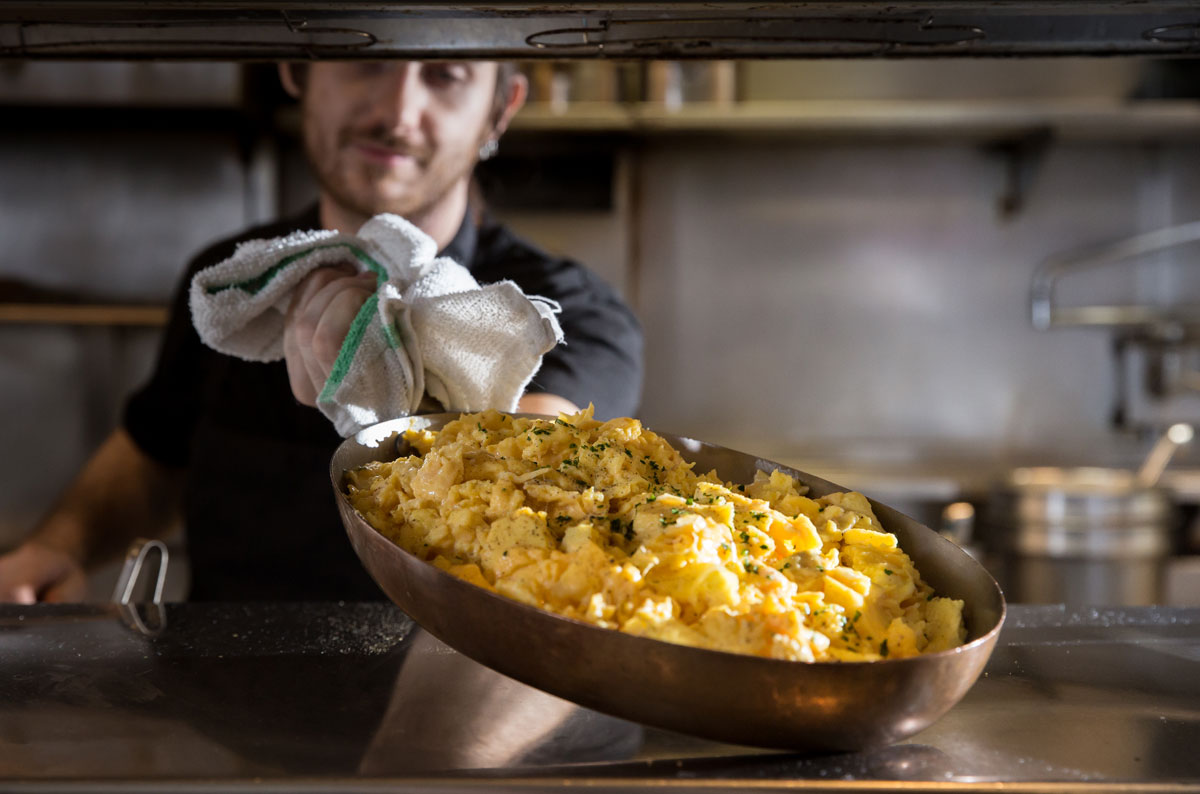 Guests hitting the buffet can expect "a smattering of everything," says Irvin. There are house-made baked goods like cheddar chive biscuits with pear jam; brownies; yogurt and berries; a winter salad with kale, pear, pecans, and an apple cider vinaigrette; and maybe a platter of smoked salmon. There's always shrimp and grits and other classics like soft scrambled eggs, smoked bacon, and pancakes or French toast. The lunch-type items rotate weekly, but expect dishes like buffalo cauliflower or brisket patty melts. "It depends on seasonality, whatever our farmers are bringing us that we have boatloads of," says Irvin. "Also, if there's something creative or interesting that one of our line cooks has come up with, we'll get it on the menu and they'll test it out."
A buffet in the kitchen isn't just a cool experience for the customers, says Irvin, but also the cooks. "It's fun for them to interact with guests because they're right across the path, serving people and putting stuff up," he says. "A lot of times with the back of house employees, they're kind of stuck back in the back, and so it gives them an opportunity to interact some of our regulars and just kind of creates a cool, interesting little twist on the buffet brunch."
Brunch is $49.93 per adult and $19.93 per child. Reservations are recommended.