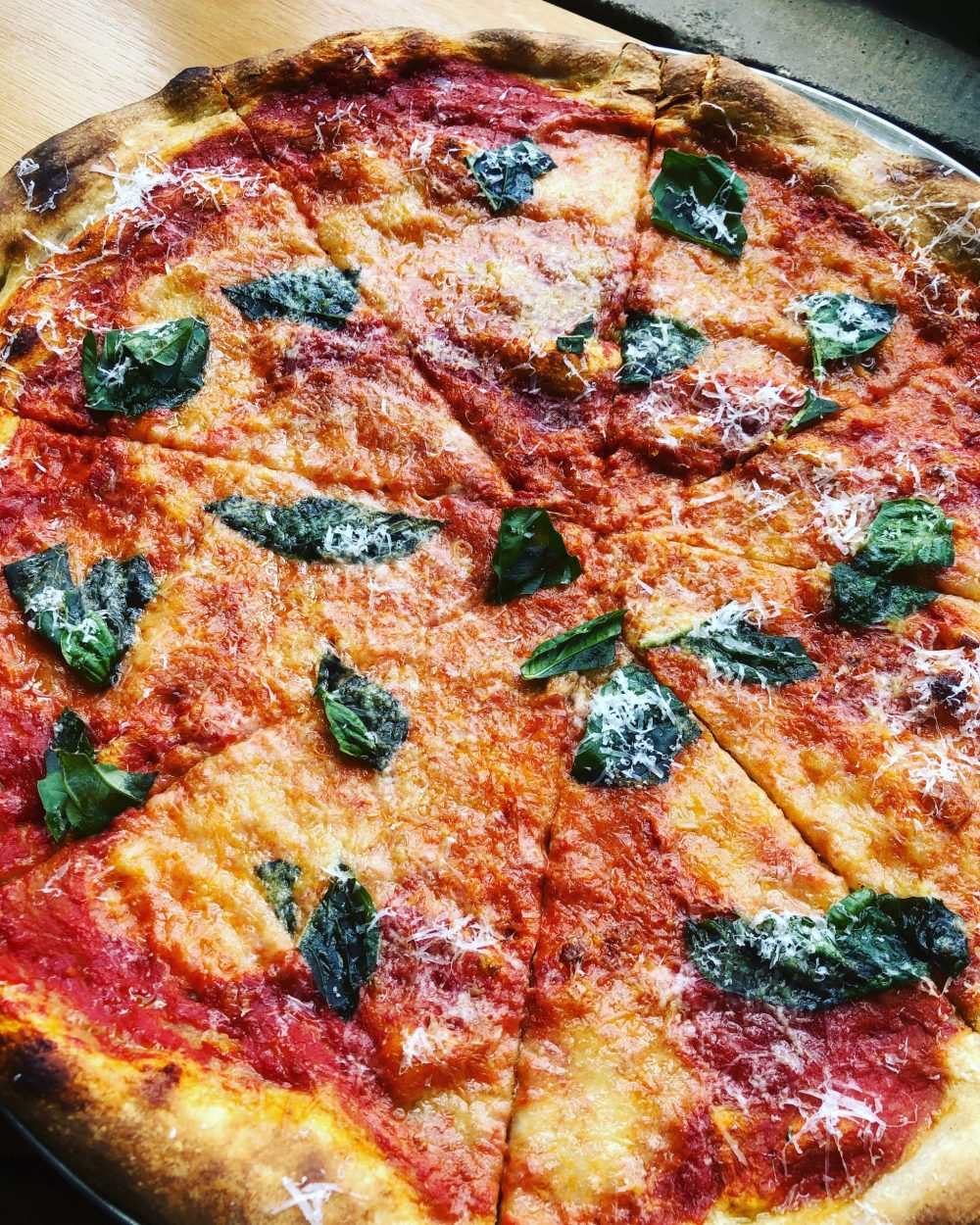 Pizza Jeans—the popular Friday night pop-up from Root Baking Co. founders Chris Wilkins and Nicole Lewis-Wilkins—is opening as its own food stall on the second floor of Ponce City Market on August 7. The Root Baking Co. space has been divided in two, giving Pizza Jeans a larger amount of space, and redesigned to reflect the distinct personality of each business. Pizza Jeans will have new offerings and hours, too.
Named after Designing Women and Watchmen actress Jean Smart—who once ate a sandwich at Root Baking while in town filming the latter—Pizza Jeans will serve pizza by the slice and the pie, along with salads, subs, breadsticks, and desserts. The pizzas are made with naturally leavened dough and topped with ingredients from local farmers. The menu will change frequently, but there will always be at least one traditional red sauce pie.
Desserts include New York-style classic cheesecake, sourdough doughnuts, and Italian lemon ice. Beverage manager Drew Gillespie, formerly of Little Trouble, will be pouring sustainable wine and wine from female-owned vineyards, as well as local beer, a craft cocktail, and lemon soda on tap.
The Pizza Jeans space is inspired by a neighborhood pizzeria in Wilkins' upstate New York hometown. It features leather booths, dark drapes, and a nine-seat bar. There will eventually be seating for 35 people; however, due to the COVID-19 pandemic, only takeout and delivery will be available for now.
"Safety is at the top of our minds," Wilkins says.
As such, takeout customers will order with disposable paper menus and golf pencils. Call-in orders and curbside pickup are also available.
"We want to meet people where they are comfortable," Wilkins says.
For the time being, Pizza Jeans will operate on Fridays and Saturdays from noon to 8 p.m. Wilkins says he hopes to soon offer take-and-bake pizzas, baked ziti, and lasagna Monday through Thursday. He adds that the restaurant will "be seven days a week when the world goes back to normal."
Root Baking, now occupying the smaller half of the space with a counter-service menu, will remain open on Saturdays and Sundays from 9 a.m. to 4 p.m., serving all-day brunch with breakfast sandwiches, a grit bowl, pastries, and breads, plus cocktails.
Check out the full menu below. (Tap to enlarge.)