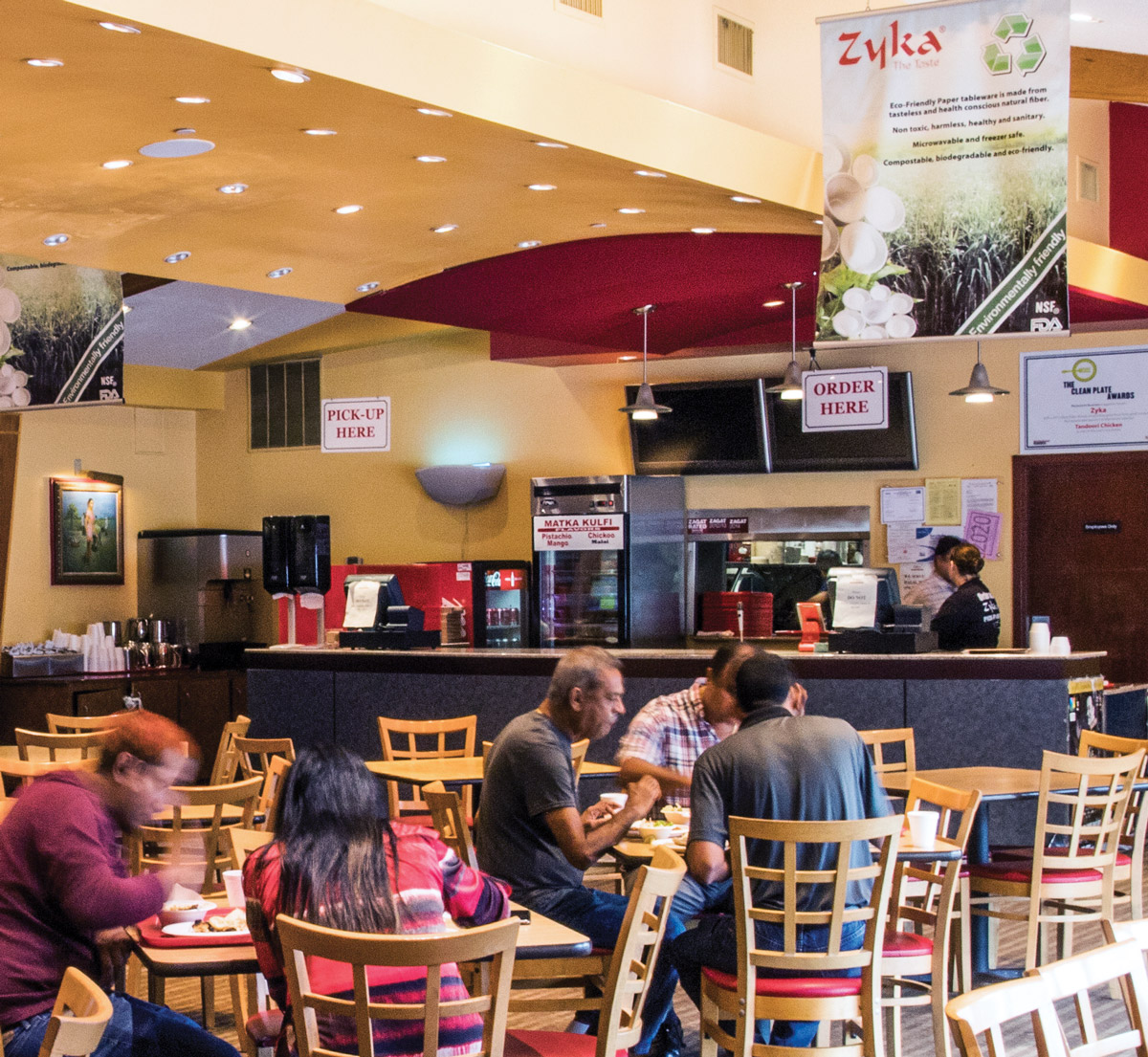 Old-school
In the 1970s, most of the clientele that showed up at Atlanta's dark, stifling Indian restaurants had Birkenstocks on their feet and vegetarianism in their heart. Back then, there was no such thing as a fun Indian restaurant. One could catch a thin curry here and a biryani there, but it wasn't until Robert Blazer opened Your DeKalb Farmers Market in 1977 that a significant Indian population, including many employees of the market, began moving to the area and later started cooking a huge variety of casual street food.
The Indian restaurant that ended the era of boring was Zyka. When it opened on Scott Boulevard in 1997, I no longer had to alternate between Haveli in Marietta (too formal) and the now-closed Calcutta in Little Five Points (not enough creature comforts). I immediately embraced the weirdness of a counter-service and Styrofoam-plate kind of place that shared a building with a Montessori school and a huge banquet hall. I devoted myself to its rich and spicy snacks and to its informal entrees.
To this day, the menu remains unchanged and includes the overwhelmingly popular spicy-hot Chicken 65, the little fried nuggets sprinkled with fresh curry leaves; aloo tikki, plump potato and lentil croquettes; and dense, pistachio-flecked matka kulfi, a dessert that's frozen in a small clay pot. There is golden naan or muthi paratha to wrap around the chicken seekh kabobs or to scoop up the chana masala. One doesn't linger at Zyka—too much noise and too many children running around in too cavernous a fluorescent-lit space—but the take-out operation is astonishingly efficient. And as the crowded parking lot attests, the food is a hit not just with the local Indian population but with eaters from every background.
New-school
If you are an environmentalist, Curry Up Now—a small, fast-casual California chain that specializes in modern Indian street food and just opened a location near the epicenter of Indian food along Scott Boulevard—is the antithesis of Zyka. There is no single-use plastic anywhere. As for the street food it serves, expect plenty of healthy and unorthodox twists: deconstructed samosa, paneer quesadilla, kathi rolls made on whole-wheat paratha enriched with a layer of egg, Naughty Naan that looks like a pizza topped with spicy cubed chicken or paneer. The mango lassi, including one flavored with rose essence, comes in a mason jar. Snacky options include kachori chaat (a hard-shelled puri stuffed with lentils, potato-garbanzo mash, and masala yogurt), and many items are vegetarian, vegan, or gluten-free.
There are several better options for modern Indian street food, starting with Meherwan Irani's Chai Pani in Decatur and Botiwalla in Ponce City Market and, as of recently, on the green in downtown Alpharetta. Irani's delicious rolls (sandwiches) on hot, buttered naan and his crunchy bhel puri made with puffed rice, flour crisps, and crunchy chickpea noodles drizzled with green chutney are at the apex of the snacky Indian-food scene.
There's also the joyous Masti Fun Indian Street Eats, which also has expanded to the suburbs. Like the original Toco Hills location, the second outpost in Duluth properly channels what's happening at the street level in contemporary Indian cuisine. The suburban menu also happens to be wilder and broader, with butter chicken tacos on uttapam "pancakes," spiced keema burgers on soft buns, and both kabob and paneer dogs. We've come a long way since '97.
This article appears in our December 2019 issue.