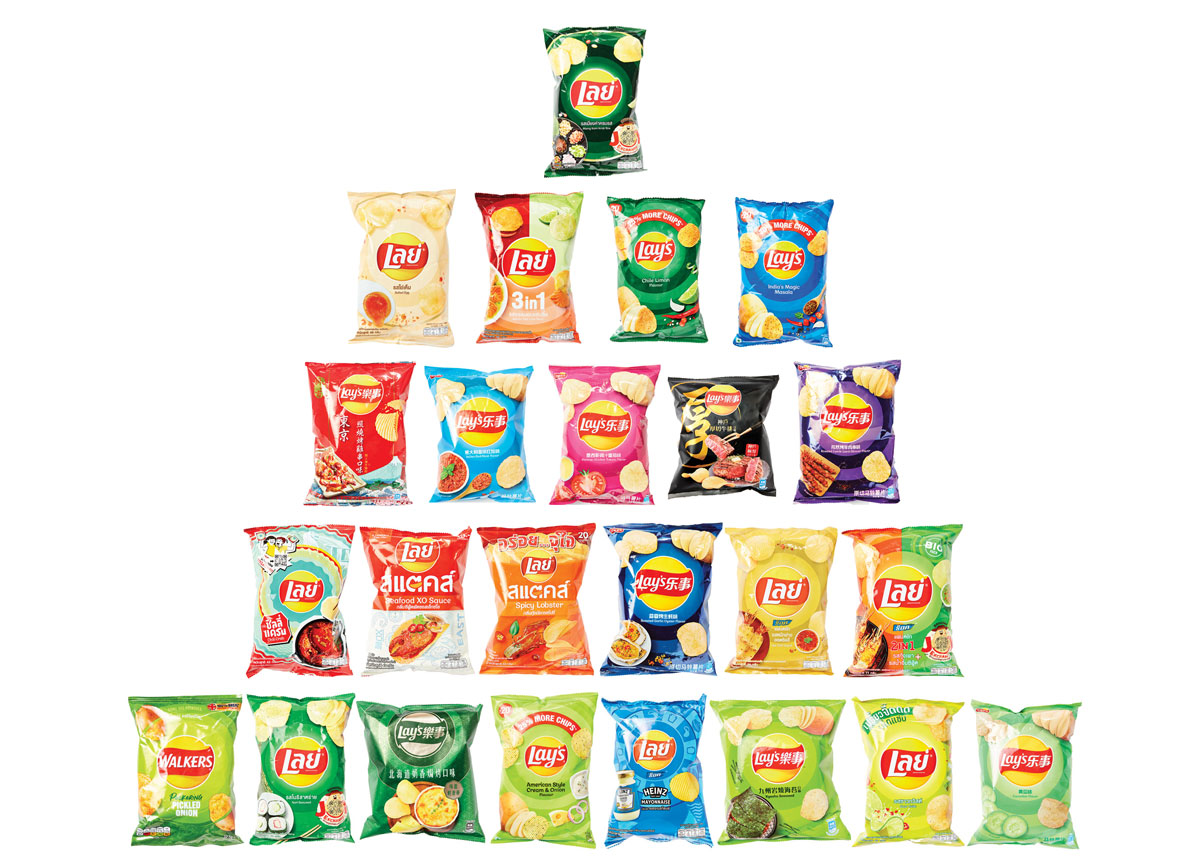 One of the chief pleasures of shopping at a well-stocked international grocer: Lay's potato chips. A U.S.-based subsidiary of PepsiCo, Lay's creates scores of flavors for overseas markets that you won't find at Kroger. There's Roasted Garlic Oyster, from China. Salted Egg, from Thailand. American Style Cream and Onion, from—yep, you guessed it—India. Here are a few bags we picked up around town recently (they're at Cherians International Groceries, BuHi Farmers Market, and elsewhere—especially, Asian markets), but the options are basically unlimited, and it's easy to imagine spending the rest of your life chasing down flavors not even yet dreamed of. And if it is possible to exhaust that search? Well, that just means it'll be time to move on to another snacky product with boundless international variations: Kit Kats.
The whole package: Mieng Kam Krob Ros (Thailand)
Based on miang kham, a marvelous Southeast Asian snack involving various ingredients—coconut, dried shrimp, ginger, chilis, lemongrass, and more!—wrapped in betel leaves and eaten by hand.

Flavor explosions
Salted Egg (Thailand)
3-in-1 Salmon/Chili/Lime (Thailand)
Chile Limon (India)
India's Magic Masala (India)
Ginger, coriander, chili, mango powder…
A hearty meal
Tokyo Teriyaki Chicken Skewer (Taiwan)
Italian Red Meat (China)
Mexican Chicken Tomato (China)
Kobe Beef (Taiwan)
Roasted Cumin Lamb Skewer Flavor (China)
A true Chinese fave in chip form
Under the sea
Chili Crab (Thailand)
Seafood XO Sauce (Thailand)
Spicy Lobster (Thailand)
Roasted Garlic Oyster (China)
Hot Chili Squid (Thailand)
2-in-1 Grilled Shrimp and Seafood Sauce (Thailand)
A light snack
Puckering Pickled Onion (Lay's are called Walkers in the U.K.)
Nori Seaweed (Taiwan)
Creamy Hokkaido Baked Cheese (Taiwan)
American Style Cream and Onion (India)
Heinz Mayonnaise (Thailand)
Kyushu Seaweed (Taiwan)
Sour Twist (Thailand)
Cucumber Flavor (China)
Sounds like an artificially flavored mess but tastes surprisingly good
This article appears in our June 2023 issue.