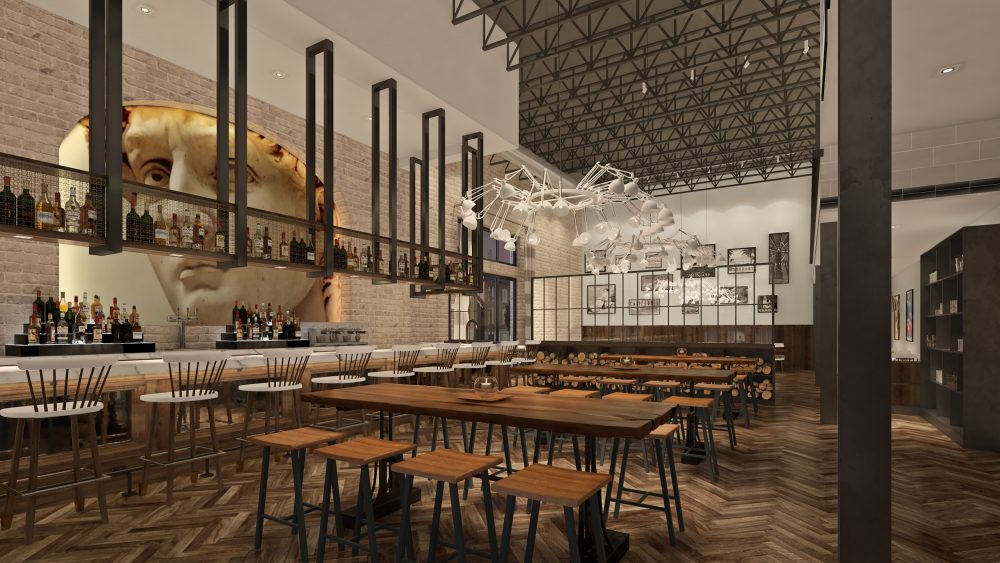 Despite his heritage, chef Pat Pascarella never wanted to cook Italian food. A first-generation American, he focused his career on fine dining, working at Le Bernardin and the Optimist before opening the White Bull in Decatur last year. But it was while cooking at White Bull that nostalgia changed his mind, and by the end of 2019, Pascarella will be slinging Neapolitan pies, preparing fresh pasta, and wood-firing steak at his new restaurant, Grana.
Located near the Sprouts Farmers Market on Piedmont Road, across from Grindhouse Killer Burgers, Grana will serve lunch and dinner in a family-friendly, 170-seat space with a mezzanine and rooftop bar. If all goes well, Pascarella plans to open more Grana locations around the city.
We spoke to him to learn more.
Why did you wait so long to open an Italian restaurant?
I grew up very Italian. My parents came here at age 19 and had me at 22. I didn't speak English until I was 7. It was somewhat embarrassing. The food was all chicken parmesan and penne a la vodka. But I thought I'd only be taken seriously as a chef if I opened a fine dining restaurant, even though all I wanted to eat was the food my mom was cooking.
So what changed?
My cousin [Pat Siciliano] is my sous chef [at the White Bull]. We were making pasta and talking about how much we missed the food our moms made.
Did having also children impact your decision to return to your roots, in a culinary sense at least?
Everything changes once you have kids. You stop caring what people think of you. Everything you do is for your kids now. When I'm at home with mine, I eat a certain way. When I go out, I eat a different way. I want to help Italian [fare] in Atlanta hit its peak. Grana is focused on lower Italy: Calabria, Campagna. Everyone [else] talks about Parma and Bologna and don't realize the peasants down South know how to cook.
Where did the name come from?
Grana means "grain" in Italian. Seventy percent of the human diet is grain, so we wanted to emphasize it. For the White Bull, we did a lot of research on grain. We won't be able to mill our own flour at Grana [like we do at the White Bull] because of the amount of space in the dough room, but we'll buy from all over the country and get a little Italian flour as well.
What will you serve?
It's about finding the balance between Bronx Italian and real Italian. We'll have two breads: focaccia with rosemary and garlic bread with mozzarella and a side of sauce. We'll have six types of meatballs, each with different meats and toppings. You can order a flight or three of a kind. We'll also have six to eight types of mozzarellas from both Italy and the U.S. You can order them individually or in a flight. We'll start with eight to 10 pizzas. There's one we're calling the Roni. It's a New York slice pizza—Neapolitan style with shredded mozzarella and pepperoni.
What about pasta and entrees?
We're doing 3-ounce portions of pasta because that's how they eat it in Italy. We'll have eight types, from super traditional cheese ravioli (but filled with sheep's milk ricotta and topped with raw tomato sauce) to hand-rolled gnocchetti with clams, saffron, beans, and escarole. Right now we're working on a goat cheese and corn tortelli with honey.
For entrees, there's whole-roasted fish and octopus, wood-roasted chicken, and bisteca served with a garlic, caper, and onion sauce and chopped tomatoes. There's pounded pork stuffed with pine nuts, raisins, and herbs, rolled, and cooked in tomato sauce. Vegetables are a la carte but can be ordered all six together, blistered out of the oven, as a veggie plate.
What's on the beverage menu?
The wine list is 100 percent Italian. Everything is by the glass and the bottle. We'll have a frozen rosé on the patio and five to six fun, Italian cocktails—plays on negronis and Aperol spritzes. There will be one to two Italian beers, a couple short drafts. I like the clean feel of bottles and cans. We're going to have an apertivo hour like you see in Italy with cocktail and food specials. Matt Scott, my beverage director at the White Bull, is in charge.
Tell me about the decor of the space.
I wanted it to feel super warm, like a villa in Italy. There's white brick, white stone, hardwood, and tiles. We're using tomato cans and flour bags in the decor. There are frames with pictures of my grandparents on the back wall and antique mirrors. There's a huge mural of the face of the statue of David behind the bar. The rooftop will have fireplaces, corn hole, community tables, and planters to grow herbs. The marble bar has a mosaic tile front.
There are two wood-burning ovens in the kitchen facing the dining room. They're named Sophia, after my 10-month-old daughter, and Monte, after [my business partner] Brian Ferris's one-and-a-half year old.
What else should we know?
We're going to do a lot of cooking classes: pizza, pasta, butchery. We'll have a big party when we open, and then next year we'll celebrate the San Gennaro feast like they do on Mulberry Street in Little Italy [in New York].