Dunwoody has many things, including ample parks, Perimeter Mall, and the high school Ryan Seacrest graduated from. It does not, however, have a specialty coffee shop that uses beans roasted in-house. Valor Coffee (44 Milton Avenue, Alpharetta) looks to change that when it open its second location in Dunwoody Village this fall.
The original location of Valor, known for its minimalist interior made splashy with green and pink accents (and a disco ball), opened in downtown Alpharetta in 2019. They roast their coffee nearby in an off-site location and sell the usual coffee shop beverages, with the option to add house-made syrups like lavender vanilla and caramel cardamom.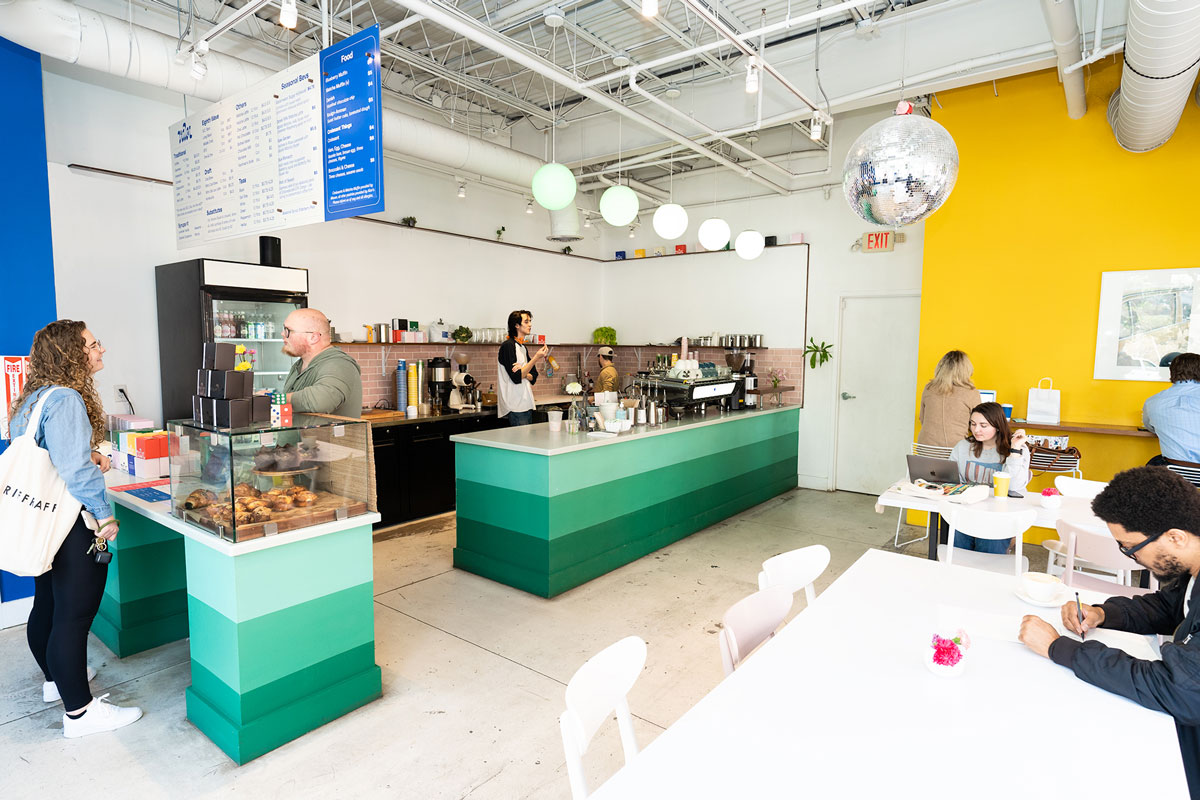 According to co-owner Riley Westbrook, the search for a second location began about a year ago. When he and his partners came across the Dunwoody storefront a few months ago, they knew they found the space for their new outpost. "Once we got a feel for Dunwoody and just hung out in the area several times, we realized that people just live so close and are constantly walking around. I think that we'll just kind of fit right in with being the neighborhood cafe," says Westbrook.
While Westbrook hopes that the vibe will be similar to the Alpharetta spot, the Dunwoody location is about three times bigger and will have ample seating to match. The bar will float in the center of the space and will be surrounded by seating, a move inspired by cocktail culture, says Westbrook. When it comes to food, guests can expect snacks in a similar vein to what they serve now in Alpharetta, where they partner with the Maven Restaurant Group (which includes South Main Kitchen and Butcher & Brew, both Valor's neighbors in downtown Alpharetta) for croissants and matcha muffins. Since the Dunwoody space is more accommodating, there could be a sandwich or panini program, but nothing will be made in-house.
Westbrook hopes that Valor can serve as a "beacon of kindness" too. Specialty coffee shops can often have a cooler-than-thou reputation, but Westbrook and his partners say they've tried to foster a culture of good coffee with nice customer service.
Don't expect this location to have a disco ball, though. The goal isn't for the Dunwoody location of Valor to be a replica of Alpharetta's—instead, it will have its own character (but maybe something else just as Instagrammable).