In a true medical emergency, sometimes the nearest hospital is miles away. That's when you'd better pray there's a physician nearby—one who's willing to step up until the EMTs arrive. We wondered what it was like to be the medical professional answering the call. Here, our Top Docs tell us about seven times when they unexpectedly had to come to the rescue.
Dr. Dawn Mandeville and Dr. Darwin Brown
BROWN: The date was April 19, 2014. I know because my wife, Dawn, and I get phone calls from Ella's parents every year thanking us for being there. Ella and our daughter, Lauren, were in the eighth grade, playing in a basketball tournament in Cumming. There were about 10 games going on in the arena. I was in the stands on one side of the court, settling in to watch the game. By day, I'm an endocrinologist.
MANDEVILLE: I'm an OB-GYN. I can be a bit too vocal and get a little too excited as a fan at our daughter's games. So, I take pictures of the games [and do other small tasks] to keep myself out of trouble. The coach asked me if I would manage the buzzer, so I was seated at the scoring table.
BROWN: Halfway through the first quarter, Ella—our daughter's close friend—got off the bench, took a knee, and checked in. Then, walking toward mid-court, she collapsed.
MANDEVILLE: I saw it, too, and at first thought she was being silly and joking until the fourth step, and she literally hit the ground in an awkward manner. That doesn't look right, I thought. I pressed the buzzer to stop time. I rushed to her and turned her over. I felt someone move past me, and it was Darwin. Amazingly, we were the only trained medical professionals in the entire arena.
Ella's arms were motionless. Darwin checked and said, "I'm losing the pulse." Ella's face became a dusky, bluish-gray color, rising up her neck to her face.
BROWN: We started CPR, one of us doing compressions and the other giving respirations. Around this time, Ella's mother came out of the stands. She was screaming, "My baby!"
MANDEVILLE: People had circled around us. I looked up and said, "Somebody call 911! Somebody get a defibrillator!"
BROWN: The defibrillator looked like it hadn't been used, ever. It had some explanatory drawings. I hadn't run a code in 18 years.
MANDEVILLE: I had never even done CPR on a patient. I'd done it on a dummy in residency. We continued with CPR, and there was some commotion as someone in the crowd figured out that we should just plug in the machine. It turned out the defibrillator automatically tells you what to do. We found the adult pads and slapped them on and the machine took over, saying, "Move away from patient." We both moved away—but the machine still wasn't working. Turned out, somebody in the crowd had come to Ella's feet and was praying. They had to peel that person off her feet to allow the machine to get a reading. It finally got a reading and then announced, "Shocking!" And just like in the movies, Ella's whole body lifted on the ground.
We went through about three other rounds of CPR and, during the last one, she reached up and lightly grabbed my hand and pushed it. We continued, then she more forcefully grabbed my hand, sucked in air, and her eyes opened. We were shaking her and egging her on. She was back!
BROWN: I remember when Ella regained consciousness, I stood up and took a few steps back, overwhelmed with shock and relief.
MANDEVILLE: After the paramedics arrived, I remember burying my head in Darwin's chest and just weeping for 10 or 15 seconds. Then, we snapped out of it, thinking, we're still on duty here.
EMS rushed Ella to Northside Hospital Forsyth. The basketball games had obviously stopped. We followed the ambulance to the hospital. In an hour or two, Ella's dad, Richard, came out to brief us and asked, "Do you want to see her?" He brought Darwin and me back. We drew the drape, and Ella was sitting in bed on her cell phone—typical teenage form! She said, "Oh, hi, Mrs. Brown! Well, my head hurts, and my chest really hurts."
BROWN: She'd had a cardiac arrest, and they never found the cause. She had the event at rest—complete cardiac arrest—as a 14-year-old kid. Reflecting on that moment, I thought how wonderful and challenging and frustrating it can be to be a physician. Medicine is very humbling, and things happen without explanation.
This year, Richard called when I was on hospital rounds. We caught up on what Ella's up to, what's she studying at the University of Southern California. She went on to play competitive basketball and lacrosse; she's a singer-songwriter. There's always a feeling of, wow, she's gone on to do great things.
Dr. Amber Degryse
I'm a pulmonary and critical care physician—dealing with issues like lung disease, COPD, asthma, and patients in intensive care. Most of my day is in a hospital setting; I'm the director of the ICU at Northside.
I went to the Women's March in Washington, D.C., in January 2017, right after the election. I was carrying a sign that featured an ironic tweet that President Trump sent out—about how we should march on Washington to "prevent this travesty." So I marched.
I was with some friends and, actually, another physician, Stuart Handelsman [also a Top Doc]. We were walking around the Mall at about 1 p.m., as many of the most high-profile speakers were taking the stage. [New York senator and 2020 presidential hopeful] Kirsten Gillibrand had just spoken when, from the same loudspeaker, they said, "Is there a doctor in the crowd?" Stu and I looked at each other.
In that moment, I was feeling a little trepidation: What will I walk into? When there's a distress call, you don't really know if you can handle it. It could be a baby being born in a parking lot, a gunshot wound, or a dehydrated sorority girl. Literally, I've responded in each of those situations. But you have to be ready to act.
People were really packed in wall to wall. It was so hard to move as Stu and I started to make our way. Then, the crowd parted for us like the Red Sea. We slithered through a fence and walked down an embankment—about half a football field's distance to the stage. The person in need was an older woman, about 70 years old, who was reclined on the grass.
I knelt down next to her and took her pulse. (Stu is a nephrologist, and he said, "You got this—it's not dialysis.") The woman was able to talk. She looked kind of clammy and said she was dizzy. I asked, "Are you diabetic? Seizure disorder? Chronic conditions? Missed medication?" These are all the basic questions. Her friend said she hadn't eaten or drank, that they'd been out there a long time. Someone in the crowd gave her a cookie, and someone had a bottle of water.
When you're out there in a situation like this—doing a physical exam—you're triaging whether you need to escalate care. As long as they have a pulse and are breathing, you don't need CPR. I provided reassurance and told her to take slow, deep breaths. Within about 15 minutes, the EMS came from the other side of the stage and led her away. We started walking back, and people left and right were saying, "Thanks, Doc! Thanks for caring. Thanks for all you do."
Dr. John Xerogeanes
By day, I'm an orthopedic surgeon, mainly sports medicine: joints, bones, ACL surgery. I'm the medical director for the Atlanta Hawks, head orthopedic surgeon for Georgia Tech, and the knee consultant for the Georgia Braves. Our practice treats a lot of professional and college athletes.
My wife, Teri, and I like to freedive and spearfish. We tend to go places that are off the beaten path. Several months ago, we went to the Exumas in the Bahamas, which is a little harder to get to, and less touristy, than Nassau.
On Sunday, the first full day of the trip, we'd been on a boat, fishing and diving. We barbecue, have dinner. At night, our kids, ages 11 and 13, go down to the beach to chase the little snow crabs that run back and forth there—using my cellphone as a light. It was wet, and a wave came. Teri was chasing after the kids and slipped.
The kids come running back to the house, saying, "Mommy dropped your cellphone in the water!" So, I'm pissed. Then, I go down there, and she looks like a wet doll being tossed in the waves, wearing this billowing sundress. Her hand was bent backward like an "S." I thought, Oh no, that's not good.
We pulled her wrist back into place. If you knock the bone back right away, it hurts less because you're in shock. If you wait, then you have to sedate [the patient]. Teri puts one arm over me and one over my 11-year-old son, and we stagger up the rocky path to the house. I was holding her arm in place. It's not like [the wrist] is stable when you pop it in—it still wiggles.
We were vacationing with friends, so my buddy's up there with his wife, and they're cleaning up from dinner. Teri lays her arm on the table. Usually, at this point, you have a splint. We got a People magazine and duct-taped it in place so her wrist didn't move around.
Then, I called around. Of course, the only doctor on the island is an OB-GYN—and there's no pharmacist. I call another buddy John who lives on the island. He comes over with one Percocet from a back surgery four years ago. A neighbor is a Rastafarian—he shows up with some Moroccan hash, a little bag of mud-looking stuff. Teri declines and takes the pain pill. She doesn't even like rum, but it's everywhere on the island for $10 a bottle. So she has three shots. She says it tastes awful, but she felt better.
The next day, we went to the OB-GYN's office and figured out how to use the x-ray machine. Her wrist looked like it had been smashed with a hammer. I called my partner, who is a hand surgeon—Gary McGillivary—and texted him a picture via WhatsApp. He could do the surgery the next day, but we were supposed to be in Exuma until the next week. "Nah, I can tough this out," Teri says. The OB-GYN didn't have any casting material, but his wife had carpal tunnel syndrome, and she had an old splint. It fit my wife perfectly and worked for the rest of the vacation.
Dr. Michael Quiñones
It was totally the middle of the jungle. In 2010, I went on this photography tour in Costa Rica with my practice administrator, her husband, and my wife. We're all friends. I've been doing photography since seventh grade—amateur photojournalism. We stayed in a beautiful resort near Mt. Arenal, an active volcano. We'd spent the day taking pictures of the hot springs or the swinging bridges among treetops and practicing different techniques.
One night, there was a horrific thunderstorm. It was one of the worst thunderstorms I'd experienced in my life. When it finally abated, it looked like the sky was electric. I think the atmosphere must have spooked the horses.
At around one in the morning, there was banging on the door of our cottage. They bring in Enrique, who was the main farmhand. He had blood pouring from his forehead. One of the horses had kicked him in the head.
The nearest hospital was at least two to three hours away—probably more, since it was still rainy, muddy, and the middle of night. I examined Enrique, speaking Spanish, as I'm Puerto Rican. I'd done lots of trauma in the past. He was awake and alert, and there was no fracture. I was mainly checking—and praying—that he didn't have a serious head injury.
Someone brought a rudimentary suture kit. It had gauze and something like a scissor but no real suturing instruments. I cleaned off the laceration with alcohol. Enrique downed some liquor. I took my time to suture it up by flashlight—about six or seven stitches across his eyebrow. He went back to bed. A few days later, he was all better; he recovered without a scar or infection. He's lucky I'm a surgeon.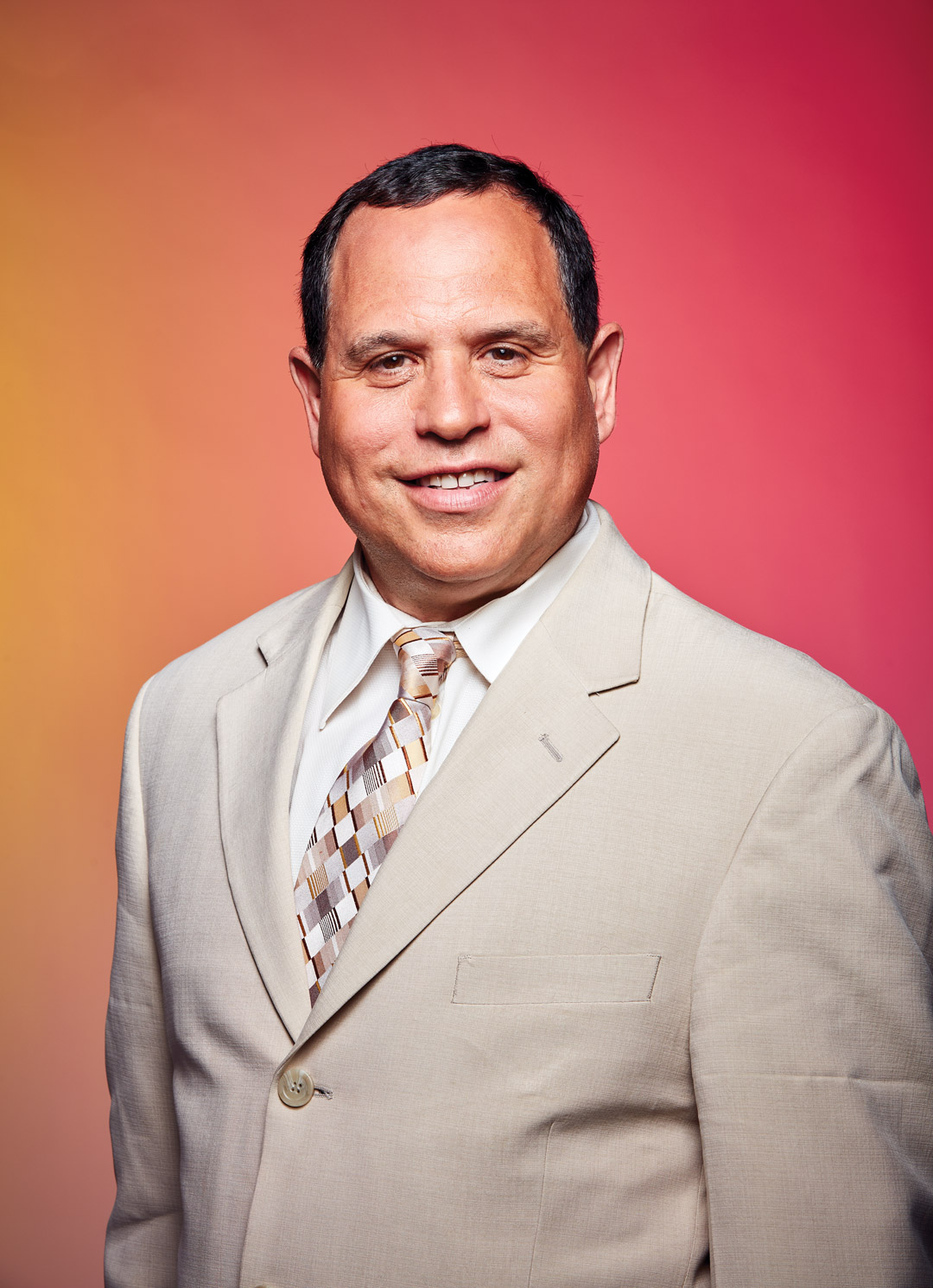 Dr. Todd Mitchell Antin
About four or five years ago, I was consulting, and I flew to Monroe, Louisiana. I always took the first flight of the day. It was a small aircraft and a 6 a.m. flight. When I boarded, there was a commotion—an agitated passenger, refusing to sit down, pacing back and forth. Soon after, they made an announcement, "Are there any doctors on board?" Uh-oh, I thought.
I'm a psychiatrist and, truth be told, I ordinarily don't step forward on the first call. Chest pain or CPR is not my forte. But, then, they called again and asked if there was a doctor who could speak Spanish, and I knew I would be stepping in. I learned Spanish through school and in my dad's business growing up. He sold wholesale food and beverages to small markets and bodegas— manual labor on a truck—and I helped out. Many clients were Latino. Plus, I went to med school in Miami.
The passenger was about 60 or 70 years old. He smelled like he had been drinking and appeared disoriented and intoxicated. He was with his wife. She told me he doesn't fly, that he's afraid of the plane going down.
I put on my doctor hat and began treating the situation like a consultation. I actually do a lot of court testimony and legal work. This was not all that different. First, I ascertained if the crisis was medical or psychological—it was the latter. I tried to befriend him but also be an authority figure. I spoke in his native tongue. He had very little flying experience. He felt [the crew] were being disrespectful to him, being stern and telling him to sit down. He didn't understand the protocol of flying. He thought he didn't have to sit down until the flight actually took off.
The flight crew wanted me to gauge if he was unsafe. I had to deescalate the situation quickly. If I couldn't calm him down, they would likely call the local police, escort him off the plane, and cancel the flight.
As we sat and talked, he calmed down. We spoke about where I learned Spanish. I reassured him we wouldn't crash. The flight attendant got him some water and a snack. We defused it. The pilot went back into cabin and announced, "We have rectified the situation." We taxied out.
I got a standing ovation, huge applause. The pilot came over and thanked me. The airline gave me some drink tickets and things. It was nice to do a community service. When we arrived in Louisiana, I spotted the man before we left. "You did it!" I said. He said, "Thank you!"
Dr. Jonathan Weiss
Think about an era before people talked about medical ethics. It was about 25 years ago, and I was at Disney World to attend a meeting. I had my mother-in-law, wife, and two kids with me.
We decided to go to Epcot for the laser show and fireworks and hopped on the tram. It's fading daylight, not quite dusk. From across the tram, about 30 feet away, I see this big, multicolored, black spot on the middle of a guy's cheek. I'm certain he has a melanoma. He was in his 30s.
If you looked today on Medscape, or an American Academy of Dermatology handout, this mole could be a textbook picture for melanoma: irregular, not huge but definitely bigger than six millimeters. It was light brown, dark brown, and jet black and had irregular borders. It was almost like a small picture of flames in a firepit, with pigment shooting off the top. It made such an impression on me that, 25 years later, I can still remember it.
I sat there and debated with my mother-in-law and wife for the five to 10 minutes of the train ride. Initially, they thought, we don't know what you should do. Back then, melanoma wasn't that common; you saw one every two or three months. (Now, our practice sees several every week.) Finally, we agreed I had to approach him; it was just the right thing to do.
I went over to him. I said, "I'm a doctor, and I'm here for a meeting. How long has that mole on your cheek been there? I wouldn't rush or change your vacation, but I'd see a dermatologist. You should get it checked out." I didn't feel comfortable bringing up the "C word" in the middle of Disney World on the way to dinner—but I did everything but come out and say cancer. The man wasn't angry; he was a little shell-shocked. His wife was so grateful and thanked me profusely. She said, "Oh, he's going!" And to him: "I told you so."
Maybe I did save this guy's life. The melanoma appeared early-stage. I didn't carry my business cards around. It was an anonymous interaction, and we never followed up.
In the moment, I was thinking, would I be invading his privacy? The situation falls in a gray zone of medical ethics—telling someone there's a problem when he's not your patient—but if you left it there, it could kill him. That was the big debate: Is it an okay thing to do? In the end, I kept it anonymous and made it clear. I see these scenarios pop up in medical ethics columns today. Intuitively, I did what felt to be the right thing.
There aren't many emergencies in dermatology. When there's an emergency on an airplane, I usually don't raise my hand. If there's an ER nurse and me on board, it's better to listen to the ER nurse. But if you got a rash, I'm your man.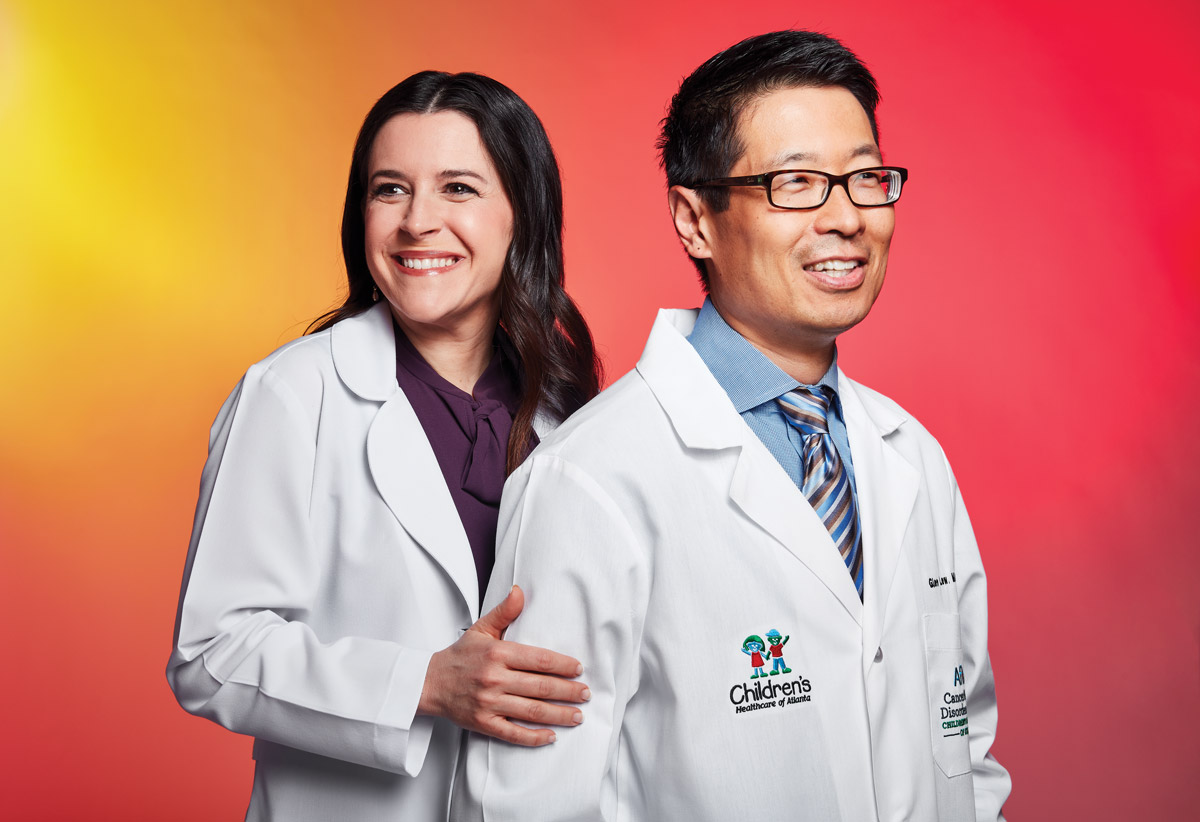 Dr. Sheri Zager and Dr. Glen Lew
This past January, we were flying to Colorado on a family ski vacation. Normally, we all sit together. For some reason, the airline upgraded my husband, Glen, and me to first class, and our teenage sons, Jacob and Sam, were in coach.
About halfway through the flight, we hear an announcement asking if there's a medical provider on board. We looked at each and knew we had to act. I'm a pediatrician. Glen is a pediatric oncologist. We never work together. Well, not since more than 20 years ago, when he was a fellow in charge of me as an intern.
We both walked to the back of the plane. There was a man in his 50s who was having a seizure. "Tell me what's going on," I said to the woman with him, who turned out to be his fiancee. She didn't know much about his condition but thought he had missed a dose or two of a medicine. I told the flight crew, "Bring me whatever you have," and immediately placed the oxygen mask over his face. Meanwhile, the flight crew kept coming over and asking us for medical ID, questioning, "Don't you have any credentials with you?" Time was of the essence to help this man. Finally, I just suggested, "You have Wifi, Google us!"
His fiancee was crying and hysterical. It's very scary when you see a family member seize. The protocol is to make sure the airway is clear. Turn the head sideways. In an emergency room, you would have anticonvulsant medicine. On the plane, they just had pain relievers and nitroglycerin. We tried to calm everyone, talk the man through it, and hoped it would go by fast.
His seizure lasted only a few minutes. The flight attendant asked if we needed to make an emergency landing, but it was not much further to Denver and the seizure had stopped. The passenger was very groggy, so my husband swapped seats with my older son to be closer in case he started seizing again.
The funny part was that our kids were sitting one row away from the man having the seizure. My 17-year-old, Jacob, watched and asked if the man was okay, but my 14-year-old, Sam, was sitting in the window seat and missed it all. He was wearing noise-canceling headphones and was totally engrossed in his movie. When we were close to landing, he finally looked up at Glen and said, "What are you doing over here?"
See all of Atlanta's top doctors.
This article appears in our July 2019 issue.