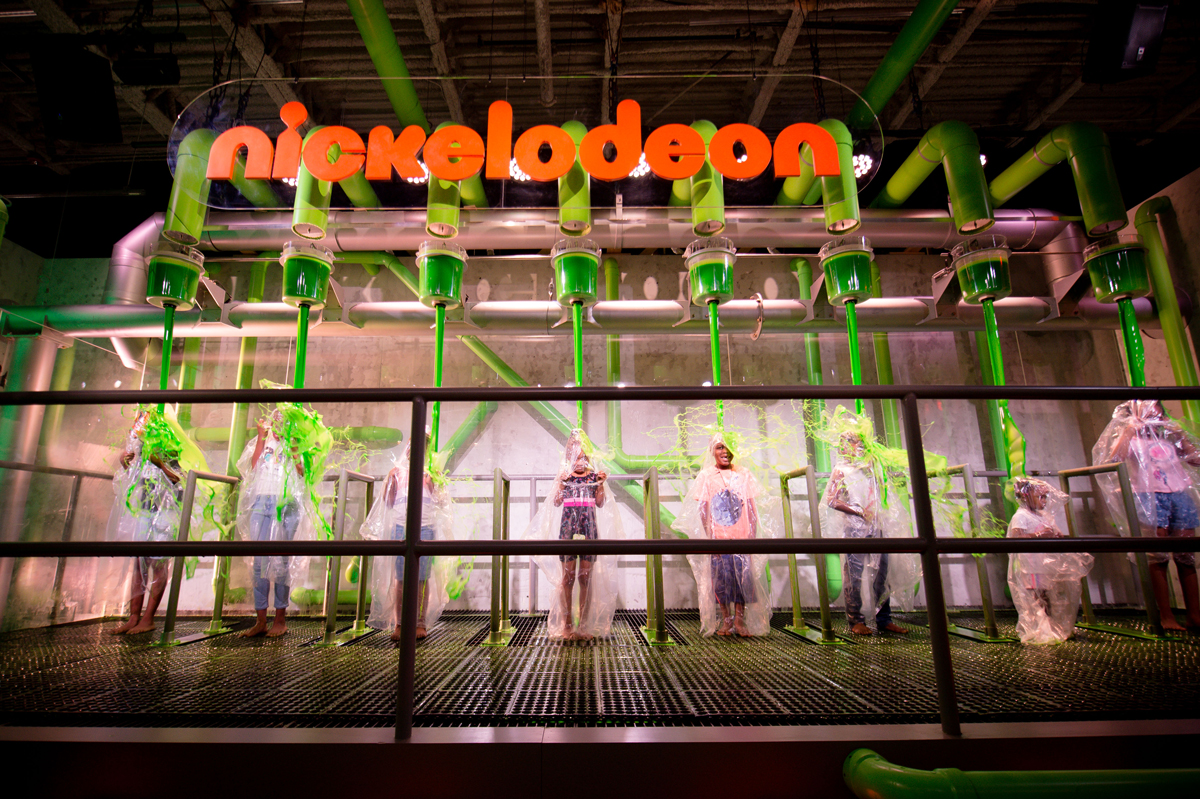 The grated floor was cold and slippery under my bare feet as I padded anxiously, clad in a clear poncho, to my spot underneath a bucket filled with neon green slime. The same slime I had watched kids and celebrities alike get drenched in on television over and over growing up. It was a badge of honor, reserved for those lucky kids who got to be on TV. I held my poncho hood over my eyes as a recorded voice counted down from five . . . four . . . three . . . I couldn't stop giggling with equal parts excitement and fear. Would the slime get on my clothes? In my hair? Would it wash out? Would this be a dream come true or was I about to truly wreck my childhood?
. . . two . . . one . . . and a tidal wave of cold slime splashed down over my head as I laughed hysterically. It was over in five seconds, but it was a nostalgic thrill. I carefully peeled off the slimed poncho with help of a volunteer, who handed me a towel. My green slime-covered feet looked like something out of a Nickelodeon ad, and that's when it hit me. I really got slimed, just like all those others before me. '90s kid achievement unlocked.
Nickelodeon's famous slime first appeared on You Can't Do That On Television, a Canadian show the kids' cable network picked up and aired in the 1980s, but it was 90s game show Double Dare that really launched the green viscous liquid into prime time. The green slime became synonymous with the network—shooting out of a fountain at the late Nickelodeon Studios in Orlando and dumping on the heads of everyone from NSYNC to Tina Fey to Justin Bieber to Harrison Ford at the annual Kids Choice Awards ceremonies. Now, as a revival of Double Dare also tours the country and as '90s nostalgia is hitting its peak (there's a Men in Black movie in theaters, after all), Slime City, an Instagrammable play space making its debut in Atlanta, is giving kids and millennials like me who grew up watching the radioactive-looking ooze a chance to finally experience it in person. The experience opens June 15 in Buckhead, and similar to Candytopia just a few miles away, Slime City offers several rooms full of interactive photo ops, with the sliming as the grand finale. Here's what you need to know before you go.
1. Kids will get the most out of Slime City.
Actually, the perfect audience for this would be a parent in their early 30s with a child aged 7-9. The slime by definition is nostalgic for millennials (and late gen X-ers) who grew up watching Double Dare and Wild N Crazy Kids, but the rooms themselves are really geared toward current kiddos. There's space for them to dance, run around, burn off energy and play, but adults without children might feel a little out-of-place. The three elementary-school-aged kids on my media tour group seemingly had a blast as they raced from room to room—and it does seem best geared toward elementary-and-middle-school-aged children.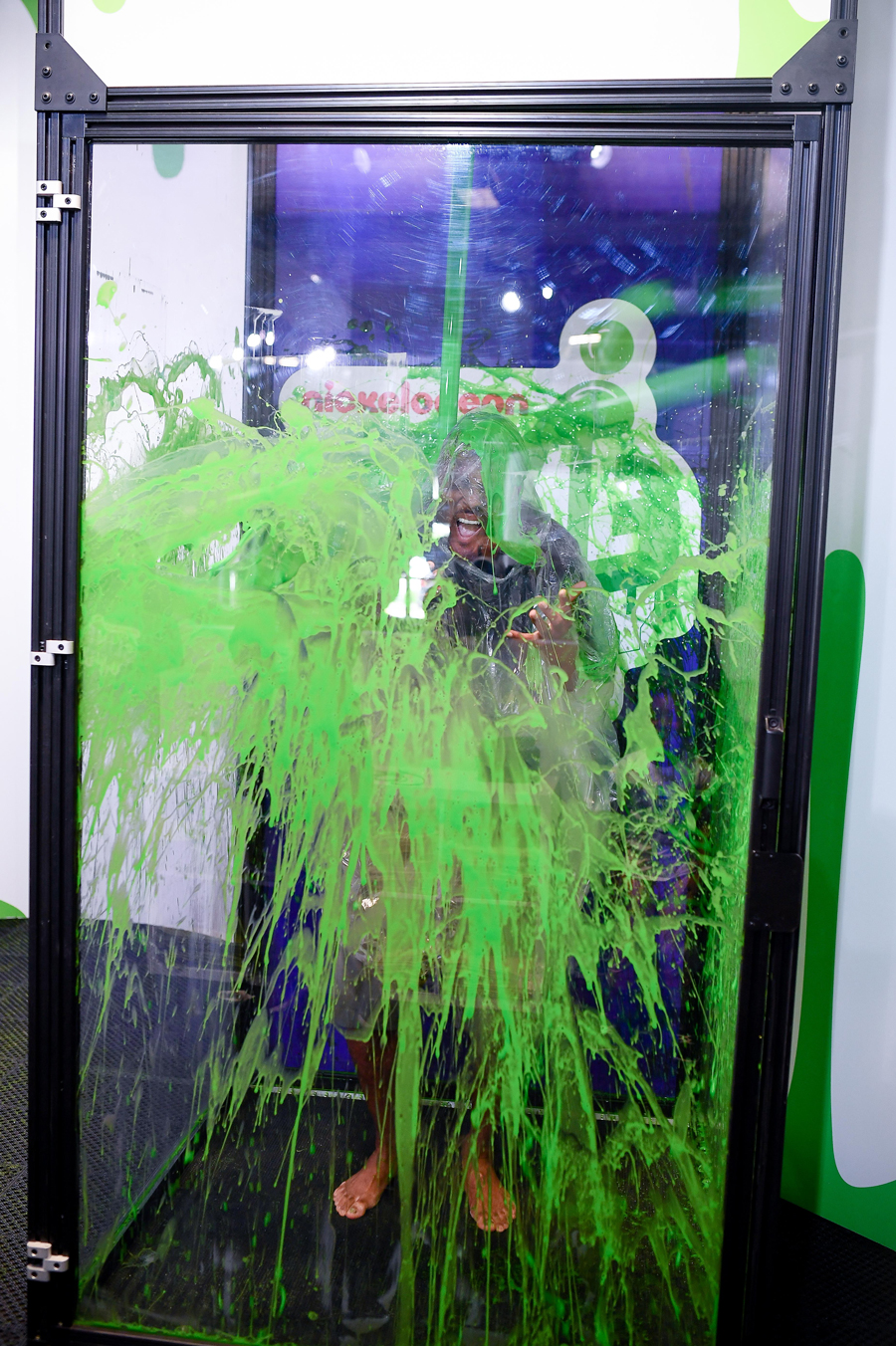 2. But millennials, you'll want to consider the VIP package.
Because that's how you can experience a true Nickelodeon sliming. While everyone who is slimed in the main experience is required to wear a clear poncho over their clothes, if you want the real, slime-running-down-your-face experience, you can pay an additional $30 (on top of your $30 ticket fee, so $60 total) for the VIP Sliming Add-On, which lets you get slimed in a solo booth without a poncho (or with one, if you want). You'll also get an "I got slimed" T-shirt, which Slime City also sells in their gift shop. It's not cheap, but depending on just how deep your Nickelodeon nostalgia runs, it might be worth it for a dream experience.
3. There's one other VIP add-on the kids will surely clamor for.
And that's a customizable slime station—one room of the experience that is only open to those who pay an additional $12 on top of their $30 entry ticket. You'll get a small jar of green slime that you can add glitter beads, sequins, and googly eyes to, followed by a "secret slime ingredient" that gives it the proper slime texture when stirred. (Unlike the runny goo used in the slimings, this is more like the stuff you can buy in a jar at Target). Kids will love the chance to customize their own slime, and it will extend your experience at Slime City, but you can also buy a jar of Nick-branded slime for $8 at the front of the store, sans sequins and googly eyes. (Or, there's a Target around the corner.)
4. There's not a lot of actual slime at Slime City.
Which will be a relief for parents who don't want to deal with monstrously messy kids, but it's still a little disappointing for anyone expecting a slime-extravaganza. You'll get to touch slime in the first room of the experience (it's shockingly warm here as it bubbles and flows over a pipe), with plenty of paper towels provided for clean up, but you'll only see the actual green goo again one more time before it's dumped on your head at the end. There's also not a lot of slime history on display—the only thing close is a gallery of celebrity slimings in the Kids Choice Awards area, but even there, the oldest photo is of Katy Perry in 2010. A timeline of slime would have been fun for adults, or facts about the science behind the sauce, since slime-making has become such a beloved kid hobby in recent years. Why not make Slime City a real slime museum?
5. But there are lots and lots of photo opps.
And it is pretty interactive. A neon-filled blacklight room lets kids draw on the walls with florescent markers. One room features a giant slime-shaped bean bag perfect for flopping and stretching on. (Adults, it's pretty comfy if you need a short break.) One room is filled with "bubbles" (balloons) that kids can kick and throw into giant bubble wands. (If one pops, it is extremely loud.) The employees are friendly and energetic and will encourage the kids to play and have fun. Parents will enjoy snapping photos of their kids (or themselves) holding a Kids Choice Award blimp trophy or sitting on the "Great Wall of Slime," which has large plastic levers that can be pushed in to create shapes and seats. The whole experience takes about 45 minutes to an hour to get through, but you can move at your own pace.
6. Do NOT wear jeans or long pants.
At least, not if you plan to get slimed. Shorts are ideal, capris will do, but your ankles, feet, and even the backs of your legs can get very slimy. I had slime all over my calves and some on my forearms. Had I been wearing jeans, they would have been drenched, and that wouldn't have made for a fun drive home. Dress for summer—shorts and T-shirts.
7. You'll take your shoes off when you get slimed.
And that's really for the best, since your feet will bear the brunt of the ooze. The slime wipes off with the provided towels but it takes some scrubbing to get it all—and it will squish in between your toes. I was actually grateful I wore sandals so I didn't get residual slime in my socks. (It also stained the bottom of my bare feet slightly green, so keep that in mind. It washed off after a shower.)
8. And the slime should wash out of your clothes. But don't wear something you love, just in case.
While the ponchos seem to do a good job of keeping the slime off you, I still came home with a small green stain on the upper back of my purple T-shirt. I threw it in the wash immediately and it came right out, but I'd never dream of wearing white or something that isn't easily machine washable. Play clothes are the way to go here—something that if it gets a stain, it won't be the end of the world. (Also: pack a towel to sit on in the car, just in case.)
9. Hold on to the hood of your poncho during the sliming.
It's a pretty powerful blast of slime—the weight of it knocked my poncho off my head after I let go of it. So hang on, unless you want to have your face drenched.
10. Slime doesn't smell.
It looks like it should, but it really doesn't. It's very thin but feels akin to liquid soap or shampoo (which makes sense—baby shampoo has been cited as a common slime ingredient).
How to go:
Address: Piedmont Peachtree Crossing shopping center, 3330 Piedmont Road Northeast (in the former World Market space next to Disco Kroger)
Price: $29 per person, kids under 2 free. Tickets are purchased per time slot (every 15 minutes) and must be purchased online in advance.
Hours: Wednesday-Friday: 10:30 a.m.-6:30 p.m.; Saturday: 9 a.m.-8 p.m.; Sunday 10 a.m.-7 p.m. (closed Monday and Tuesday)
Dates: June 15 through September 28