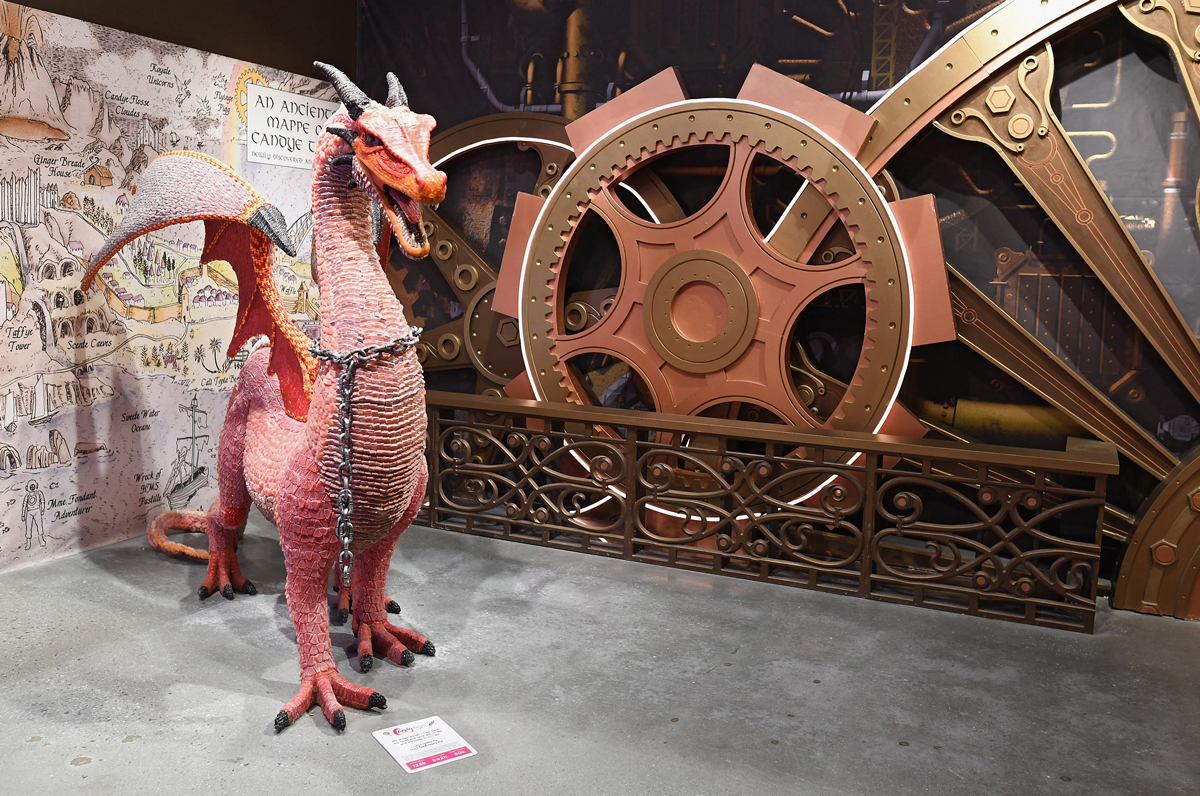 Upon arrival at Candytopia's Steampunk-esque gate, a small group of people in blue jumpsuits walk the guests through the rules. Yes, you can touch all of the artwork on display throughout the 14,000-square-foot exhibition. But please, don't lick it.
What was once home to Pirch at Buckhead's Lenox Marketplace shopping center—where you could actually take a shower in the middle of the kitchen and bath shop—has now been transformed into a temporary exhibition celebrating all things sweet. A 360-pound dragon made of 125,000 pieces of licorice, rock candy, sour belts, Swedish fish, and other sweets stands in a corner overlooking the entrance. Walk into the next room, a Victorian parlor, and a fox comprised of jelly beans and candy corn (13,000 pieces) waits for you to take its picture. One of the many enormous clocks suspended from the ceiling lowers to reveal itself as a plate filled with Lindt chocolate truffles.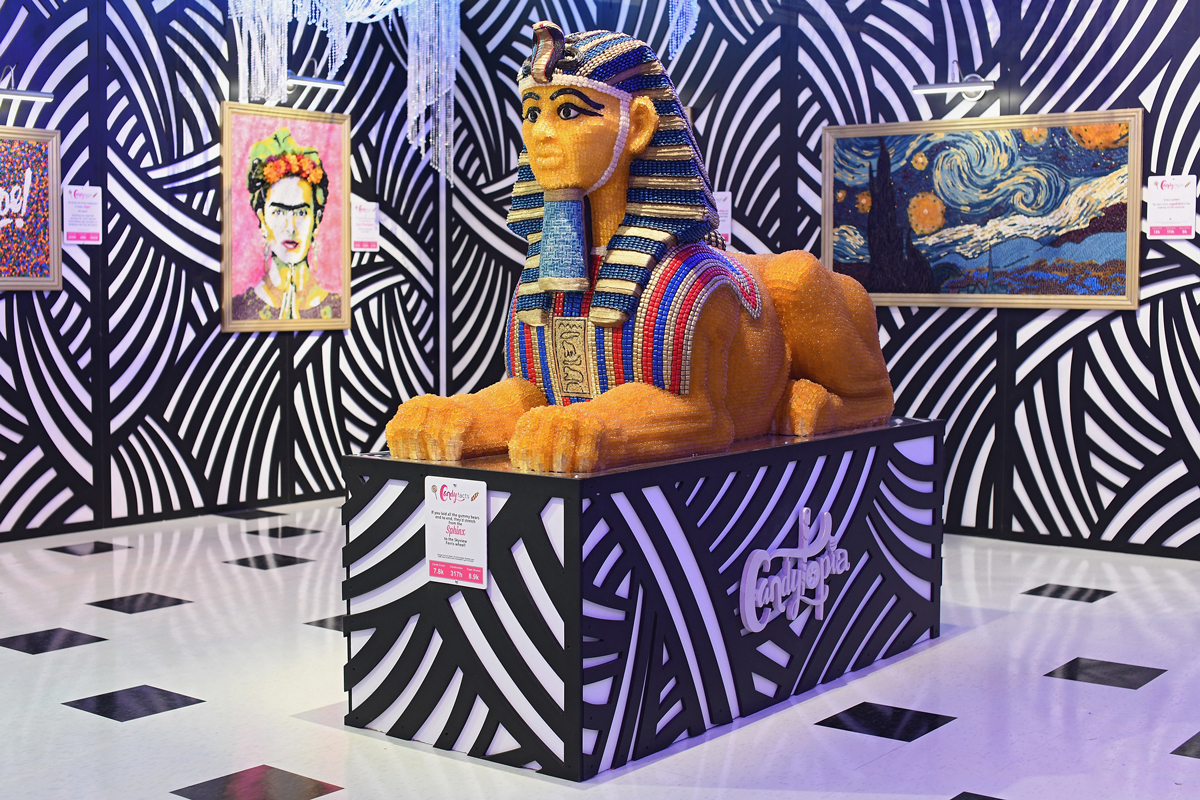 It's hard not to get caught up in the giddy joy of Candytopia, which opened in Atlanta on February 8 after debuting last year in Santa Monica and popping up in San Francisco and New York City. Created by California-based candy artist Jackie Sorkin, event designer Zac Hartog, and CEO John Goodman, the temporary pop-up is an Instagram experience in the same vein of Santa's Fantastical, which drew crowds to Sandy Springs last holiday season, or the beauty-themed Winky Lux experience that ran last fall at Lenox Square. Candytopia is first and foremost a photo opp, with plenty of sugar sculptures and colorful areas to pose. But it also has interactive elements such as giant swings, colorful confetti, a massive foam marshmallow pit, and candy samples to keep you sugared up. Intrigued? Here's what I learned while attending the February media preview, just before it opened to the public.
1. This place is designed for picture-taking, which can be a great or terrible thing depending on what kind of experience you seek. Personally, once I got over the initial awkwardness of worrying about accidentally walking through someone's photo, it was pretty fun to come up with different ways to capture the various pieces of candy decor. Just be respectful—don't do 20 different poses in the rainbow hall of mirrors for example, which while beautiful is the only pathway from one of the rooms to the next. There are also plenty of staff around to help you take photos, which is great for experiences like the marshmallow pit, where you might want to focus more on playing than pictures.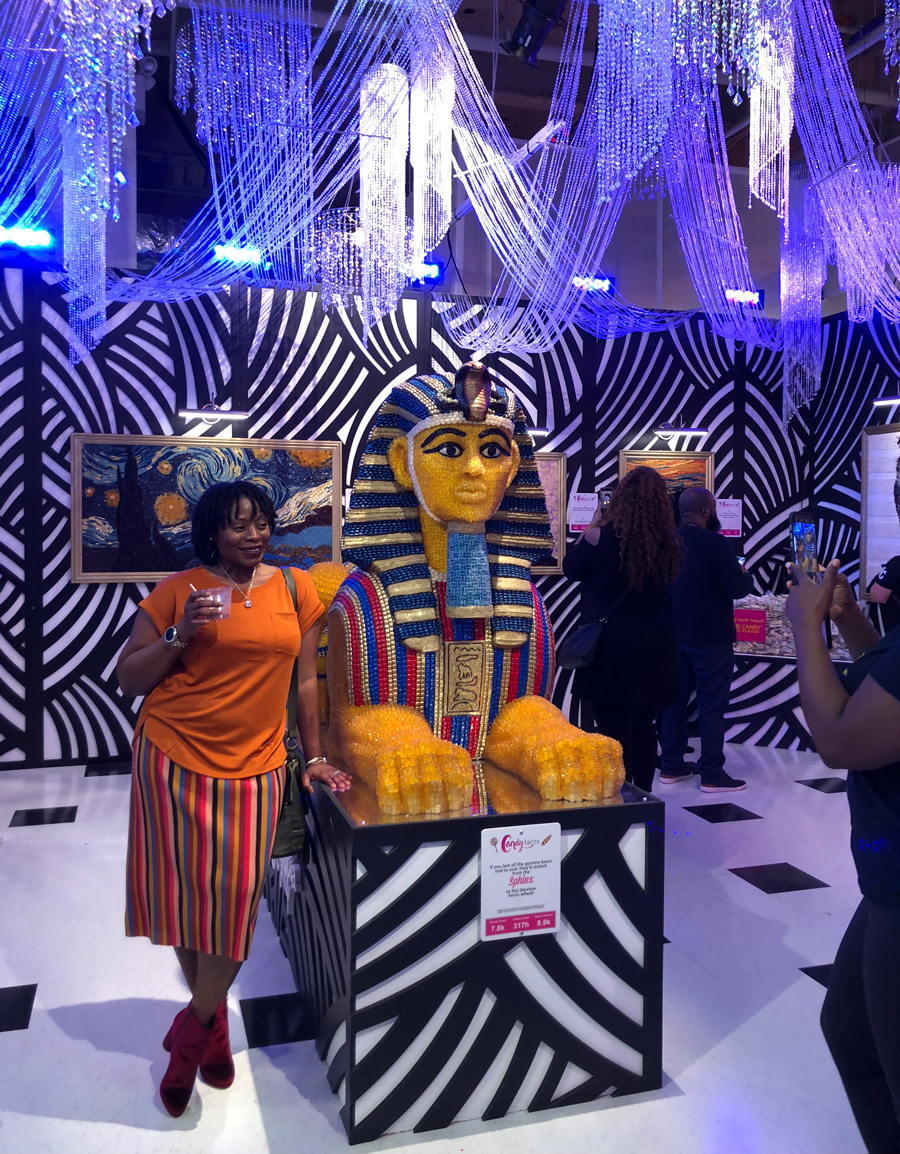 2. It is kid-friendly—and if you go back and try to imagine what would happen if you were a child suddenly thrust into a colorful world filled with giant candy sharks, candy knights, candy paintings, swings, see-saws, and a foam play pit, it's easy to see why. But it's equally appealing for adults, who will appreciate the intricacy in the candy paintings of Prince, Cardi B, the Mona Lisa, and Van Gogh's Starry Night.
3. There are candy samples in each of the seven rooms, plus another in the entryway, all with signs reminding you to take only a couple of pieces and not try to cram $30 worth of Lindt truffles into your bag. Posted signs also display allergen info and ingredients for all of the candies offered, of which most are non-chocolate sugary fare such as Pixie Stix, candy bracelets, and Airheads.
4. You can't go backwards—the route through the rooms is linear and one-way only, so make sure you are done before moving on.
5. The signs are filled with fun facts about each of the candy creations, so be sure to pause and read them, or snap photos to look at later. Each sign notes how long a candy sculpture took to make, how many pieces of candy are in it (and what types), and how many thousands of grams of sugar is in the creation. For example, a giant portrait of Gene Wilder as Willy Wonka is made of 7,900 pieces of candy (including root beer licorice and Dr. Pepper jelly beans), took 108 hours to craft, and has 2,400 grams of sugar.
6. You will leave with confetti in your shoes. Perhaps the most absurd room in Candytopia—and arguably one of the most fun—is one that involves a lot of colorful tissue paper confetti. The absurdity comes from the fact that in the world of Candytopia, not only do the pigs fly, but they fart confetti. And literally, in this room, confetti comes streaming from a large candy pig's behind. Your seven-year-old will not be able to get enough of it. Air hoses at the end of the room will help you blow off any confetti left sticking to you, but you will bring home some of it in your shoes. I also highly recommend bringing a handbag with no open pockets.
7. The marshmallow pit is worth the wait. Located in the final room, this large pool is designed to look like it's filled with huge Jet-Puffed Marshmallows, but these are made of foam. No shoes are allowed in the pit, so make sure you wear socks. The "marshmallows" are firm, not squishy like the edible variety, so don't throw them at your buddy's face. Instead, toss them into the air and splash around. Kids might be able to navigate the pit better than adults—I personally felt like a wobbly baby giraffe trying to make my way from one side of the pool to another, but it brought back plenty of fond memories of playing in plastic ball pits as a child.
8. The gift shop is cute but pricey. Don't miss the giant peach and Atlanta Braves cap that are tucked away inside the final part of Candytopia, the gift shop, which is filled with various types of candy and Candytopia-branded souvenirs ranging from T-shirts to lip balm to water battles to doughnut-shaped pillows. While there are some fun finds in the candy selection—Hello Kitty mints, a giant gummy Champagne bottle, various flavors of Pop Rocks—watch out for price markup. A 13-oz jar of Nutella was going for $9.99 (to put that in perspective, you can get a 35.2-oz jar at Target for $8.85).
How to go: Tickets are sold in time slots, every 15 minutes starting at 10 a.m. and ending at 8:30 p.m. You have to purchase your ticket in advance, which can be done here. Adults are $28, kids aged 4-12 are $20, and kids under three are free. It takes a little over an hour to go through all the rooms. Candytopia runs now through June 2 (update 5/1/19: the exhibit has been extended six weeks and runs until July 28).