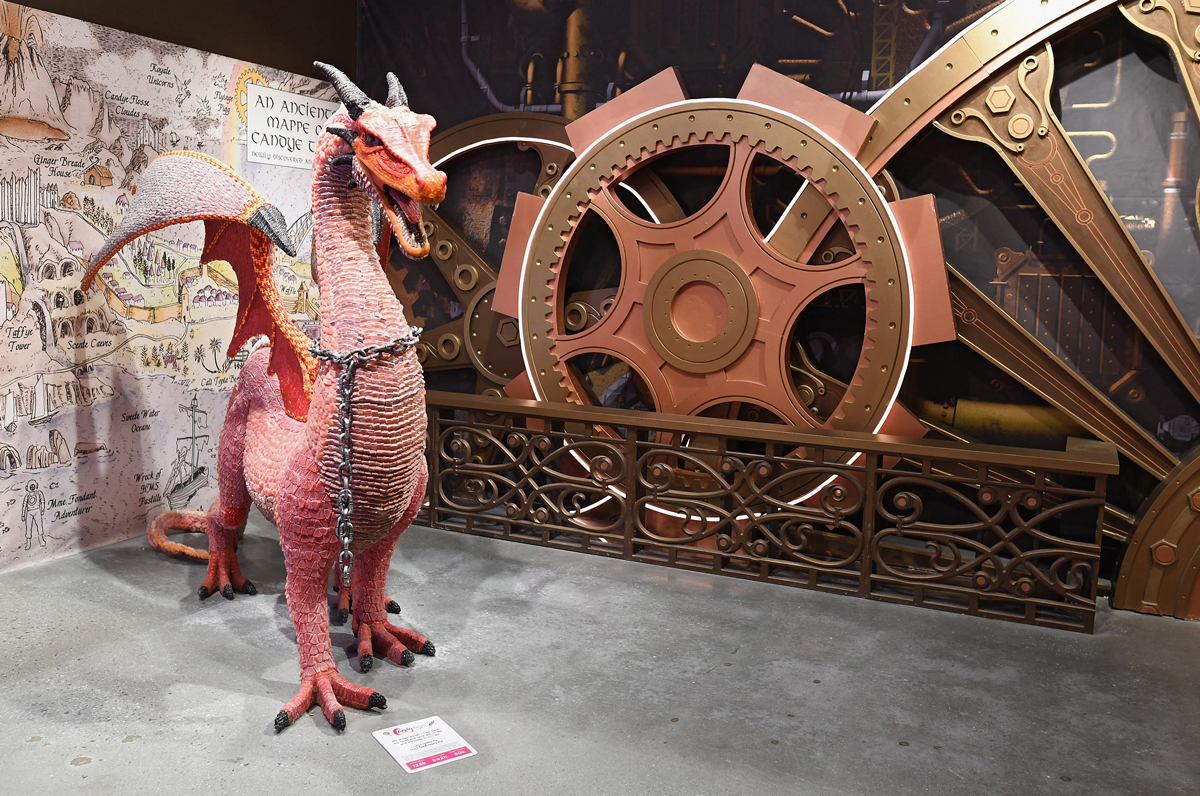 Upon arrival at Candytopia's Steampunk-esque gate, a small group of people in blue jumpsuits walk the guests through the rules. Yes, you can touch all of the artwork on display throughout the 14,000-square-foot exhibition. But please, don't lick it.
In the next room, a Victorian parlor, a 360-pound dragon made of 125,000 pieces of licorice, rock candy, sour belts, Swedish fish, and other sweets stands in a corner next to a fox comprised of jelly beans and candy corn (13,000 pieces), both waiting for you to take their pictures. As a cast member energetically explains the sugar-filled world of Candytopia, one the many enormous clocks suspended from the ceiling lowers to reveal itself as a plate filled with individually-wrapped chocolates. From there, a secret door opens to the rest of the exhibition, where you're free to explore the various rooms—including a candy art museum and a trip under the sea—at your own pace.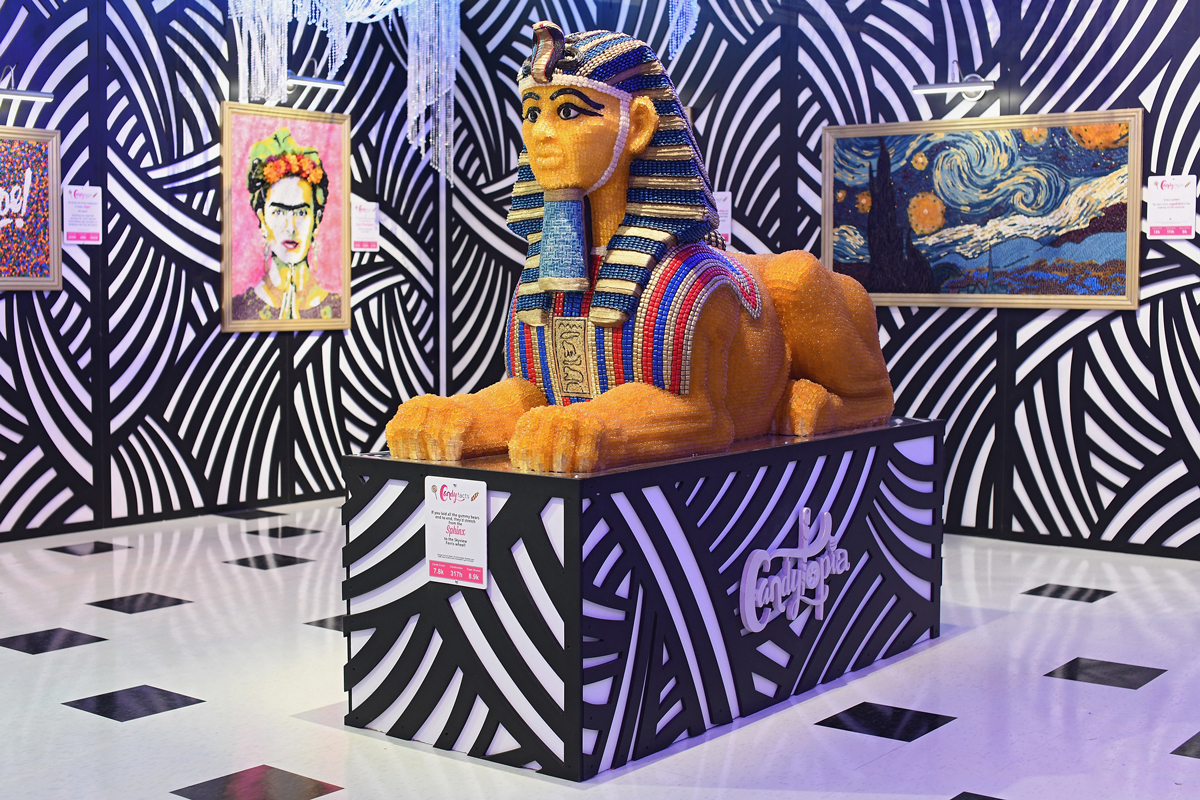 It's hard not to get caught up in the giddy joy of Candytopia, the nationally touring pop-up now back for its second run in Atlanta after an extremely popular debut at Buckhead's Lenox Marketplace shopping center in February 2019. This time around, in 2021, it's moved just a few minutes away to the Disco Kroger shopping center, set up in the former World Market space that also housed a fellow Instagram experience in 2019, Nickelodeon's Slime City. Like Slime City, Santa's Fantastical, and Lenox Mall's TFTI, Candytopia is first and foremost a photo opp, with plenty of sugar sculptures and colorful areas to pose. But it also has interactive elements such as giant swings, colorful confetti, a massive foam marshmallow pit, and candy samples to keep you sugared up. Intrigued? Here's what I learned while attending both the original Atlanta experience and the media preview for the 2021 run:
1. This place is designed for picture-taking, which can be a great or terrible thing depending on what kind of experience you seek. Personally, once I got over the initial awkwardness of worrying about accidentally walking through someone's photo, it was pretty fun to come up with different ways to capture the various pieces of candy decor. Just be respectful—don't do 20 different poses in the rainbow hall of mirrors for example, which while beautiful is the only pathway from one of the rooms to the next. There are also plenty of staff around to help you take photos, which is great for experiences like the marshmallow pit, where you might want to focus more on playing than pictures.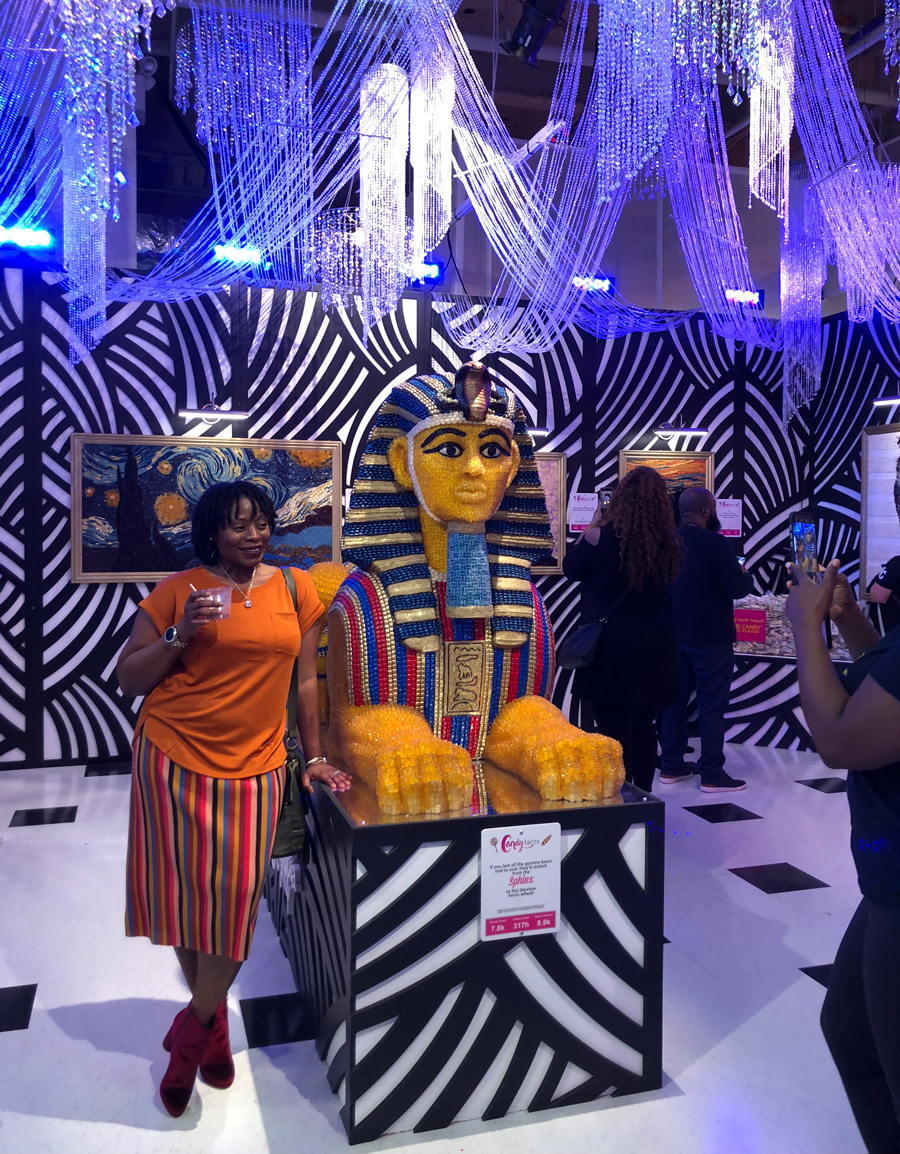 2. It is very kid-friendly—and if you go back and try to imagine what would happen if you were a child suddenly thrust into a colorful world filled with giant candy sharks, candy unicorns, candy paintings, swings, and a foam play pit, it's easy to see why. But it's also appealing for adults, who will appreciate the intricacy in the candy paintings of Prince, Cardi B, the Mona Lisa, and Van Gogh's Starry Night.
3. There are candy samples in each of the eight rooms, plus another in the entryway, all with signs reminding you to take only a couple of pieces and not try to cram $30 worth of Twizzlers into your bag. Posted signs also display allergen info and ingredients for all of the candies offered, most of which are non-chocolate sugary fare such as Pixie Stix, Ring Pops, and Airheads.
4. Not too much has changed since 2019—most of the sculptures, paintings, and elements were included in the original Atlanta run, although there are some new pieces, including a massive candy portrait of Beyoncé, a candy replica of Prince's guitar, and a swing in the shape of the "100" emoji. The underwater-themed room seemed a bit more robust, with new candy fish sculptures and an updated version of the scuba diver (made from sugar belts, gummy cola bottles, and gold gummy bears). So if you missed Candytopia the first time around or want to take someone new, this is a great opportunity to see what it was all about.
Of course, there was one major change between the 2019 exhibition and now—a global pandemic. But at this point, it hasn't changed the experience too much. Folks are still allowed to touch the sculptures and choose their own pieces of individually-wrapped candy. Candytopia cast members will still happily offer to take photos for you on your phone, and they are required to wear face masks. For guests, however, face masks are recommended but not required, and since it is largely a photo-taking experience, it's safe to assume many likely won't be wearing them. So if you're still not quite comfortable being around maskless folks, now may not be the best time to go.
5. The signs are filled with fun facts about each of the candy creations, so be sure to pause and read them, or snap photos to look at later. Each sign notes how long a candy sculpture took to make, how many pieces of candy are in it (and what types), and how many thousands of grams of sugar is in the creation. For example, a giant portrait of Gene Wilder as Willy Wonka is made of 7,900 pieces of candy (including root beer licorice and Dr. Pepper jelly beans), took 108 hours to craft, and has 2,400 grams of sugar.
6. You will leave with confetti in your shoes. Perhaps the most absurd room in Candytopia—and arguably one of the most fun—is one that involves a lot of colorful tissue paper confetti. The absurdity comes from the fact that in the world of Candytopia, not only do the pigs fly, but they fart confetti. And literally, in this room, confetti comes streaming from a large candy pig's behind. Your seven-year-old will not be able to get enough of it. Cast members will also throw buckets of confetti into the air and over your head, which makes for some pretty cool photos. Thankfully, large fans at the back of the room will help blow off any confetti left sticking to you, but you will bring home some of it in your shoes. I also highly recommend bringing a handbag with no open pockets—I made the same mistake this year and once again collected a solid handful of confetti in my purse.
7. The marshmallow pit is worth the wait. Located in the final room, this large pool is designed to look like it's filled with huge Jet-Puffed Marshmallows, but these are made of foam. No shoes are allowed in the pit, so make sure you wear socks. The "marshmallows" are firm, not squishy like the edible variety, so don't throw them at your buddy's face. Instead, toss them into the air and splash around. Kids might be able to navigate the pit better than adults—I personally felt like a wobbly baby giraffe trying to make my way from one side of the pool to another, but it brought back plenty of fond memories of playing in plastic ball pits as a child.
8. The gift shop is cute but pricey. It stocks various types of candy and plenty of Candytopia-branded souvenirs ranging from T-shirts to lip balm to water battles to chocolate bars—and there are a few final candy sculptures in here too. If you love the cute, cartoony flying pigs and unicorns that appear on the walls throughout the exhibition, you'll be glad to know they're on a lot of the merch. While there are some fun finds in the candy selection—Super Mario mints, gummy tacos, various flavors of Hi-Chews—like any tourist attraction, you should watch out for price markup.
How to go: Candytopia is located at 3330 Piedmont Road Northeast in Buckhead, next to Disco Kroger. It opens June 11, 2021, and tickets are sold in time slots, every 15 minutes starting at 10 a.m. and ending at 8:30 p.m. You have to purchase your ticket in advance, which can be done here. Adults are $28, kids aged 4-12 are $20, and kids under three are free. It's open daily except for Tuesdays. It takes a little over an hour to go through all the rooms. The event doesn't have a set end date yet, but it will likely be around for the next six months. Face masks are recommended but not required; bring socks for the marshmallow pit.