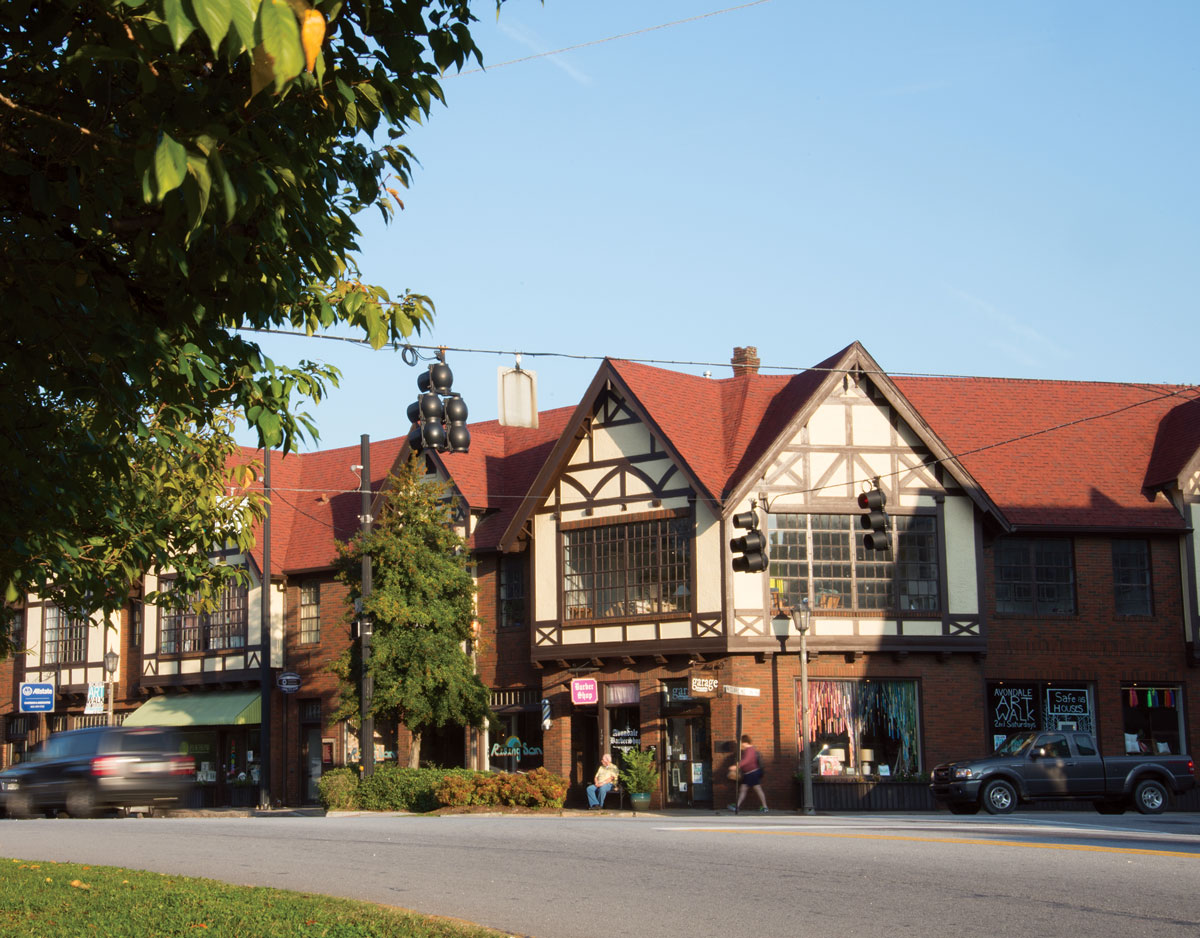 As a child, I remember thinking that the storybook-like buildings on Main Street in Avondale Estates looked like real-life dollhouses. For many years, my mother worked at the DeKalb County Division of Family and Children Services, which was located behind the Avondale MARTA station, so we were in the area often. After school, she'd take me to Skips Chicago Dogs for a milkshake, or we'd browse the racks at a local boutique. I loved driving through the neighborhood.
I also grew up knowing about the city's segregated past. The 1,000-acre planned community was founded in 1924 by George F. Willis, who was also president of the Stone Mountain Confederate Monumental Association. The original neighborhood covenants prohibited selling land to "persons of color," with a small section bordering Scottdale reserved for Black residents who worked for the white homeowners. My mother's eldest brother, who is 83, vividly recalls working as a delivery driver for a pharmacy there in the 1970s, but hurrying out of the city before sundown for fear of being arrested, or worse.
Over the last few years, like the rest of the nation, Avondale Estates has been reckoning with its racist past. Now, local signs assert slogans such as "Practice Radical Empathy" or "Black Lives Matter." The city is making space for a more diverse group of homeowners and businesses. And the Avondale Alliance for Racial Justice, which formed in 2020, hosts an annual Black History Month art contest and Juneteenth celebration.
What's to love?
Quaint architecture
When driving down Main Street, the first thing most people notice are the Tudor-style buildings. Willis modeled them after those he and his wife saw on vacation in Stratford-upon-Avon, England, the birthplace of William Shakespeare. The Georgia city is listed on the National Register of Historic Places.
Unique boutiques
Shopping may be one of Avondale Estates' best-kept secrets. Garage Door Studio sells one-of-a-kind art, accessories, stationery, and housewares created by local artisans. Just down the street, wine shop Purple Corkscrew hosts special events like Champagne and caviar tastings. And thrifters will find a plethora of options at Finders Keepers Consignment and Second Life Upscale Resale, where proceeds benefit homeless pets.
Good eats
The town is known for its breweries—Little Cottage, Lost Druid, and Wild Heaven—but there's also a wide variety of cuisine. The patio at Santo Cantina + Cocina is a popular spot for margaritas and tableside guacamole. The chopped chicken, pulled pork, and brisket sandwiches at Taylor'd Bar-B-Q make for a quick, filling, tasty lunch. On weekends, the chicken biscuit at Rising Son is a must-try for brunch. For the late-night crowd, My Parents' Basement lives up to its name with old-school arcade games and comic books lining the walls. The menu includes an extensive beer list and comfort foods like "Hamburger Helper" and bread pudding.
Abundant greenspace
Avondale Lake is a scenic place for a walk or a picnic. The city is on the Stone Mountain PATH trail, with many convenient entry and exit points. And the first phase of the new Town Green­—which features a playground, pavilion, and event space—just opened, with a restaurant and retail to come.
The birthplace of Waffle House
Whether you like your hash browns scattered, smothered, covered, or chunked, every Georgian has a Waffle House memory. In 1955, friends Joe Rogers Sr. and Tom Forkner opened the chain's first location in Avondale Estates. Today, there are more than 1,900 locations in 25 states. The original restaurant has been turned into a museum that, after months of renovation, reopened this spring.
This article appears in our April 2023 issue.