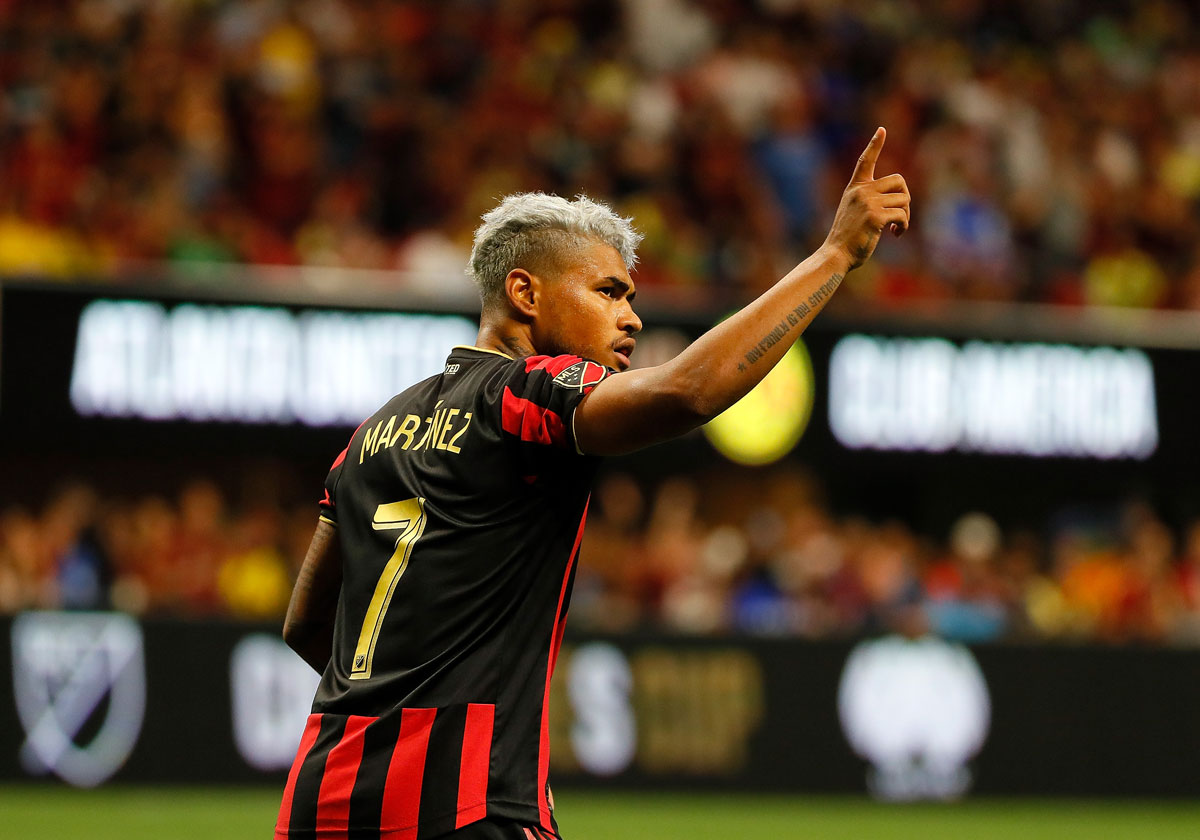 I'll always picture Josef Martinez sitting on his couch, gnawing on some chicken wings.
In 2019, as Atlanta United was on its way to winning the U.S. Open Cup trophy, the team was playing arch-rival Orlando City FC in the semifinals. But Josef was injured and had to sit this one out.
Most players in that situation might watch the match quietly at home. Not Josef. Following the 2-0 win, Josef filmed himself eating and cackling with delight at Orlando's misery and promptly posted the video on Instagram.
Josef Martinez is just openly trolling Orlando at this point. #ATLUTD #ORLvATL pic.twitter.com/I1XjSEPPUn

— MLS Buzz (@MLS_Buzz) August 7, 2019
Many will remember him for his on-the-field heroics, but I'll hold onto this episode of Orlando schadenfreude. While he was a franchise icon and one of Major League Soccer's greatest-ever players, he was first and foremost a diehard Atlanta United fan. He felt the same passion and pettiness we did—the club, the city, and the fans meant everything to him. And we loved him in return.
But after months of strained relations with team leadership, the breakup became official this week when Josef signed with Inter Miami FC.
Looking back at his time with Atlanta United, it's clear why he earned the nickname "El Rey"—the king. He scored 111 goals in 158 games, an insane level of production for a weekend warrior at a Sunday rec league, let alone an MLS striker.
He reached unheard-of heights in his first three seasons with the team, scoring roughly a goal a game and setting a record with six hat tricks, the most in MLS history. In 2018, he scored the opening goal in Atlanta United's title victory, earning him the MLS Cup MVP to go along with his regular season MLS MVP and MLS All-Star MVP honors.
Josef was on his way to cementing his reputation as one of the greatest in league history until he tore his ACL in February 2020. He missed the rest of that season, and he's never been the same player we saw during that magical three-year run—though he still led the team in scoring last year, even on a bum knee.
It wasn't just his performances on the field that made him so beloved. In a world where professional athletes are sanitized to the point of blandness, he always brought the swagger.
He frequently dyed his hair, going from blonde to gray to bright pink, making it easy to spot him from the nosebleeds at Mercedes-Benz Stadium. He wore flashy clothes, hung out on his boat on Lanier—oh, how we worried about his safety on that haunted lake—and he brought a bit of brashness to everything he did. The man nearly got himself flambéed during a goal celebration, for goodness' sake.
At press conferences, where many athletes do their best to stick to tired talking points, Josef veered off-script. No one knew what he might say, much the same way as defenders couldn't guess where he'd pop up in front of goal. There was no one like him.
Like everyone, however, he was far from perfect. He hated nothing more than losing—well, maybe except for not scoring—and when things weren't going well for the club, his emotions often got the best of him. He sparred with Atlanta United's managers. Even Tata Martino, the team's legendary first manager, was on the receiving end of one or two Josef tantrums.
He butted heads with current Head Coach Gonzalo Pineda over the team's poor performance and his limited playing time. Infamously, after a loss in Portland this past September, Josef reportedly knocked over a catering table and spilled chicken and rice all over the locker room. That messy moment likely sealed his move to Inter Miami.
In the end, Josef will be remembered as one of the most beloved professional athletes to ever play in Atlanta. His jersey has always been an MLS bestseller. The fans have dedicated wall murals and crafted beautiful works of art for him. For years, fans have called for the team to "Build the Statue" in his honor outside the Benz.
It's no surprise that during his introductory press conference in Miami, Josef sounded like he was channeling Ryan Gosling in the Notebook when describing how he felt about Atlanta.
"Nothing is over," he said. "Atlanta has a special side in my heart. We had great days together. They supported me in the good times and bad, I'm so grateful to them. I wish you the best."
Our love may have been doomed from the start, but we'll always remember the good times we had together. Farewell, king.