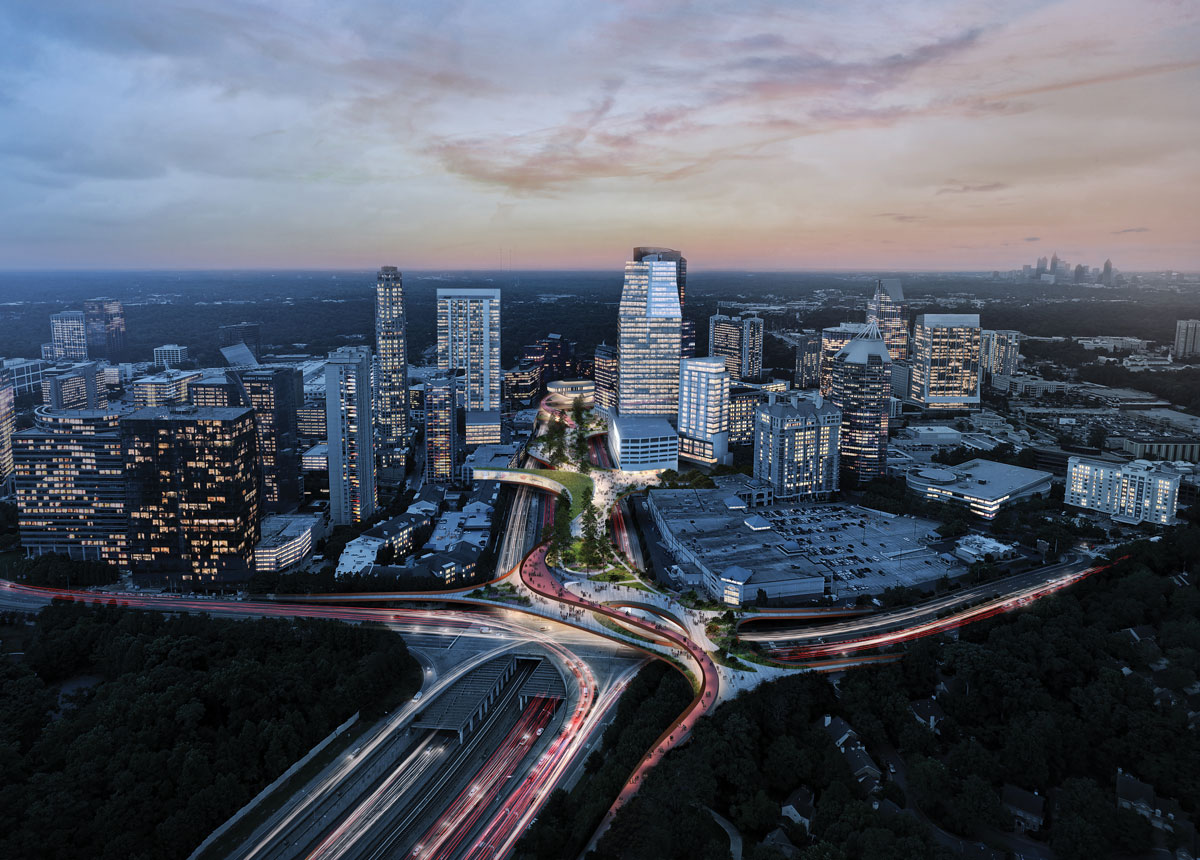 Park over Georgia Highway 400
This year could see Buckhead's highway-capping, nine-acre park concept emerge from Covid-induced hibernation. HUB404 would create a tapestry of trails and grassy park settings out of thin air above Georgia Highway 400, at a reported cost of $200 million or more. After years of planning and research, an official fundraising launch and publicity push in late 2019 lent the clearest vision to date—only to be torpedoed by the pandemic. "We plan to have the funds identified and raised to get back on track with engineering and final cost estimation [this year]," says Jim Durrett, head of Buckhead Coalition and Buckhead CID. "The nonprofit board is growing, and we're eager to make progress."
Gulch redo
One of Atlanta's closest-watched megaproposals in recent memory—the 50-acre redevelopment of downtown's subterranean Gulch, now branded Centennial Yards—is beginning to rumble to life. California developer CIM Group has begun permitting and infrastructure work for what could be a $5 billion mix of apartments, retail, offices, and hotel rooms, all backed by a nearly $2 billion tax-incentive package, the largest in city history and subject of pending litigation. Meanwhile, the initial phase, a redevelopment of former Norfolk Southern buildings along the Gulch's southern rim, is expected to open this year. An exact breakdown of uses is TBD, but officials say 20 percent of apartments will qualify as affordable.
"Fourth Ward Project"
Led by a veteran of Ponce City Market's revival, New City Properties' Jim Irwin, this multipronged, potentially billion-dollar venture could make the BeltLine's Eastside Trail feel more downtown than any other development to date. Infrastructure work at the 12-acre site is underway, and digital marketing behemoth Mailchimp is expected to fill two-thirds of the first two towers by the end of 2022. Meanwhile, a boutique hotel with its own brand is on track to break ground in late 2021 or early 2022, as a 359-unit apartment building—with 10 percent of rentals qualifying as "affordable" for anyone earning 60 percent of the area's median income—gets underway this year, too.
PATH400
Five years after its first multiuse mile debuted, Buckhead's answer to the BeltLine is now 80 percent finished and longer than four miles. Popular with exercisers and local event organizers, PATH400 cleared a major hurdle last year in opening a picturesque segment that snakes from Miami Circle to near Lenox Square. Additional pieces—including key connections in the Lindbergh area—are scheduled to begin construction in the second half of 2021.
Westside Park
Plans for Atlanta's largest park—percolating for more than 15 years, through three mayoral administrations—finally should start coming to fruition in 2021 with the initial phase of Westside Park near the old Bellwood Quarry. The projected $44 million project is expected to eventually be a 280-acre greenspace (that's 100 acres larger than Piedmont Park) built around a city reservoir now filled with a month's worth of emergency drinking water. The pandemic stalled public access, but officials say the first section should open by early summer, offering a 2.5-mile bike and walking trail, playground, a sculpture, parking, and a jaw-dropping "grand overlook" of the reservoir and skyline beyond.
Buckhead's outdoor shopping district
Adaptive-reuse pioneers Jamestown, creators of Westside Provisions District and Ponce City Market, bought the flailing Shops Buckhead Atlanta in 2019. They've since rolled out a new name—simply, Buckhead Village—for the project, which spans six city blocks, plus more upbeat and colorful branding and a cozy, public-accessible veranda, with promises of more family-friendly and affordable attractions joining the luxury brands. Look for Fetch dog park, Italian wine bar Storico Vino, and local entrepreneurs and makers hub Village Supply.
This article appears in our April 2021 issue.