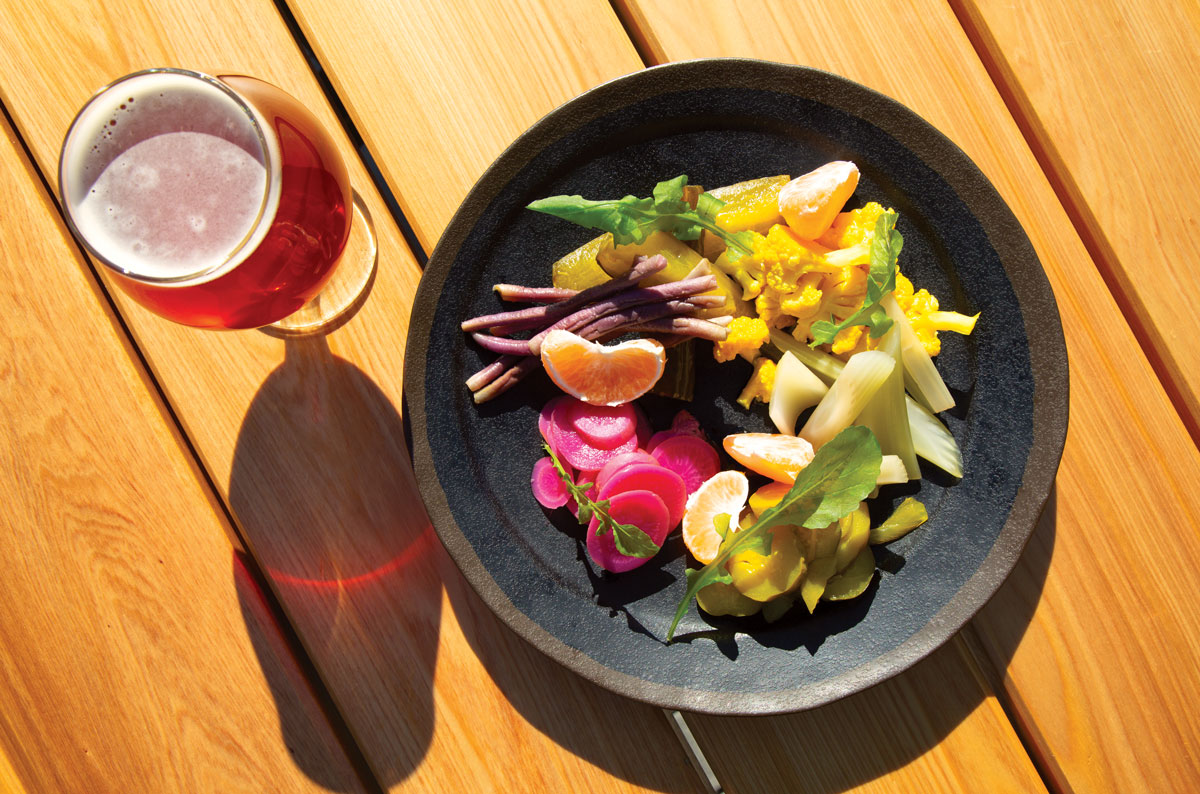 Is it possible to be a brewpub and not serve french fries? Can one fall in love with a plate of pickles? Those are two questions posed—and answered—at Biggerstaff, an exciting new restaurant on Edgewood Avenue. Brewpubs have been part of the Atlanta scene since Max Lager's opened downtown in 1998, but ones combining good beer with gastronomical ambition have been few and far between. Biggerstaff—a collaboration between owners Clay and Sarah Davies and Ryan Smith, chef and co-owner at Staplehouse—scores big on all accounts. It's a vegetable-friendly brewpub of a different caliber, skewing fresher and more Southern than any of the competition.
THE TEAM
Clay Davies is an accomplished home brewer with a background in graphic design and advertising; Sarah Davies worked at the preschool attended by Smith's daughters. After bonding over their love of beer, Smith and Clay Davies decided to go into business together, exploring several locations before settling for the large, open-plan former machine shop right next door to Staplehouse. All seemed rosy except that, according to Georgia liquor laws, the owner of a dining establishment can't be an investor in a brewery. Described by Davies as "essentially but not technically a partner," Smith then switched to sweat equity: In exchange for hiring the chef, working out a menu, and continuing to act as a consultant, he receives a salary and a share of the profits. Other talents to reckon with here include manager Don Hart, brewer Chris Collier, and executive chef Davis King—a former Seven Lamps sous chef who's rapidly climbing the ranks of his profession.
THE FOOD
Back to those pickles: The first time I stopped at Biggerstaff, I could hardly tear myself away from the almost luminescent seasonal vegetables (small cucumbers, carrots, broad beans, celery stems) gathered on the plate, each pickled according to a separate recipe. Instead of french fries, something the menu calls chickpea fritters—and I call panisses—were stacked like Lincoln Logs and served with a wildly good and eggy sauce gribiche. Roasted oysters with nduja (the recipe now also incorporates lumps of crab meat) sizzled appetizingly.
There are a few things I could quibble with: Smoked Vidalia onion rings were weak, almost fibrous; the smoked brisket sandwich felt like a wimpy French dip. But, on the whole, Biggerstaff brings a great version of the South to the table, from hearty shrimp and grits (with hominy and smoked pork broth) to an Atlanta-style Scotch egg (with housemade lemon-pepper chicken sausage). The elements that King combines on the all-important vegetable plate—when I visited: smoked bok choy, Sea Island red peas, and roasted tiny sweet potatoes—reveal the range of the chef's talents. I'd rather have a burger than sliders, but the sliders here—with dry-aged beef, American cheese, and bread and butter pickles, served on fresh rolls from TGM Bread—are nonetheless stunning. There's even dessert (bread pudding, buttermilk pie), with ice cream churned in-house by sous chef Kyle Lewis.
THE DRINKS
Served directly from the shiny tanks where it's placed following the primary fermentation, Biggerstaff's beer is exceptionally clean and palate friendly, with none of the funk I usually object to in most of our local brews. Top-of-the-line stainless-steel equipment allows the various styles—West Coast IPA, single-hop pale ale, dry-hopped wheat kettle sour, creamy amber lager, a stout with the alcohol content and mouthfeel of a Guinness, and an unusual but eminently drinkable hazy coffee session ale—to develop optimal flavors. (All the brews—Aunt Hattie, Uncle Clarence, and so forth—are named for family members.) Those who prefer wine will find a credible selection by the glass.
Mostly because the Davieses' son, Cole, is a young barista, Biggerstaff also opens a coffee corner till 3 p.m. on weekdays, serving drinks made with justifiably famous Intelligentsia beans.
THE VIBE
Sarah Davies comes from the Biggerstaff family: North Carolina farmers originally from England, whose coat of arms—with an upside-down dragon wrapped around it—is displayed on this building's brick facade. Outside, young families, tricked-out cyclists, and even a few dogs claim a wonderful terrace with sturdy picnic tables; the interior, darker but not hypermasculine, has a bar overlooking the brewing equipment. Noise isn't an issue, and there is plenty of space to spread out. On weekends, a brunch program called Kegs and Eggs attracts a crowd.
THE VERDICT
Instead of feeling bloated with the usual "beer-friendly" fare, you'll come away from Biggerstaff feeling like you've just eaten the best of your favorite farmers market. There's plenty of meat, some smoked on Big Green Eggs in the back, but it's rarely the center of the plate. Plus, Biggerstaff transformed me from an IPA skeptic to a quaffing convert. Eventually, the brewery will make its product available for sale in stores and other establishments—but right now, every brew you lift to your lips is worth the journey.
Rating
★ ★ ★ ★
Excellent
537 Edgewood Avenue, Old Fourth Ward
biggerstaffbrewing.com
All brews are good brews
Biggerstaff's beers are named after family members.
Aunt Hattie
A clean-tasting India pale ale that even a skeptic can love
Florence
A California-style steam beer (aka California common beer) with caramelly notes
G'Ma Parker
A coffee session ale brewed with beans from Intelligentsia
This article appears in our January 2022 issue.