Any given evening, most of the with-it young clientele sitting down to dinner at La Semilla aren't full-time vegans. But that's a large part of the draw at this new Latin restaurant on a hot stretch of Memorial Drive: It's for everyone. And everyone appears to be eating here. Every table is full. The noise level is just right—cheerful, not deafening. Your interest is piqued, your instincts are rewarded—if you follow them through the tall doorway, set off by garlands of large green leaves painted onto the brick. If you don't have reservations, there may be a couple of seats at the bar.
A short sentence on the menu mentions the restaurant's plant-based food, but your eyes may skip right over it to focus on delightful items such as queso, empanadas, Cuban sandwiches, and tamales. Your first, gloriously garnished cocktail is strong enough to suppress any lingering questions. La Semilla's owners, Sophia Marchese and Reid Trapani, aren't trying to fool or convert anyone. "Everybody is on their own journey" is their motto. They've been together for 10 years, the last five of them devoted to embracing and promoting a plant-based, anti-inflammatory diet, which they decided to take up for health reasons. (Studies have suggested that vegan or vegetarian diets may reduce inflammation, thereby lowering the risk of some chronic diseases.) As culinarians, they became known for their platform Happy Seed, which held pop-ups at places such as A Mano and Buena Vista, and which has reached full flower here.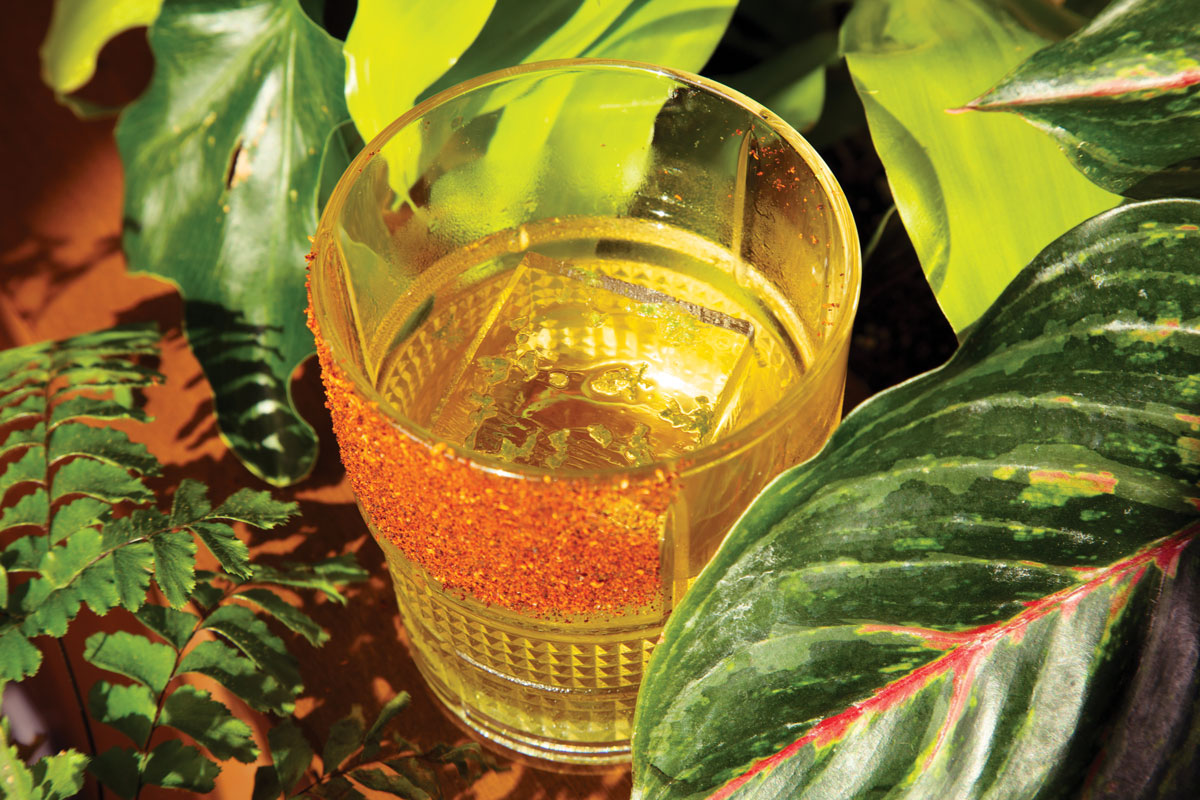 What feels unique about La Semilla, which the young couple started "from the gravel up" in a new building, is the joyous vibe. It's the kind of place where the pair and their contemporaries can let loose. Trapani as the chef, and Marchese as the general manager and creator of the rock-star beverage program, have gotten rid of the stereotypes associated with boring vegan restaurants. There's just enough information on the menu for customers to manage gluten intolerance and allergies; most of the dishes feel otherwise uncomplicated.
Marchese is of Cuban descent, and Trapani has family roots in Italy; both have traveled to the Yucatán and throughout South America. La Semilla's dishes seduce the eyes before they start on the palate, with lion's mane mushrooms, jackfruit, cauliflower, and squash standing in for a previous generation's bland textured vegetable proteins. Crunchiness and creaminess, often missing from the vegan experience, are present throughout: for instance, in a delightful potato- and cashew-based queso blanco, served as a starter with good tortilla chips. The brilliant croquetas de jamon and the "cubarrito"—with picadillo and fried plantains in it—could sway even a Cuban grandmother. The bread and the sliced cheese in the pressed Cubano may be outsourced vegan products, but the sandwich as a whole is as fresh and tasty as those in Miami.
It's easy to accept at face value the heirloom beans with sofrito, the street corn, and the rotating tacos made with fresh tortillas—but I especially enjoyed the mystery shrouding items such as the sikil p'ak (a thick, dark-red toasted-pumpkin-seed salsa from the Yucatán) and the easy-to-share crunch wrap, a takeoff on the fast food favorite consisting of a medley of fresh vegetables, seitan, and nacho cheese sauce encased in a crisp dough. For dessert, two options, neither disappointing: a caramelized-plantain ice cream "split" or pumpkin fritters with cajeta and espresso sea salt.
From talking with the owners, I learned a thing or two about their pleasant-tasting, nut-free butter and their chicken, a product called Daring, made of soy and not too many other ingredients. I heard their passion for healthy cuisine free of animal products. What was foremost on my mind as I ate at La Semilla, though, is how satisfying the sensory experience was. I watched the bartenders assemble elegant rum- and tequila-based cocktails and pour biodynamic wines. With a shimmering Oaxacan mai tai in one hand, the other holding a spear of yuca drizzled in cheese sauce, I happily watched fellow diners sharing plates of nachos, available after 9 p.m. and loaded with queso, pasilla salsa, morita cream, and more. I might've gone back to meat the next day, but I'm glad for the seeds of change planted by a restaurant that makes it easy to envisage a different way of eating.
This article appears in our May 2023 issue.