Editor's note:
This review is based on visits to Lyla Lila in February, before the pandemic hit. We originally intended for it to run in our May issue but decided to hold off until we knew what the future held for the restaurant. Lyla Lila closed its dining room in March (and ran a takeout program until mid-May), then reopened its bar and patio with a limited menu in June. The experience is a little different now, but those pastas are no less swoonworthy. We decided to run our original review untouched, to offer a glimpse of the restaurant in "normal" times. Remember those?
It's long been a mystery why there are no restaurants near the Fox Theatre that approach its level of sophistication and magic. Now, finally, one comes close.
Walking up Peachtree Street from the Fox, you may hardly notice a slim, elegantly Scandinavian glass tower that resembles a silvery game of Jenga, jammed next to the Hotel Indigo. But if you stop looking at the sidewalk and lift your eyes skyward, you'll realize just how much the new, 24-floor residential tower called Lilli Midtown suits the neighborhood.
And so does the restaurant on its ground floor. Not only is Lyla Lila the ideal place to eat (or drink) before a show at the Fox, it's also a strong contender for Midtown's best and most original destination restaurant.
THE TEAM
Chef-partner Craig Richards, who until recently was culinary director for Ford Fry's Atlanta empire, is a formidable technician and a pasta perfectionist. Instead of finishing his literature degree at the University of Wyoming, he sidestepped into cooking, eventually finding a mentor in celebrity chef and Eataly cofounder Lidia Bastianich, who hired him at two of her restaurants in Pittsburgh and Kansas City. Because he has always worked at restaurants conceived by someone else (which, in Atlanta, include Ecco, La Tavola, and St. Cecilia), Richards isn't as well-known as he should be. For Lyla Lila, his first restaurant as an owner, he has teamed up with the developer of the building (Jarel Portman, son of the late icon John Portman) and the gregarious Billy Streck of Nina & Rafi and Hampton & Hudson, with whom the chef has been friends for almost a decade. Richards's daughter's first name is Lyla and Streck's daughter's middle name is Lila—a coincidence that resulted in the restaurant's moniker and echoes that of the Lilli building.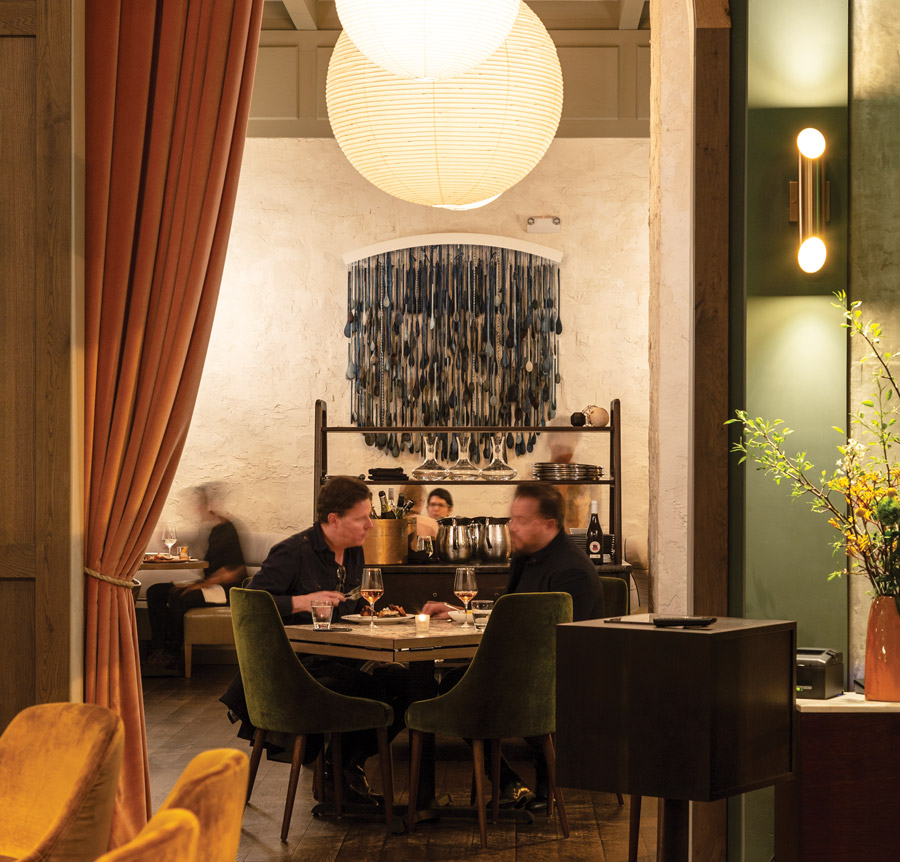 THE FOOD
Richards's menu often references the northeastern part of Italy known as the Friuli, near Trieste and the Slovenian border, blending in a few touches of Spain along the way. In Italy, where pasta is eaten as a first course, people typically don't fill up on it; Americans, conversely, tend to treat pasta as a heavy entree. At Lyla Lila, you can order full or smaller "primi" portions (a little more than half the entree size). Opting for several of the latter will allow you to more fully explore Richards's extraordinary range. Thin, fresh spaghetti is elegantly undersauced with spicy Sicilian pork ragu, topped with prawns, and finished with a soupçon of bottarga. Multilayered crispy lasagna is a decadent slab that's graced with cocoa bechamel, duck, and organic carrots. Each pasta shape achieves its ideal texture, from pleasantly tender to slightly elastic. The rustic, rope-like casarecce with kale, porcini, cauliflower, and marsala should be chewed slowly, the better to enjoy its heartiness. And the unusually delicate cacio e pepe, served only at lunch, is a superb example of the deceptively simple dish: Taglionili is lightly tossed with five different kinds of crushed peppercorns and a judicious amount of grated Parmigiano-Reggiano and Pecorino Romano.
Among the filled pasta, the kabocha squash tortelli with sorrel, housemade smoked ricotta, and a touch of pumpkin oil will melt in your mouth. The two-sided chicken liver and sweet potato doppio ravioli have a unique fold, in which fried pine nuts and bits of butter and tarragon can hide.
If you can wrench yourself away from the pasta, you'll find such gems as a long octopus tentacle cooked sous-vide for five hours, curled gently around an intense pistachio pesto and plated with sumptuous cannellini beans. A square of grilled grouper is served alongside roe, citrus, and fennel and topped with a thin, stiff sheet of dehydrated polenta. The best shareable entree is a reasonably sized and modestly headless grilled whole sea bass, resting prettily on a bit of smooth romesco sauce, with braised broccolini and charred lemon on the side.
Vegetables play no small role on the menu. The stars—shiny, quartered acorn squash with brown butter, coriander, and pomegranate molasses, and large rounds of cauliflower with pine nuts and sherry—can work as an appetizer or a shared side. The wood-grilled lettuce dressed with yogurt, wild oregano, and Parmigiano-Reggiano is a bit messy in appearance, but it tastes better than it looks.
THE DRINKS
Richards, who completed the first level of the master sommelier program, embraces (mostly) European natural wines, many of them organic or biodynamic. You might find a lively unfiltered Arneis from the Piedmont, a ruby red Mencia from Northern Spain, and several worthy Sangioveses from young producers. For his bar program, he relies heavily on partner Streck and beverage manager Angela Guthmiller, whose staff crafts fetching cocktails and pours unusual amari and vermouths.
THE VIBE
Designed by Smith Hanes, Lyla Lila has two distinct vibes. A spot near the expansive window in the high-ceilinged and elegant (if a bit stiff) dining room might seem like a prime seat, but the cozy lounge and its horseshoe bar hog all the charm.
THE VERDICT
Lyla Lila is the restaurant that Midtown needed. A serious destination for pasta from a profoundly talented expat of Ecco and St. Cecilia, it is as much a draw for Fox patrons as for residents looking for a reliable yet exciting neighborhood haunt—and, really, for anyone in search of an inspiring meal.
Rating
★ ★ ★ ★
Excellent
693 Peachtree Street, Midtown
404-963-2637
Pasta to leave home for
Land, meet sea
Thin spaghetti is lightly (and rightly) sauced and decadently accessorized with pork ragu, prawns, and bottarga.
Caramelle, my belle
Yes, this caramelle pasta looks like a caramel candy wrapper, but it holds an even better treat: burrata and lump crab.
Fun guy
Casarecce, a rope-like pasta, is pure comfort, with cauliflower, marsala, and porcini for days.
This article appears in our July 2020 issue.