There's something undeniably magnetic about Miami after the sun goes down, when the balmy air and neon lights create an atmosphere removed from reality. Whether it's the clave pulsating from salsa clubs or the crowds strolling down Ocean Drive, the nighttime energy in Miami is palpable. Come along as we meander through Miami at its quintessential best, from tropical sunset to happy hour sunrise.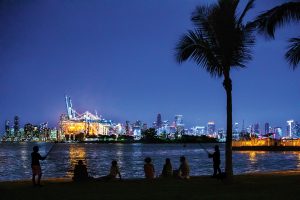 BRING ON THE NIGHT
Miami nights officially begin at South Pointe Park in South Beach, where you can stand atop a hill and watch the sun sink behind the Miami skyline. Fishermen gather to reel in a catch from the Atlantic as evening joggers run the waterside path. The happy hour at Smith and Wollensky's outdoor bar is always a scene, filled with jet-set types from the surrounding towers and their collective hangers-on. For something more low-key, grab a bottle of bubbly at Portofino Wine Bank and stage an impromptu sunset picnic.
KEEP CALM AND PADDLE ON
Stand-up paddling might be considered a daytime activity, but in Miami, that's nothing a few neon lights can't fix. Miami Beach Paddleboard runs sunset paddleboarding tours along the calm waters of Biscayne Bay with views of the downtown skyline. As darkness falls, a light on the bottom of your board sets your watery path aglow.
ALL ABOARD
A trip on the double-decker Big Bus Tour takes you around the city as it transforms from sun-soaked paradise to neon-lit playground. Starting off at Bayside Marketplace, it rolls across the MacArthur Causeway reaching South Beach, then crosses the water back into Little Havana. (You'll hear salsa music pouring out of the bars along Calle Ocho.) Heads down as you return: The low-hanging canopy of banyan trees on historic Brickell Avenue runs right into the top of the bus, so you might need to duck occasionally to avoid the branches.
ELECTRIC AVENUE
Ocean Drive is the iconic home of the largest collection of art deco buildings in the world, where each night is welcomed by a parade of pedestrians beneath a sea of neon lights. Inside the boulevard's historic South Beach hotels, which run from 5th to 14th streets, you'll find stylish restaurants like the Pelican Cafe and LT Steak and Seafood interspersed with lively bars like the Palace. For the quintessential experience, post up at the Clevelander with a frozen Miami Vice and enjoy people-watching among the palms.
RAISE A GLASS
It's not a place for a quiet dinner, but if you're looking for a high-energy dining experience to catapult you through the rest of the night, Marion is the spot. The Brickell restaurant is a go-to for birthdays, bachelor parties, and even divorce parties, where scantily clad servers proffer massive bottles and sushi platters for the upscale clientele. The energy doesn't let up, as every half hour Marion's troupe of burlesque dancers takes the stage with new outfits and sexy routines to match.
DANCE THE NIGHT AWAY
In the mid-20th century, Ball and Chain was the hottest after-hours jazz club in Miami, where performers like Louis Armstrong and Billie Holiday held late-night sets after segregation-era curfews forced them to leave Miami Beach. Restored to its former glory a decade ago, the Little Havana hotspot is now beloved for its salsa music, dance performances, and mojitos under the original pitched ceiling. Head out back and enjoy a cigar and a Cuba libre on the lush patio; most nights, you can see live merengue performed in Ball and Chain's signature pineapple bandshell.
GOLD STANDARD
No restaurant moves as seamlessly from dinner service to nightclub as Baoli, a Miami Beach institution. It's easy to understand why European visitors flock here, as the place feels every bit the Cote D'Azur with an al fresco menu of steak, fresh seafood, and sushi accompanied by magnums of wine. As meals wind down, the sultry background beats start to swell, and the space between tables fills with eager club-goers. Plates are cleared and dinner guests begin standing up and dancing, ordering more Champagne accompanied by a procession of sparklers.
HIDDEN IN PLAIN SIGHT
Disguised as a mere South Beach taco shop, Bodega Taqueria y Tequila doubles as one of Miami's most popular night spots. Open what looks like the entrance to a portable toilet, and you're transported into a bustling cantina where mezcal pours like water and locals groove to hip-hop tunes well into the early hours. If you dance up an appetite, you need only walk a few feet for the city's best tacos al pastor.
PULL AN ALL-NIGHTER
Open since 1926, Mac's Club Deuce in South Beach is where time and social status both have no meaning. The windowless confines and checkered floors of this landmark dive bar create their own world, and the rich and famous hide out next to down-and-out regulars in complete anonymity. The pool table is generally filled with people who look like they stepped out of a Carl Hiaasen novel. If your night carries over into the next morning, happy hour at the Deuce starts at 8 a.m.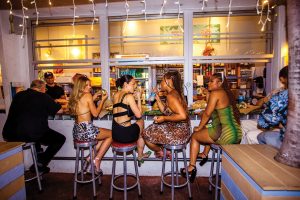 NIGHTSTAND
Some cities have landmark late-night pizza spots; South Beach has La Sandwicherie, a French sandwich stand where you'll find a cross section of the city converging for 4 am food. Well-heeled clubgoers loiter near off-duty bartenders and overserved tourists as they eagerly devour the brie-and-French salami sandwiches that have made La Sandwicherie a Miami legend. It's as much a people-watching scene as it is a restaurant of last resort.
This article appears in the Fall 2023 issue of Southbound.