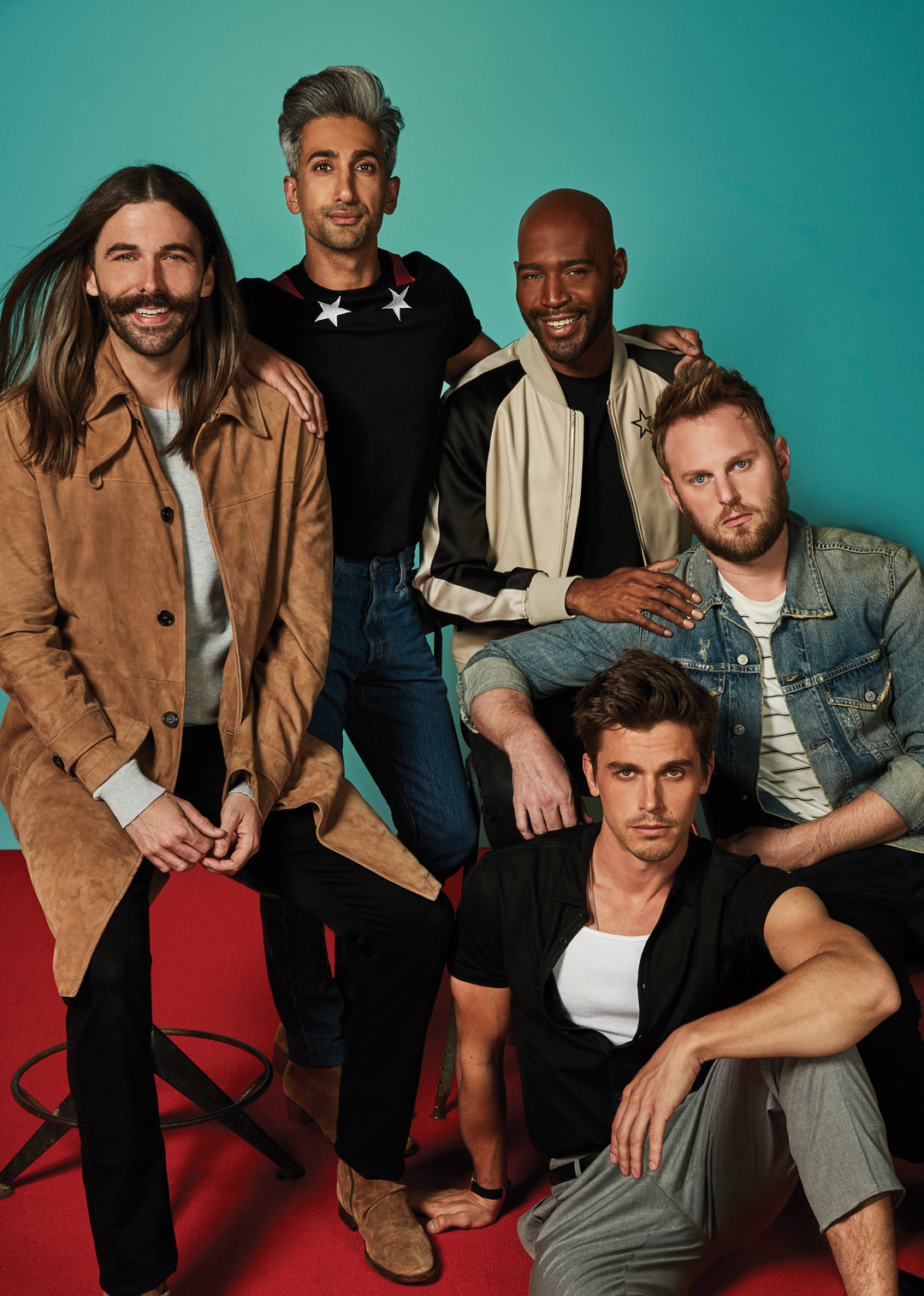 Our December issue celebrates everything that is the best about Atlanta in 2018, so we couldn't help but give a big shout-out to Netflix's reboot of Queer Eye. The new series released not one but two seasons filmed in the metro area this year. And by metro, we mean locations as far-flung as Covington and Winder. In their category, Structured Reality Program, Queer Eye won Emmys for Best Program, Best Casting, and Outstanding Picture Editing. So, before they take on Kansas City, we asked the Fab Five for one more round of local style advice. Bonus: Check out our winter issue of Atlanta Magazine's HOME to read about their Cabbagetown loft.
Fashion: Tan France
Where did you grow up?
Yorkshire, England
Had you ever spent any time in Atlanta before? Did it match your expectations?
Yes, I previously spent about four months in Atlanta. Honestly, it wasn't too far off what I expected. Nice people, great food, and hot and humid as all heck!
Did your time here change any preconceived notions about the South?
Yes, I honestly thought that ATL would be a little more blended than it was. It was more racially divided.
What were some of your favorite moments here that didn't make it into the series?
Ponce City Market. We spent time there, but I wish we could have shot and showcased that more.
Where did you like to go out to eat?
Chai Pani in Decatur
"Making an effort with your wardrobe doesn't make you a wuss. Making an effort means that you're serious about the life that you want."
What shops or clothing labels would you recommend for an Atlanta man on a budget?
Bonobos. Great store and huge selection.
What about for an Atlanta man who's not on a budget?
I loved the Buckhead area, where they had higher-end stores like Gucci and Tom Ford, near Restoration Hardware.
Did you fall in love with any local labels or shops?
I really liked Monck Mason.
What's your best advice for Southern men stuck in their college look?
Choose a style icon, and emulate their look.
What looks do you think Atlanta men tend to overdo? Plaid? Gingham?
Both of those—and chinos.
What shoes should men wear when they need something between sneakers and dress shoes?
Boots. Chelsea Boots.
What makeover was the most fun to film?
Skyler's, for sure.
Grooming: Jonathan Van Ness
Where did you grow up?
I grew up in a small town called Quincy in Illinois. It's about two hours outside of St. Louis.
Did you find there was a big difference between ITP and OTP?
Yes, there was a big difference in the culture as soon as you get outside of Atlanta, but I'm used to that small-town feeling.
What were some of your favorite moments here that didn't make it into the series?
The yoga class I taught for the episode with AJ from Season 1. AJ slayed that chaturanga!
Which salons or stylists did you most enjoy working with?
Paula [Britt of Blendz in Sandy Springs]. She's a local salon artist who did amazing work on Mama Tammye.
Did you discover any really wonderful local grooming products?
Little Barn Apothecary
What is your daily grooming routine?
Floss always, and brush twice a day. . . . That is always my first reminder to people. Also, use sunscreen everyday. And a little Algenist Color Correcting Primer is a beautiful, gorgeous thing.
"You're strong. You're a Kelly Clarkson song. You got this."
What are the most common grooming mistakes that men make?
Making a chin strap out of their beards. I see men all the time that cut their beard line too close to their jawline and not where your face meets your neck. Not cute.
What makeover was the most fun to film?
I loved William Mahnken. His was such a big, fun transformation, and he had a big beard, so it gave me a lot to work with.
Do you remain especially close with any of your clients from the first two seasons?
Neal and I are really close. And I check up on Tom regularly. LOVE Mama Tammye and Skyler, and I keep up with them, too, on Instagram. Follow the heroes!
Culture: Karamo Brown
Where did you grow up?
I grew up in Texas and moved to Parkland, Florida, at 15 years old.
Had you ever spent time in Atlanta before? How is it different from Florida?
My freshman year of college in 1999, I started making weekend trips to Atlanta. I graduated from Florida A&M University, so it was a quick drive. Atlanta is different from Florida because, for me, it is rich in culture and diversity.
Did you find there was a big difference between ITP and OTP?
Of course. . . . Things seem to move a little slow OTP. People aren't in such a rush.
What were some of your favorite moments here that didn't make it into the series?
Exploring the historic African-American landmarks. There is so much history that speaks to the strength and excellence of black culture.
Where did you like to go out to eat?
JCT and West Egg Cafe
"When people build up walls, they end up keeping other people out. But they're also keeping themselves in."
Where did you like to shop here?
I'm old school. . . . Lenox is still a favorite of mine.
Tell us about all your bomber jackets. Which is your favorite?
It's like asking a parent which kid they love the most. They are all special to me.
It seems you had a lot of intense conversations while driving to and from Atlanta. So, is there actually something good about all our traffic?
I wouldn't say there is something good about the traffic; but for me, as a psychotherapist, I realized that sometimes it is easier for people to open up and be vulnerable when they don't have to look you in the eyes. It allows the person to feel safe and not judged.
Do you have any go-to advice for maintaining good mental health?
Try to acknowledge what is bothering you and holding you back. Once you do, don't be afraid to ask for help. There are so many people who can support you, but you have to know you need help and what you need help with.
Design: Bobby Berk
Where did you grow up?
Rural Missouri
Did you spend much time in Atlanta back when you owned a store here (2011-2013)?
I spent quite a bit of time in Atlanta when I had my store in Midtown. I loved Midtown—you could walk to anything you needed. It was a great getaway from NYC, where I was living then.
How has the city changed since then?
Atlanta has grown like a wildfire since 2011. There are so many new and exciting things to do and see. I just wish the traffic hadn't grown so fast!
What were some of your favorite moments here that didn't make it into the series?
There were some great car rides that I got to take with our show subjects where I really got to know them in a pressure-free environment. I really enjoyed just speaking to them when they felt the cameras weren't watching.
Where did you like to go out to eat in Atlanta?
I went to JCT and Yeah Burger a lot!
Where did you like to shop?
West Elm and Target were big go-tos for us while filming.
"I heard a preacher once say, 'Sometimes when you're feeling buried, you're actually just planted.'"
Did you have any favorite sources for thrifting or vintage goods?
Scott Antique Markets
What was the most challenging redecorating project you did here?
I would say the firehouse from season one was the most challenging, as it was a large space that needed to function for a lot of people. It was also a government building, so we had to deal with inspections, which added another day to our process. It's the only project that wasn't completed Tuesday through Friday.
What was your favorite finished space?
It's a toss-up between Neal's and AJ's places. I loved them both, and they were spaces that I wanted to live in myself.
Food & wine: Antoni Porowski
Where did you grow up?
Montreal, Canada
Had you ever spent any time in the South?
I spent three to four years in West Virginia. To loosely quote one of my favorite photographers, Sally Mann, Southerners understand loss. They are a people who lost the Civil War, lost family members and loved ones. Such experiences fuel a humility and sense of hospitality and care for others. I think Southerners know how to make people feel welcome. Maybe not all, but the ones I had the pleasure of meeting opened up their businesses and homes to us with open arms. Also, lots of iced tea, which I love.
Did you find there was a big difference between ITP and OTP?
Big difference. Atlanta is quite cosmopolitan, but just 10 miles out, you have a different world. The struggles and needs differ. That said, the human experience proved to be quite universal. . . . In such a polarizing time for this country, I was reminded that we are all people just trying to do our best.
What were some of your favorite moments here that didn't make it into the series?
Tom Jackson and I made a lovely jicama, charred corn, and black-bean salsa, along with grilled skirt-steak quesadillas. I love Tex-Mex and would love to make some more again for the show.
Where did you hang out in Atlanta?
Chai Pani. I love it there. Also, Tan discovered a lovely eastern part of town with a delicious no-frills restaurant called Zyka [Decatur], specializing in Indian cuisine. It was a nice hideaway from the mainstream.
"Bacchanalia [is] one of the quintessential fine-dining spots in Atlanta, despite its name, which actually means wild and drunken stupor and revelry."
Where else did you like to go out to eat?
Marcel's was a favorite for Friday night decadence, followed by Jeni's Splendid Ice Creams for people-watching and a sweet fix.
What are your favorite Southern dishes?
Grits, grits, and grits—done properly, of course.
Tell us about your band T-shirts. Who are your favorite bands?
I love 'em! Current faves are Lovelytheband, artists with record label 4AD, and Bloc Party.
Did you discover any wonderful local food products?
Peaches had a rough season, so that was a bust, but there were some awesome local apiaries with honeycomb, which is great with a sharp hard cheese and dried sour, pitted cherries.
This article appears in our December 2018 issue.