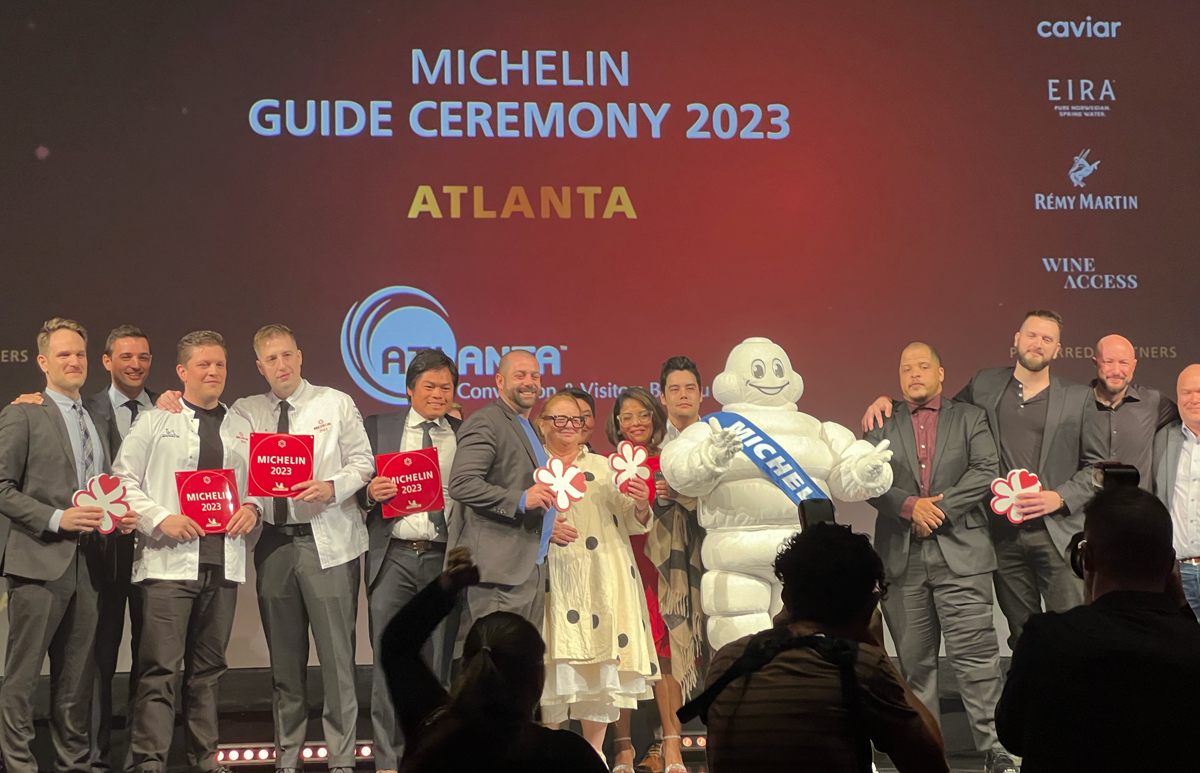 The suspense is over. Atlas, Bacchanalia, Hayakawa, Lazy Betty, and Mujo are officially one Michelin Star restaurants! Nearly 40 other local spots brought home Michelin designations, with the Young Chef Award going to Jarrett Stieber of Little Bear and the Outstanding Service Award lauding Neal McCarthy and the front-of-house team at Miller Union. The Chastain earned both a Green Star—an award celebrating sustainable restaurant practices—and the Sommelier Award (presented to Juan Fernando Cortes). BoccaLupo earned an accolade not for its renowned pasta but for Exceptional Cocktails,  given to Jason Furst and the bar team. Demonstrating Atlanta's diverse culinary scene, more than 20 cuisine types were mentioned across the guide, including Filipino, Japanese, and Indian.
The French tire and guidebook company revealed its designations Tuesday evening in an exclusive ceremony at the Rialto Center downtown, with radio personality Mara Davis serving as emcee. The pre-ceremony cocktail hour featured a diverse selection of small bites by local restaurants such as Illegal Food (roasted quail with chili sauce), Whoopsie's (fairytale eggplant), and So So Fed (nam khao crispy rice salad), alongside warm towel service, wine, and bourbon cocktails provided by sponsor Basil Hayden. A string quartet played pop hits while more than 200 chefs, restaurateurs, media, and public figures mingled nervously prior to the presentation.
The prestigious Michelin Stars are awarded to restaurants (not chefs) offering "outstanding cooking," based on the quality of the ingredients, harmony of flavors, mastery of techniques, the personality of the chef as expressed through their cuisine and consistency across the entire menu and over time. Decisions are made by anonymous inspectors—former hospitality pros. They each dine at a restaurant once and compare their experiences. The five Atlanta restaurants awarded one star are now deemed "among the best restaurants in the world," according to Michelin's Elisabeth Boucher-Anselin, who led the ceremony with Davis. Atlas was commended during the ceremony for its "impossibly elegant" fare, Bacchanalia "exudes sophistication," and Lazy Betty boasts "clever flavor combinations."
"I'm stoked," exclaimed Freddy Money, Atlas culinary director, after the ceremony. "It's an amazing accomplishment for my restaurant team."
Star winners are reassessed annually, just as new restaurants are considered. According to Michelin's website, the style of a restaurant, service, decor, and degree of formality do not play any role in award consideration (except where noted as the award focus). No two- or three-star restaurants were selected for Atlanta.
"I was surprised at how emotional it was watching other people get [awards]," Stieber says. "Seeing Mujo and Lazy Betty, they work so hard…Bacchanalia—Anne Quatrano started fine dining in Atlanta. It was so nice to see that get recognized. I wasn't expecting to feel so warm and fuzzy about everything. It was awesome to be a part of it."
Ten restaurants were awarded Bib Gourmand status, which highlights great value for three-course meals with "simple yet skillful cooking at an affordable price." "Affordable" is not defined numerically and varies by location and cost of living. The 2023 Atlanta Bib Gourmands are: Antico Pizza Napoletana, Arepa Mia, Banshee, Bomb Biscuit Co., the Busy Bee, Estrellita, Fishmonger, Fred's Meat & Bread, Heirloom Market BBQ, and Little Bear. The newest Michelin award—the Green Star—stands for sustainable gastronomy. Only 23 Green Stars have been awarded in North America to date. In addition to the Chastain, Bacchanalia was recognized.
Atlanta is the seventh area in the U.S. to receive Michelin ratings, following New York, California, Illinois, Colorado, Florida, and Washington, D.C. According to Gwendal Poullennec, international director of the Michelin Guides, "It starts with our team of anonymous inspectors conducting a destination assessment to determine whether the area has enough high-quality dining establishments to constitute a Michelin Guide selection of restaurants. If they're satisfied with their findings and with the area's potential, Michelin sometimes works with local destination marketing organizations [in this case, the Atlanta Convention and Visitor's Bureau] which cover some of the costs incurred in establishing the Guide in a new place, to fund communication and marketing plans to promote it." Said more directly, Atlanta had to pay to bring Michelin to the city—to the tune of $1 million from the ACVB over three years, the Atlanta Business Chronicle reported.
Nevertheless, the awards are known to bring respect and an influx of business to those recognized. Prior to the ceremony, multiple attendees were overheard joking/not joking that they had better make restaurant reservations now before it becomes too difficult. With 30 restaurants noted as "Recommended" by Michelin, the city's dining scene is about to get wild. Recommended restaurants are not quite at the level of a star or Bib Gourmand but "a sign of a chef using quality ingredients that are well cooked; simply a good meal," says Michael Ellis, international director of the Michelin Guide books, in an article on the Michelin website. Rounding out the guide, Michelin's Recommended restaurants are: the Alden, BoccaLupo, Chai Pani, the Chastain, the Deer and the Dove, Delbar, Food Terminal, the General Muir, Georgia Boy, Gunshow, Han Il Kwan, Home Grown, Kamayan ATL, Kimball House, LanZhou Ramen, Lyla Lila, Marcel, Miller Union, Nam Phuong, Poor Hendrix, Snackboxe Bistro, Southern Belle, Storico Fresco Alimentari, Talat Market, Ticonderoga Club, Tiny Lou's, Tomo, Twisted Soul Cookhouse & Pours, the White Bull, and Xi'an Gourmet House.
"It feels great—especially because it was White Bull. It's my baby and the most important restaurant in the group because that's where it all started," says Pat Pascarella, founder of the Porchetta Group. "The best part of the night was seeing all the chefs in one room having fun and enjoying themselves. The comradery was very high!"
The first Michelin guide was released in 1900 at the Paris World's Fair to help motorists find fuel, rest stops, and restaurants. It even included instructions on how to change a tire. But what was originally intended to sell tires (by getting people on the road) has evolved into a symbol of fine dining. When the tiered star ratings began in 1936, the idea was that these restaurants justified a car trip—two-star restaurants were worthy of a detour and three meant a special journey. Today, there are 40 guide destinations across the world with the rating system less directly tied to tires.
Michelin also rates hotels. Mentions across the state include the Clermont in Atlanta, Perry Lane in Savannah, the Graduate in Athens, and Stonehurst Place in Atlanta.