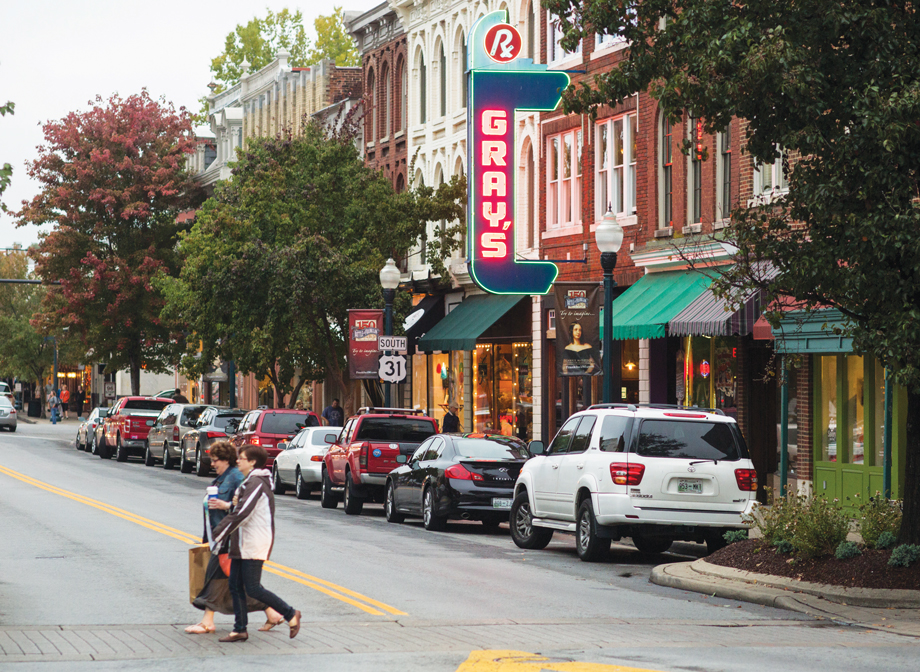 Twenty miles south of Nashville, Franklin's downtown is lined with boutiques, restaurants, art galleries, and specialty shops, with scarcely a chain store in sight. It's so quaint, in fact, that it was voted "Greatest Southern Town" by the readers of Garden & Gun. Franklin is also a mecca for history buffs, thanks partly to Robert Hicks's 2005 bestseller The Widow of the South, which tells the story of Carrie McGavock, a Civil War hero who tended the wounded during the Battle of Franklin.
Where to stay
Moonshine Hill, in nearby artsy Leiper's Fork, is a hillbilly-opulent cabin that can sleep five. Guests have the run of 22 acres—including a fanciful tree house—located near the Natchez Trace. From $350. Craftsman-style Magnolia House Bed & Breakfast, built in 1905, is a 15-minute walk from downtown Franklin. From $155, 866-794-8178.
Where to eat
For comfort food and live music, head to Puckett's Grocery & Restaurant. Or tuck into surf and turf at the romantic Cork & Cow. Try local specialty hot chicken at Big Shake's Hot Chicken & Fish.
What else to do
Catch a show at the renovated Franklin Theatre, circa 1937. Or attend one of Franklin's many festivals, like the Irish celebration in March. In spring, Carnton Plantation blooms with heirloom daffodils.
Souvenir
Make your own keepsake at Franklin Glassblowing Studio. Owner Jose Santisteban offers individual or group lessons.
Taste of history
Learn about families caught in the crossfire of one of the bloodiest battles on U.S. soil at properties managed by the Battle of Franklin Trust. Visit McGavock's Carnton Plantation as well as the battlefield itself. Nearby Lotz House still bears battle scars.
Tip
Author Robert Hicks offers private tours of the historic sites. For info, contact his manager, Violet Cieri, at 615-279-0108 or at tourswithrobert@gmail.com.
This article originally appeared in our February 2016 issue.