Candlelit drinks and white-tablecloth dinner not on your list for Valentine's Day? The Banshee team has another option. Created by Peter Chvala, Nolan Wynn, Katie McDonald, and Faielle Bolzan Stocco—the group who also founded Screamin' Weenies in East Atlanta Village—Bona Fide Deluxe sandwich shop and bar opens Tuesday in Edgewood (1454 La France Street), serving hearty, scratch-made sandwiches and cocktails in a quirky, fun environment.
"'Bona Fide Deluxe' makes it sound super classy and refined. It's almost ironic because it's a sandwich place. It's very fun and relaxed," Wynn, the executive chef, says.
Bona Fide Deluxe is 60-seat counter-service restaurant with a patio and a bar. Inspired by the takeout sandwiches Wynn created at Banshee during the pandemic, Bona Fide will offer eight unique deli-style versions, plus salads and "Bread Bombs" stuffed with garlic butter, cheddar, bacon, and scallions. Partner Chance Cooper will be chef de cuisine.
As an ode to Banshee's wildly popular pepperoni butter, Wynn created the Cold Cut, featuring pepperoni, finocchiona, mortadella, pepperonata, provolone, lettuce, tomato, and pepperoni mayonnaise. The Porchetta Melt offers a take on a sandwich tested at Screamin' Weenies last year, complete with provolone, cabbage, jalapeno salsa verde, pickled onions, and chorizo mayo. For vegans, there's a banh mi with sweet and sour shiitakes, carrots, cucumbers, jalapeno, and cilantro. Wynn's favorite is the smoked turkey, sliced thin and served with Swiss, avocado, arugula, parmesan-peppercorn dressing, and pepperonata. Available for both lunch and dinner, salads include smoked turkey with grapes and cashews, chicken Caesar, and classic Greek.
"The idea here is to add to Atlanta's sandwich culture," Wynn says in a press release.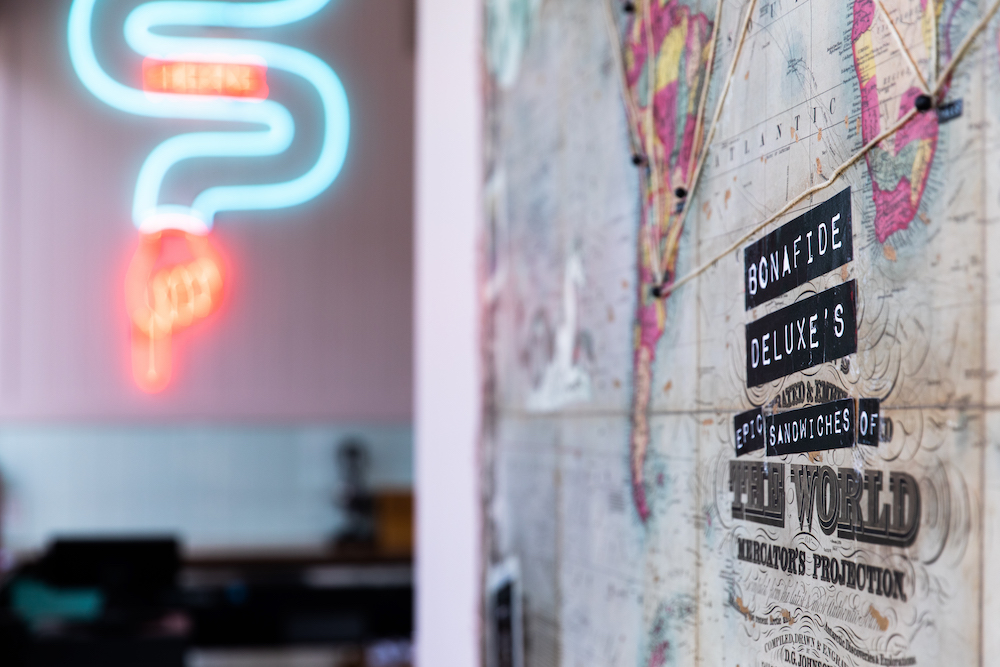 The art deco-style building was recently renovated to create a welcoming and approachable vibe that encourages guests to stay a while. Designer Elizabeth Ingram (Marcel, Ruby Chow's, Banshee) utilized colorful patterns and vintage accents to achieve a distinct look and feel. Expect community tables, mint green tiles with purple accents, and the diorama-style dinosaur boxes distinctive to Banshee. An Old-World map on the wall is peppered with fun facts to keep guests engaged.
"We wanted it to be a cool place for people to drink, hangout, and relax," Wynn says. "We'll have two projectors on the walls to show Atlanta sporting events."
McDonald created a beverage program intended to be laid back and uncomplicated. "Her approach is to make [the cocktails] more fun and casual feeling [than at Banshee]," Wynn says.
Some of the six options include nods to Banshee, including (obviously) the Banshee, comprised of gin, Nardini Bitter Aperitivo, Cocchi di Torino, and lemon. The Rapid Transit features mezcal, Edinburg rhubarb and ginger gin liqueur, aperol, and lime. Mocktails, a compact wine list, and six local beers on tap will be available, among other options.
Outside near the open-air patio, a grassy quad may soon be home to games like cornhole or bocce.