From the family behind Bern's Steak House in Tampa and Mainsail Lodging & Development, the Epicurean Atlanta (1117 West Peachtree Street) is the first solely culinary hotel in Georgia. Featuring three restaurants, themed accommodations, and a 2,000-square-foot theater designed for Food Network-style cooking classes, the hotel targets anyone with a refined palate—be it tourists or locals.
Those staying at the hotel overnight are greeted with a glass of wine or beer upon check in and may be pleased to see the "artisan pantry" (a.k.a. mini bar) stocked with gourmet snacks and drinks. A human-size Shun knife, champagne bottle-shaped door, and shot glasses fashioned into lighting fixtures merge into the decor, reinforcing the culinary wonderland.
Led by chef Ewart Wardaugh, formerly of Wolfgang Puck Catering, Reverence is the hotel's signature restaurant. The swanky decor—think leather-wrapped zinc bartops—parallels the modern take on food. Expect king trumpet oyster mushrooms with cherry confit, chocolate oil, and truffles; Sapelo Island razor clam ceviche; and hay-smoked rack of lamb. Taking inspiration from Bern's, there's a 1,200-bottle wine wall, along with an advanced sommelier to guide you through it.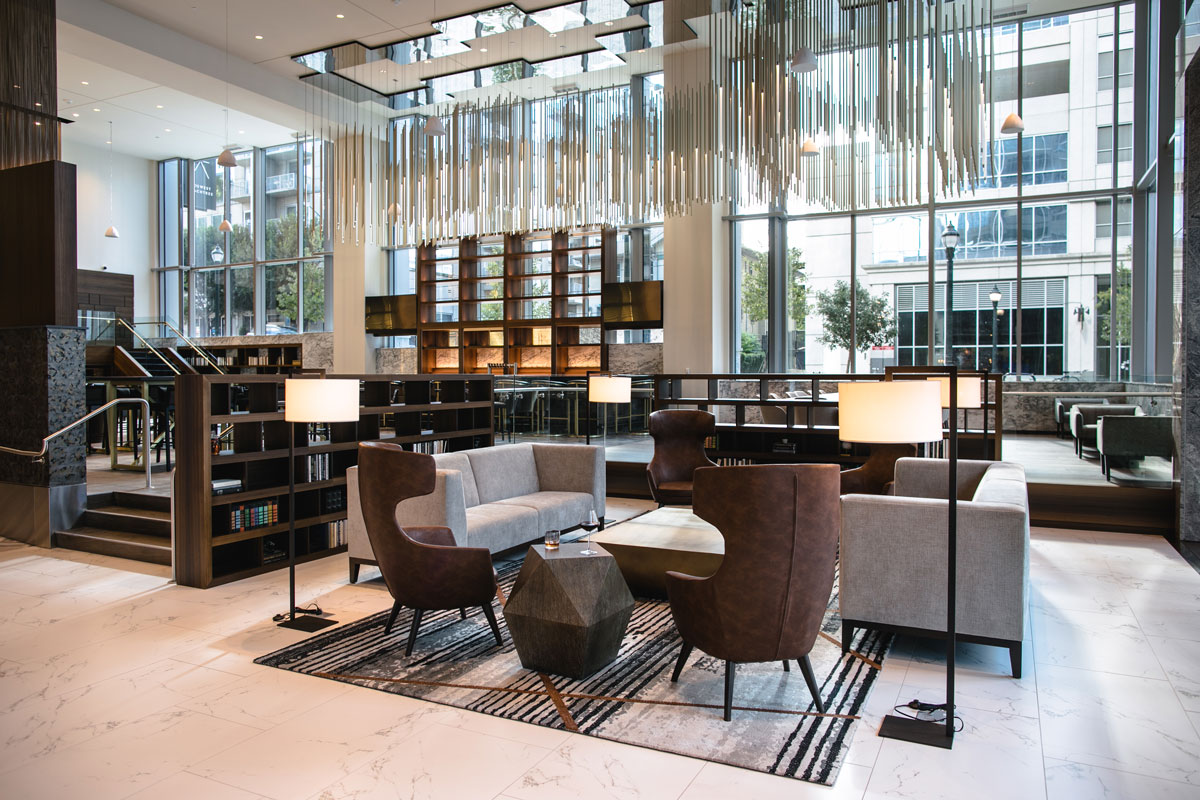 Located on the 9th floor overlooking an infinity pool, Aerial Kitchen and Bar serves Latin snacks, oysters, and salads, while Office Bar concentrates on whiskies and sandwiches in the building across the street.
The 70-seat Epicurean Theatre features Sub-Zero appliances, a six-burner stove, and center island for presenting chefs, while guests sit in high-top chairs with long tables presented stadium-style. Three cameras provide birds-eye views of the action on screens hanging from the ceiling.
"The Theatre is really dinner and a show. It's like the Food Network live," says Mainsail Lodging & Development Vice President of Operations Tom Haines, who worked on the vision for Epicurean Atlanta. "You can come here and be part of that interaction and ask real-time questions."
Haines say the company's goal is to host at least two culinary programs a week, featuring local chefs, growers, makers, wine experts, and more. The courses will be announced two-to-three months in advance, with tickets available through the Epicurean website for $100 to $130. The majority of the classes are demonstrations, but some smaller ones will be hands-on with chef-quality tools like Shun knives. Nearly all will include a tasting component pairing food and drinks.
Gather 'round
Though the hotel and restaurants are in business now, the grand opening celebration will center on the Gather 'round Southern food festival October 14-17. The dinners, classes, and events will provide attendees a preview of future Epicurean programming. Co-founded by Elizabeth Feitcher, also co-founder of the Atlanta Food & Wine Festival, Gather 'round puts the spotlight on chefs and mixologists from around the South, including Miles Macquarrie (Watchman's, Kimball House), Craig Richards (Lyla Lila), Cory Bahr (Parish in Louisiana), and Brittanny Anderson (Brenner Pass in Virginia). Tickets to each event are sold separately.
"This is much more intimate [than the Atlanta Food & Wine Festival) and it's customized to fit the space of the hotel," Haines says. "The tastings are themed and not as large. The South has so many great chefs and so much to celebrate—there's plenty to go around to serve people's interest in food and wine these days."
Taste-around events will be held around the hotel throughout the festival, "Collab" dinners will be hosted at select restaurants around town, and the following events will take place in Epicurean Theatre for $75 each:
Masterclass: Scottish Influences on a Southern Menu
October 14
5:30 p.m. to 7 p.m.
Reverence executive chef Ewart Wardhaugh delves into his Scottish roots with this hands-on cooking class that puts a Southern spin on Scottish favorites like game birds, shellfish, and Gravadlax. Wash is down with single-malt scotches.
Lunch & Learn: Chicken, Spice & Everything Nice
October 15
Noon to 1:30 p.m.
Atlanta chefs Deborah VanTrece (Twisted Soul Cookhouse & Pours) and Mimmo Alboumeh (Botica), along with Shai Fargian (Yafo Kitchen in North Carolina), share chicken dishes with global flavors and the history behind them.
Masterclass: Natty Wine Newbies and Enthusiasts
October 15
5:30 p.m. to 7 p.m.
Led by Lyla Lila chef Craig Richards and beverage director Alex Brashears, this multi-course class gives the 411 on the natural wine trend and offers Southern European techniques for incorporating seasonal ingredients.
Lunch & Learn: Roots: Reexamining Authentic Influence in American Cuisine
October 16
Noon to 1 p.m.
Take part in a one-hour panel discussion about soul food and sample dishes from the recent cookbooks of chefs Deborah VanTrece, Matthew Raiford, Kevin Mitchell, and Belinda Smith-Sullivan.
Masterclass: Sustainable Seafood & Cooking the Available Catch
October 16
2:30 p.m. to 4 p.m.
Watch chefs break down a whole fish, learn how to select sustainable seafood, and sample those bites along with sips provides by 3 Parks Wine.
Masterclass: Buford Highway: Send Noods (and Dumplings)
October 16
5 p.m. to 6:30 p.m.
Go on a culinary tour of Buford Highway without leaving Midtown at this session led by Snackboxe Bistro's Thip Athakhanh and Heirloom Market BBQ's Jiyeon Lee. Dishes will be paired with internationally inspired cocktails by mixologist Bob Peters.
Culinary Class: Age Isn't Just a Number
October 17
2 to 3:30 p.m.
Taste barrel-aged brews from Creature Comforts and cocktails from Kellie Thorn, while learning about the powering of aging when it comes to cheese, meat, spirits, and more.
Can't make it to Gather 'round? Epicurean Theatre will continue to offer programming, starting with the following:
Cured & Composed
October 21
6 p.m. to 8 p.m.
Chef Kevin Ouzts of the Spotted Trotter will lead guests through the process of curing meat and introduce them to new ways to infuse flavor into charcuterie. Expect four courses paired with wine.