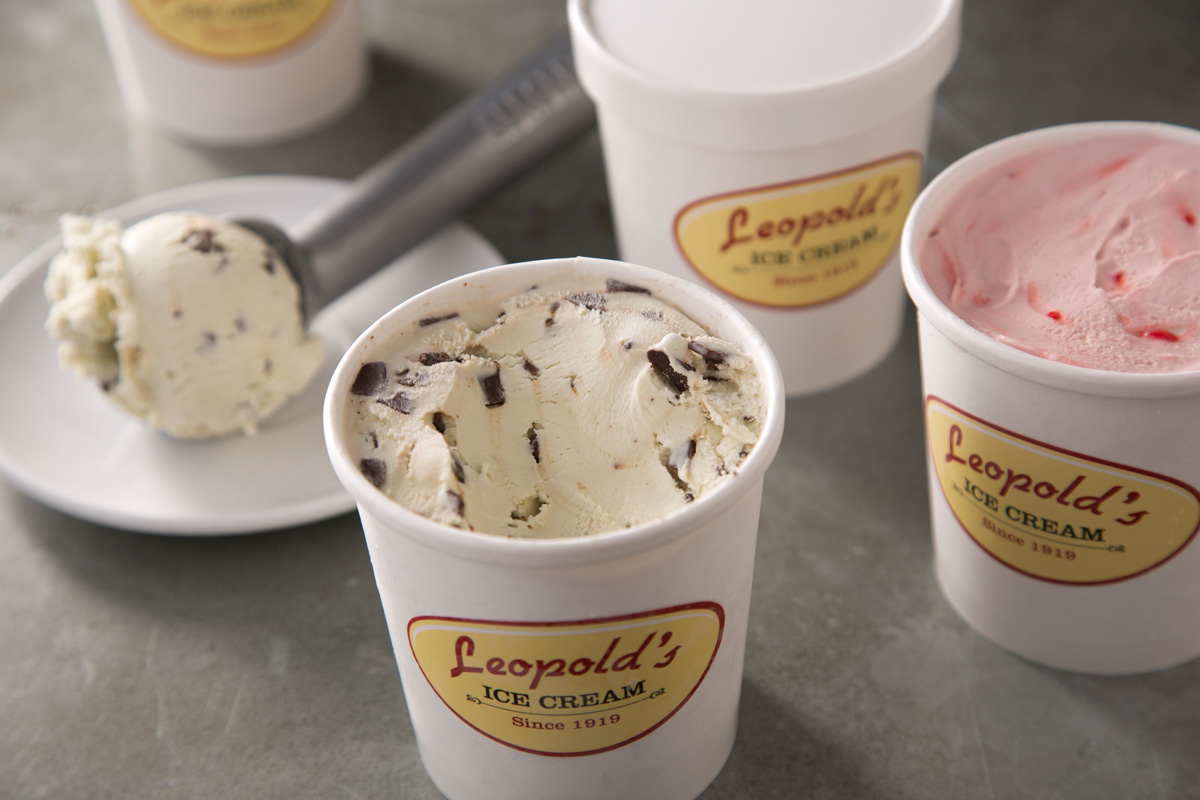 Licking a spoonful of Leopold's Ice Cream feels a bit like a trip back in time: the Savannah ice cream shop's recipes haven't changed since it originally opened in 1919.
While the store will celebrate its 100th anniversary with a massive party in Savannah in August, Atlantans looking to get a taste of Leopold's Ice Cream can do so at the Decatur Farmers Market on Wednesday, July 17 from 4 to 7 p.m. There, Leopold's will give away free scoops of ice cream, and visitors will be able to choose from six different flavors. (If you miss it, don't fret: you can also buy single-scoop cups in Atlanta anytime at the Carter Center, and Leopold's ships its ice cream nationwide.)
For the uninitiated, Leopold's was founded in Savannah by three Greek immigrant brothers, Peter, George, and Basil Leopold. The original shop shut down in 1969, but Basil kept the ice cream tradition alive by selling it at his eponymous restaurant in Savannah. In 2004, Stratton Leopold, the youngest son of Peter, opened the current Leopold's shop on Broughton Street, including design elements from the original shop such as the black marble soda fountain, a phone booth, and a wooden back bar, all of which give the shop a retro feel.
Stratton Leopold, now 76, has been around the ice cream business since childhood. "I would insist on being behind the soda fountain and doing something. I was a precocious little kid," he laughs. "I started washing glasses, which frightened my mother to end because she was completely afraid that I would break something and hurt myself, which I did not." He is still involved with the ice cream shop (and still helps out behind the fountain), but his main gig is actually that of Hollywood movie producer. His credits include Mission: Impossible III, Paycheck, and The Sum of All Fears.
His two worlds collide at the Broughton Street ice cream parlor, where posters from Stratton's films are displayed on the walls, along with props he's purchased from films over the years. Among the memorabilia is Panavision film camera from the 1960s weighing in at 140 pounds. "It's interesting for younger folks, especially, to realize that this hundred- -and-forty-pound camera is how you made movies," he says.
As to what has given Leopold's a century's worth of success, Leopold says it's all about the fundamentals. "It's just good ice cream. We don't do strange combinations of flavors. We just make good ice cream."