Mujo, the Castellucci Hospitality Group (CHG) sushi pop-up known for its elaborate takeout packaging, will soon host a lucky 60 diners nightly for its multi-course omakase experience in its new home on the Westside. The pop-up-turned-brick-and-mortar previously operated out of Cooks & Soldiers. Recently, it took over the 1,500-square-foot space once home to Kane boutique (649 14th Street) and will soon be taking reservations for four seatings per night.
Available with wine pairings, the offerings will change daily based on stock and seasonality but will likely include an amuse bouche, small plates (zensai), nigiri, miso soup, atsuyaki tamago (egg), dessert, and green tea. The cost is $205 per person, excluding alcohol, and the experience will last about 2.5 hours. (Specialty add-ons and a higher-end menu will be available in the future.)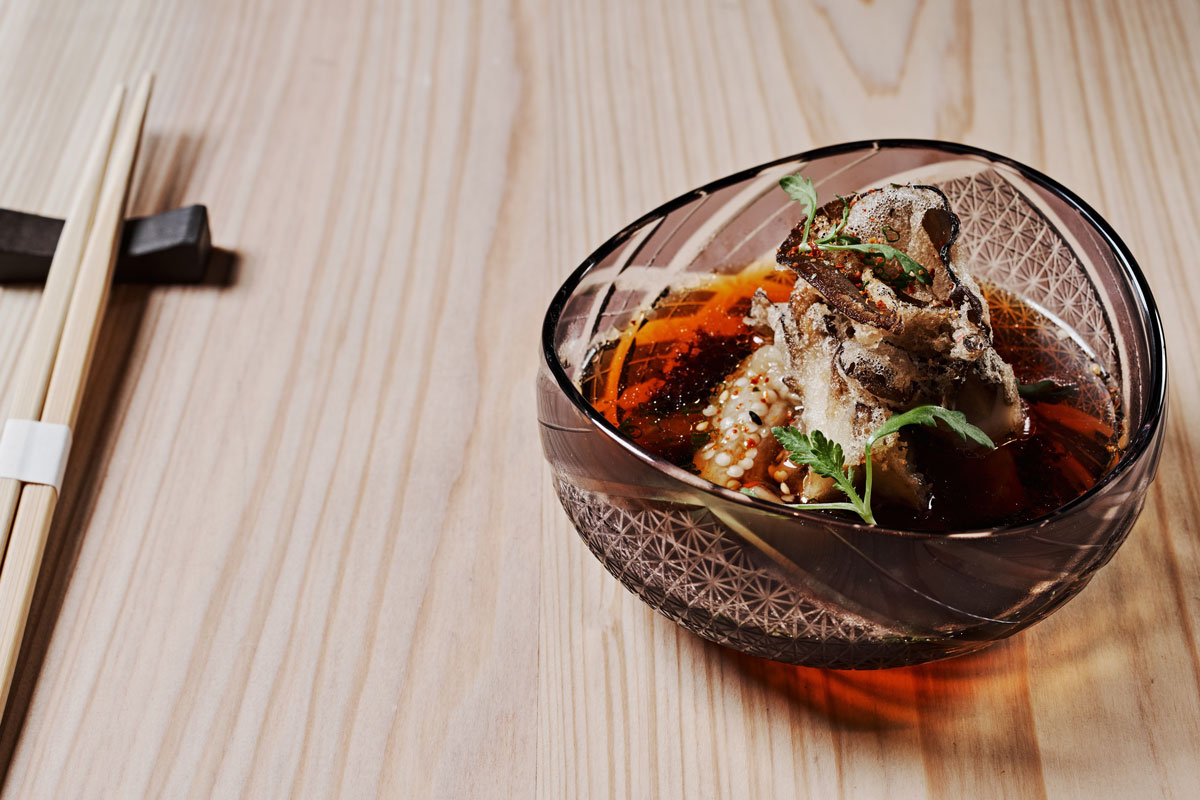 Led by chef J. Trent Harris, who ran the pop-up and previously worked at Shuko in New York City, Mujo offers a mix of edomae and kappo styles. The menu includes a series of zensai such as chawanmushi (a steamed egg custard) with jidori egg & black truffle, and buta nikomi (pork stew) with Ibérico pork, kabocha, and Japanese curry, followed by nigiri like kinmedai (golden eye snapper) and nodoguro (rare black throat sea perch).
"Most American sushi is based on fresh, unaltered fish," Harris says. "Edomae is about marinating, curating, and preservation techniques to bring out the flavors of the fish."
At Mujo, diners will see a variety of fish species less common in the United States, including kohada, sayori, and kasugodai. It will be shipped directly from the Japanese markets four days a week and from the Bronx as needed. In addition to sushi, there will be hot and cold items grilled, steamed, boiled, or fried in a "freestyle version" of the kappo style designed to create a feast for the senses. Food will be prepared and served from behind the counter, allowing diners to feel like they're part of the action.
Sommelier Taurean Philpott (formerly of Bacchanalia) will suggest wine pairings, or diners can choose from approximately 200 bottles, including 14 served by the glass. This includes a heavy selection from Burgundy (both red and white), as well as European whites. Irina Zolotukhina is compiling the sake menu with 30 selections. Michael Satusky is leading the cocktail program.
CHG president and CEO Fred Castellucci says the drinks will be "simple, elegant, and focus on the quality of the ingredients and the details that elevate it, such as using ice strategically." In fact, the cocktail ice will come from a third-party vendor for "ultra-clear rocks." Expect unique glassware, too.
Designed by Elizabeth Ingram Studio, Mujo will feel luxe yet warm. "The best places in Tokyo and New York are small, intimate places. This will be very cozy with an energy to it," Castellucci says.
Expect a marble bar back; raw, unfinished cypress for the sushi bar; and steel panels on the walls. Custom leather seats and soft lighting invite diners to get comfortable. "We don't want it to feel like you don't know how to behave," Harris says.