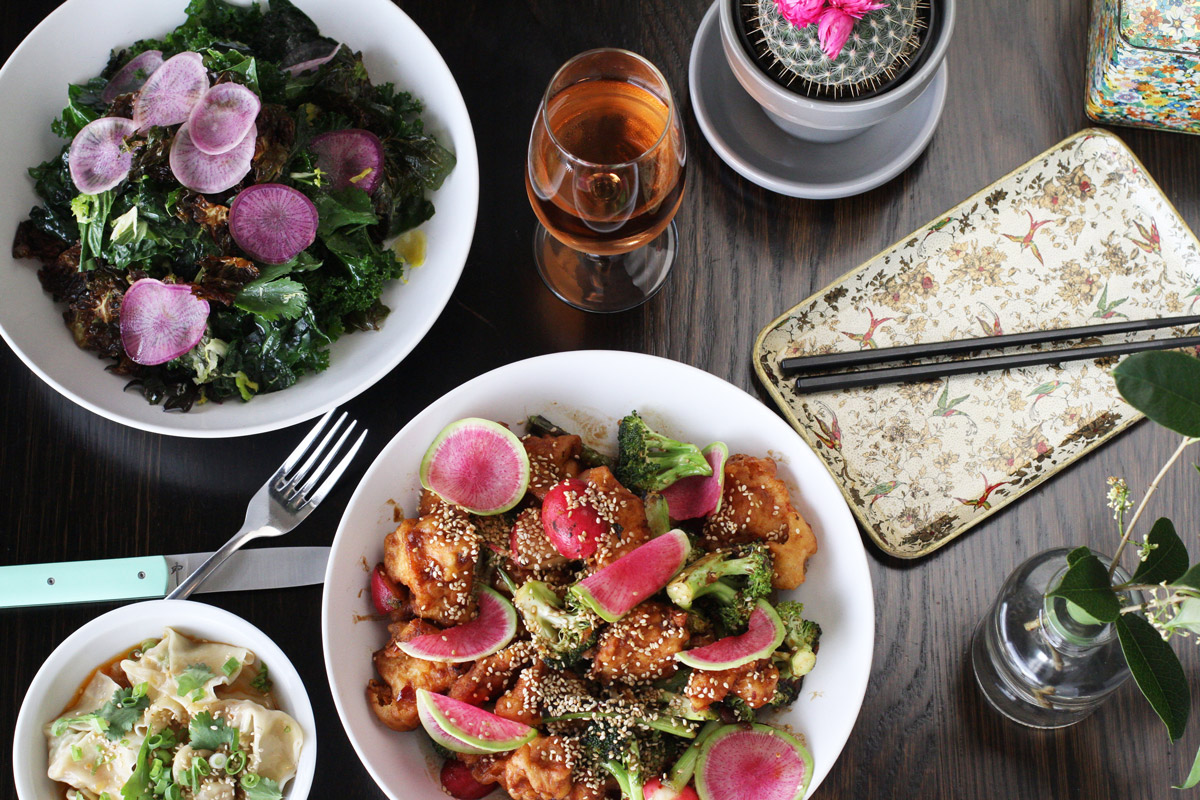 When people talk about Athens bands, the big names always come up first. But if you only listened to R.E.M., the Drive-By Truckers, and the B-52s, you'd miss an entire bill of outstanding, under-the-radar acts.
Same goes for the food scene here. It's been nearly 20 years since Hugh Acheson opened his flagship Five & Ten restaurant, creating an unofficial culinary incubator that's birthed a small army of standout chefs. Much to the delight of locals, many of those kitchen impresarios have stuck around. So after your pilgrimages to the Grill, the Grit, the Globe, and—god forbid—the Taco Stand, do as the townies do and pull up a chair at these choice establishments.
Nabbing a seat at the bar of this petite oyster parlor is the cocktail hour equivalent of a touchdown on the opening drive. Seabear serves a rotating roster of six varieties on the half shell, and from 3 to 6 p.m., Monday through Friday, they're just a buck-fifty a pop. Celebrate your victory and hold onto that seat. With all the coin you'll save on a couple dozen, treat yourself to a few plates from the laser-focused seafood menu, and, of course, a cocktail. The bar's eponymous drink—a shaken, dill-tinged sipper—is a great place to start.
Hugh Acheson's flagship oozes Old South grace, but the menu triumphantly samples from regions far and away (we're lookin' at you labneh and schnitzel). When you turn a 1913 house into a restaurant you get a constellation of intimate dining rooms perfectly suited for beautiful food and quiet conversations. But this grande dame does provincial as well as it does posh. If you don't have tailgate plans, hit the deep front porch on game day for barbecued game hen sandwiches and housemade bologna brats.
Mimi Maumus manages to make her Baxter Street beacon of Southern food feel as comfy as home but also special enough to warrant putting on your fancy new shoes. Her tomato pie is just like your mama used to make, but—shhh—so much better. The restaurant did some renovating last year, adding a dainty marble bar where chief barkeep Noel Finch infuses rum with gardenias (bet your mama didn't do that). When there's a New Orleans dish on the menu, grab it. Mimi's nods to her hometown are among her best offerings.
Arrive early and you'll find owners Jerry and Krista Slater—the bon vivants of Atlanta's former H. Harper Station—at the hostess stand running through the French brasserie lineup with former  Hampton + Hudson chef Savannah Sasser. Less than two years ago, the Slaters transformed a historic house in Five Points, which UGA alums will recognize as the former Two Story Coffeehouse, into an understated dining room crowned by a stylish cocktail aerie. If you're waiting for a table, head there for Sazeracs and Derby Sours, and don't be shy about selecting an album for the turntable from the Slaters' own stack of vinyl.
Shae and Ryan Sims's take on Americanized Chinese food evolved from a supper club series they launched after leaving the kitchen at Five & Ten, where they met. It's all your workaday favorites—General Tso's Chicken, Kung Pao Shrimp, Crab Rangoon—gone bespoke. But there's a secret menu, too. Available only by request, the Hot Hot Sauce sharpens and mellows with each crop of Collective Harvest habanero and ghost peppers. Ask for "nut dumps" and your pork-and-scallion wontons will come smothered in peanut sauce. "I feel dirty even saying it," the bartender explained. "But it's so good."
Azure patterned plates harmonize with the Mediterranean menu, in which patatas bravas and Manchego-stuffed Medjool dates give way to a diplomatic entrée list ideal for power lunches and first dates. This diamond in the downtown rough was created by Hugh Acheson and his protégé Peter Dale and conjures up a golden age of travel—note the wall-mounted wooden plane propeller and postcards from faraway places pinned to the back bar. An oversized Jim Fiscus photograph of a Big Boi and Andre 3000 sets the tone for said bar, a more relaxed space that's favored by those coming or going to the indie movie theatre Ciné, next door.
There are several spots for good brunching in Athens, but Mama's Boy draws the biggest crowd. Do they come for the raspberry jam, so ceaselessly utilized that each table has its own squirt bottle of the stuff? Or the buttery square biscuits? The pulled pork and potato hash? Or thyme sausage gravy? The ample meals here are everything you need to get going or a fine excuse to go back to bed. A second location opened two years ago on Macon Highway. Spoiler alert: It's similarly crowded and undeniably worth the wait.
Peter Dale's new fast-casual café fills a void in Athens for healthy, tasty food on the fly. The array is as dazzling—think deep-purple ginger beets, verdant sesame shaved Brussels, and meatballs swimming in crimson marinara. It's perfect for lunch but don't dismiss it for dinner. Globe string lights shimmer above the kid-friendly outdoor area and many fine, local beers are on draft, alongside the fizzy-bitter Maepole spritz. It's about as guilt-free as you can eat—even your cup, plate, and fork are compostable.
Is it Peruvian? Is it Cuban? Is that a burrito on the menu? This funky, family friendly destination steps from the University of Georgia cannot be confined to a single category, so don't try. Twenty-some-odd picnic tables fill a palm-fringed, beach-pebble yard where kids careen down old metal playground equipment. Order fish tacos, an El Cubano, and if you're really hungry, the lomo saltado. Pro tip: It's cash-only and BYOB, but hit Creature Comforts on your way over; the neighboring Circle K's proximity to an elementary school prevents it from selling anything stronger than Mountain Dew.
Dexter Weaver recognized the members of R.E.M. as regular lunch customers when they came to ask if they could use his soul food restaurant's slogan as the name of their eighth studio album. He'd never heard of the band but happily agreed. Like Automatic for the People, Weaver D's remains an Athens institution. Dexter will greet you at the register and say, with inflection, the word "Communication" when he's ready to take your order. As you're savoring every last crispy lick of fried chicken from the bone, he'll shout, "Y'all enjoying everything?" You'll smack your belly and say, "Delicious!" and to that he has just one response. "Automatic."