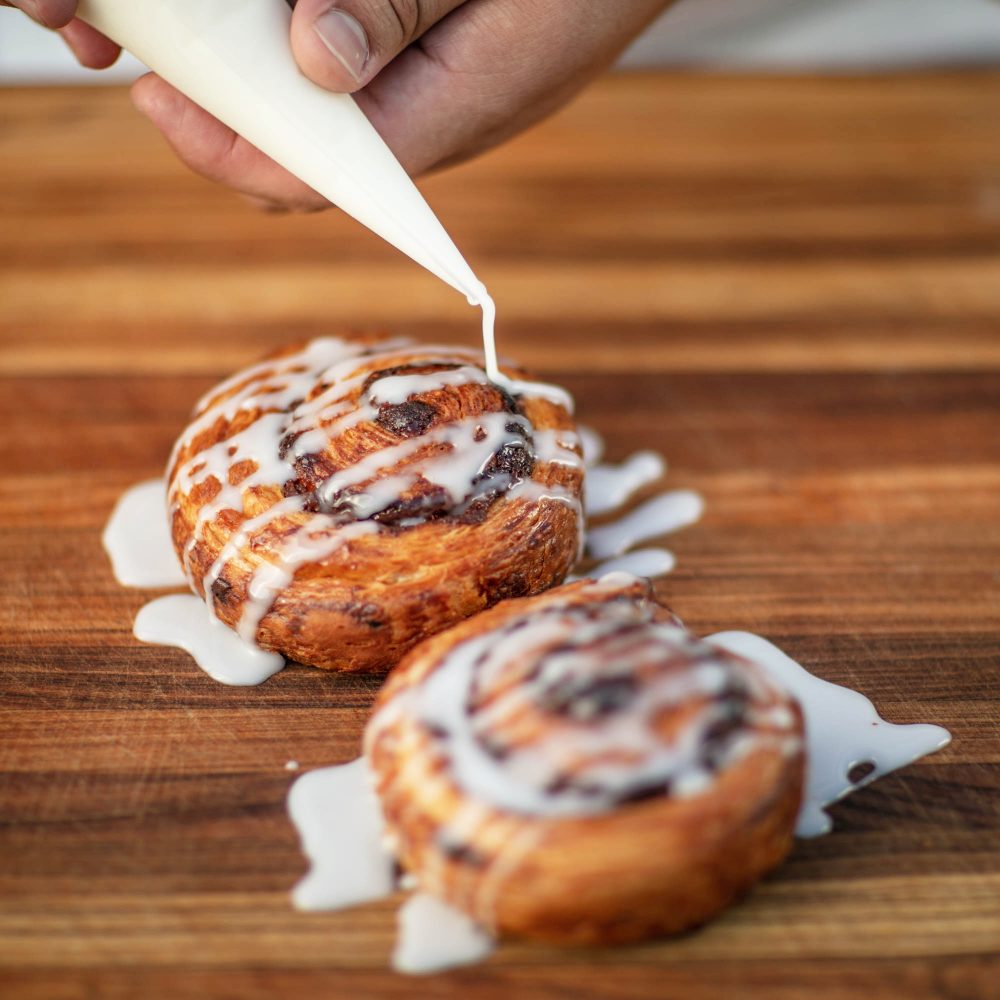 After 26 years in Chastain Park, Horseradish Grill closed in February. But come late October/early November, the former country store will be occupied again, this time under the leadership of executive chef and operating partner Christopher Grossman. Called the Chastain for its park-side location (4320 Powers Ferry Road Northwest), it will serve a seasonal menu of "reinvented" New American classics.
Grossman—who previously worked at Atlas at the St. Regis Atlanta, Aria, and Thomas Keller's the French Laundry—says he'll serve "elevated comfort food for everyday dining." The Chastain will serve dinner nightly, and eventually lunch and brunch. Locals can also stop in for a coffee, pastry, or light breakfast to-go in the mornings.
"There are so many people always out exercising—we want to be of service to the community," Grossman says.
He and his business partner, Andy Heyman worked to keep the timeless feel of the restaurant with a neutral color palette and large windows that bring the outside in. The patios seat nearly as many people as the dining room (140), and the space features an active garden that attracted Grossman to the job.
We spoke to him to learn more.
When and why did you leave Atlas?
I didn't feel like I was done at Atlas. [But] with a location like this, it almost felt like destiny. When [my wife and I] moved to Atlanta, we lived in Sandy Springs, and I was working at Aria. I began driving by Chastain [Park] every day and walking the park for exercise. For some reason, we never came in [Horseradish Grill].
Andy Heyman, of ASH Ventures, knew me from Atlas. He asked what it would take for me to leave. My response was a garden. [When I walked into Horseradish Grill], I had goosebumps. I didn't realize this gem was right here in the city. It had that innate charm, the history, the bones, and the garden out back. I knew this was where I was meant to be.
How will the Chastain be similar to Atlas?
It's more locally focused than Atlas but with that same level of execution and respect for the ingredients. My inspiration comes from produce from local farmers. We'll source some ingredients from the on-site garden, but it's not big enough for everything.
What's on the menu?
There will be about 20 menu items, including fresh-made pastas, risottos, salads, soups, and vegetables. Dishes will go from small to large, including something for the table or to feed a family of four. [Dishes might include] cornmeal tempura okra, charred broccoli salad, glazed turnips with toasted peanuts and pesto made from turnip greens, and pepper steak with chevre and fresh herbs. 
What about for breakfast?
Avocado toast, maybe a build-your-own breakfast sandwich and sheep's milk yogurt. Christian Castillo is in charge bread production, morning pastries, and dessert. He'll make croissants and naturally fermented breads. For me, a restaurant starts with bread and butter. It'll be baked fresh every day. It should get the same attention as everything else on the menu.
Tell me about your coffee program.
I am a coffee snob. I drink way too much of coffee. One of the best coffees I've had in Atlanta is with Brash. They are doing with coffee what we are doing with vegetables as far as sourcing. I'm very excited to partner with them. We'll have drip coffee, tea, lattes, cappuccino, and espresso.
What's on the bar menu?
I want to source really good spirits and reinvent the classics with them. Juan Cortes is the lead beverage manager. He'll do spins on the Old Fashioned and the Daisy. We want a well-stocked wine program with about 30 wines by the glass. Beer will be local—New Realm, Creature Comforts.
What have you done to renovate the space?
We wanted to save as much of the charm of the building as we can. The fireplace stones were repurposed into garden beds. The chimney that has been on this property since the '30s is now the foundation for the vegetables we're growing.
The whole space is lighter and brighter. The Old Oak Terrace serves as an extension of the dining room with tablecloths. The patio you see when you first walk in from the parking lot has a more casual bistro feel with umbrellas and wood tables. It's come as you are.
The bar is marble and U-shaped. We doubled the seating around it, focused around an arched window.
Are you concerned about opening a new restaurant during a pandemic?
Yeah. You want to be open for the community, but you want to keep everyone safe. We will be social distancing the tables. We're trying to expand outdoor seating as much as we can. I want people to feel comfortable.