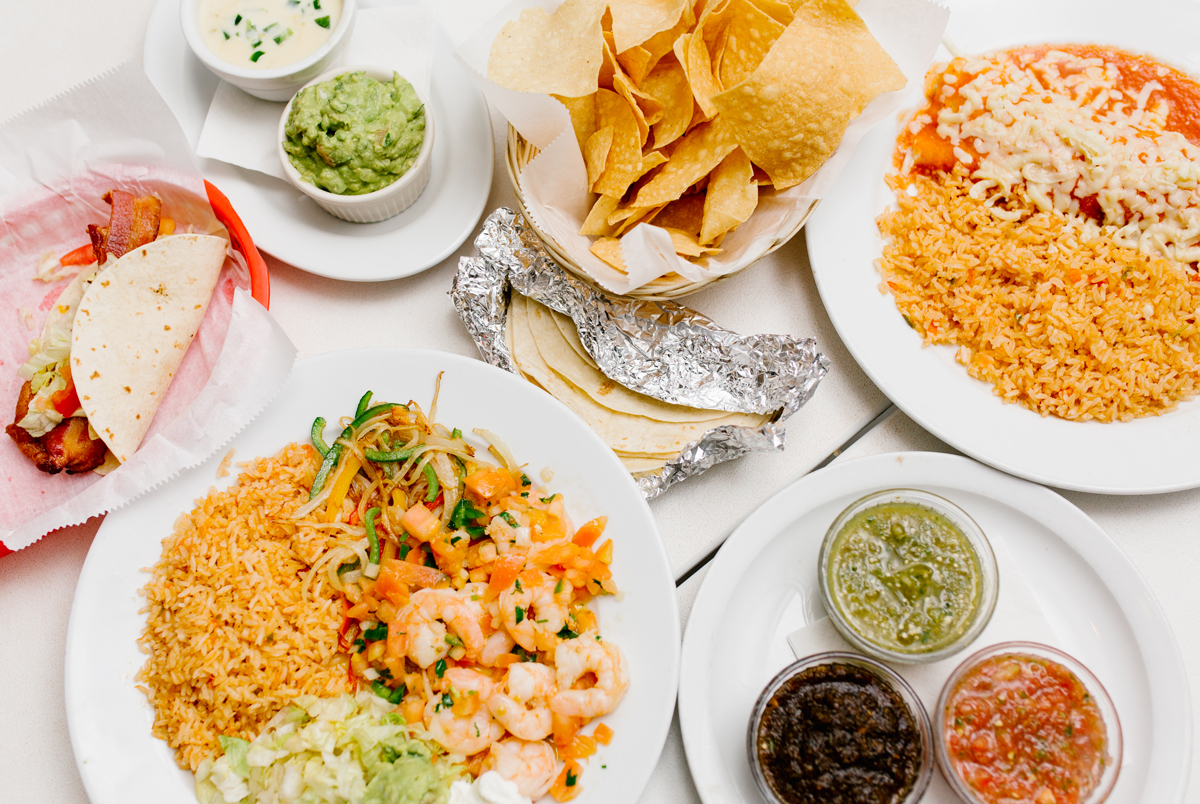 Over the past few years, my husband and I have become regulars at Taqueria del Sol's Cheshire Bridge location. You can find us there, almost weekly, sitting at the bar chatting with manager George Trusler. He's a character. You might know him as the stern yet sociable bartender reminding you about the rules of ordering at the bar: it is first-come, first-serve, and yes, there is a wait list. IDs are a must, no matter how old you might look. Sure, you can order to go, but only four items or less per ticket. What Trusler might not remind you about while mixing your house margarita is Taqueria del Sol's secret menu.
Trusler, who started as a waiter, has been a fixture at Taqueria del Sol for 25 years, and for those who know and love him, it comes as no surprise that he has a secret menu dish he named after himself. "I would just go back to the kitchen and put some rice, charros beans, and turnip greens in a cup and eat it, usually standing behind the counter." People started noticing Trusler's dish, and it wasn't long before they were requesting it themselves. "I would have to write out TG (turnip greens) slash CB (charros beans) slash rice. So one day I just wrote my name on a ticket and showed the kitchen. I said, "When you see this, that's what it is."
Soon, the other Taqueria del Sol locations around the city began taking similar requests. The George paved the way for additional secret items over the years, and each item is available at every location.
One favorite is a chicken taco salad served in a fried flour bowl with a base of lettuce, carrots, and red cabbage, then topped with fried chicken strips, ranch dressing, cotija cheese, guacamole, and salsa fresca. Patrons can also order the salad with roasted chicken, brisket, or pork, and can sub the ranch dressing for the house Italian instead. "We won't do fish, and we won't do refried beans," Trusler says. "That just doesn't sound good." You can also order the salad in a bowl sans fried tortilla.
For the Tex-Mex low-carbers among us, you can order any taco or enchilada without a tortilla or served in a cup. There are also a few secrets to modified ordering as well. Let's say you don't eat pork but are salivating over the Memphis taco, "You order a Memphis taco "sub" brisket," says Trusler.
If you're like me, no Taqueria del Sol fish taco is complete without coleslaw. If, also like me, you've been ordering a fish taco with an entire side of coleslaw just to dab some on top, Trusler says you're doing that wrong, too. "If you want to put a little spoonful of slaw on your fish tacos, it's "fish add slaw," not fish and some slaw, because then you're going to get a bowl of slaw."
There are tricks for chips, salsa, and cheese dip too. If you order guacamole or cheese dip and would like to add one salsa instead of buying the trio, you can add your salsa of choice for a dollar. You can also get the cheese dip with or without jalapenos, or with jalapenos on the side, or you can order "bean dip" which is refried beans smothered in cheese dip.
And note, at Taqueria del Sol, it's cheese dip not queso, Trusler stresses. "Queso just means cheese, and I know that Americanized restaurants have started just calling it queso, but queso means cheese. It could be any kind of cheese, block, shredded, or melted."
But perhaps the true gem of Taqueria del Sol's secret menu is the Natilla, a light and creamy vanilla custard dessert thickened with cornstarch, and topped with cinnamon and a chocolate syrup "S" to symbolize Sundown Cafe, the shuttered parent restaurant from which Taqueria del Sol was born. "We have dessert all the time. We may run out if we get a rush on them, but we keep twelve or fifteen total made per day for lunch and dinner."
So why all the secrets and systems? "It's kind of become something special for those "in the know," Tusler says. "We just haven't changed it, and we're not going to. We actually did put a sign, a little picture of the chicken taco salad at the registers when we first started doing it. I think we let him stay up there four weeks and then got rid of it. And now they just know."