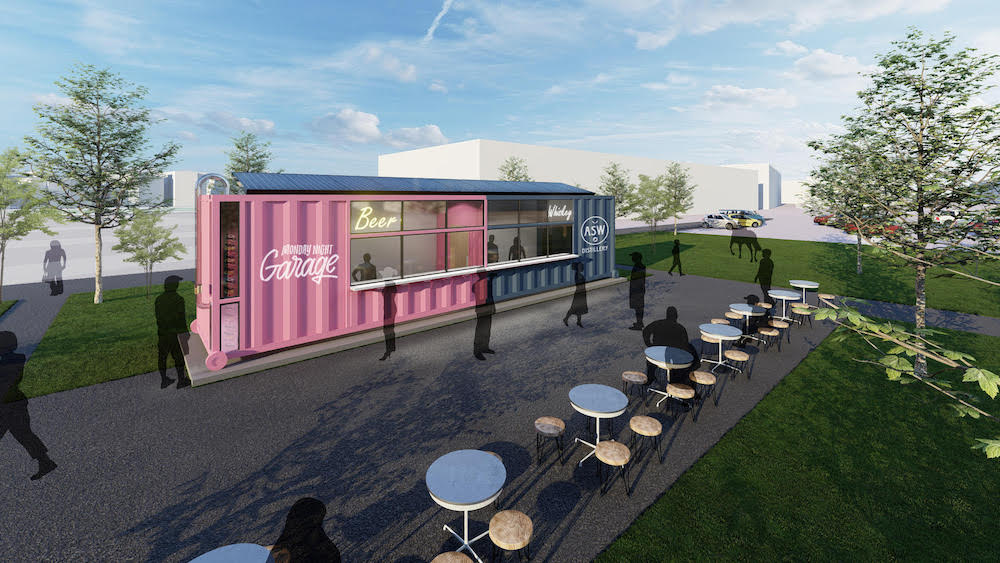 Lee + White neighbors ASW Distillery and Monday Night Brewing are teaming up to bring a solar-powered bar to the Atlanta BeltLine's Westside Trail. Aptly dubbed SolarBar, it launches May 20, when the BeltLine Lantern Parade promises to bring thousands of pedestrians to the area. In addition to drinks, it will feature a free, secure, solar-powered phone charging station and an interactive can-recycling system called "the Crusher."
"When you go to Eastside BeltLine Trail, there is so much cool, interactive stuff," says Monday Night Brewing co-founder Joel Iverson. "Arguably, the Southwest trail is more beautiful, but there's way less stuff. Our hope is to show people this is an amazing stretch of BeltLine, and if you're not spending time here, you're missing out."
Monday Night will serve eight beers on tap, including four staples like Taco Tuesday, Blind Pirate, Dr. Robot, and Death Raptor, and a rotating selection of seasonal and small batch brews. Six others will be offered in 16-ounce cans. Non-alcoholic Liquid Death sparkling water will also be available. At the same time, ASW will sell cocktails like old fashioneds, mules, "Win and Tonics" (made with their award-winning Winterville gin), plus some mocktails. Frozen classics like piña coladas and bourbon and Cokes will be offered to fight the summer heat.
Monday Night already uses solar panels at its Garage location, and Iverson was excited by the opportunity to see how much energy the shipping container bar could generate off the sun. "I love being able to educate people about solar power and sustainability initiatives," he says. The solar panels promise to harness up to 4,000 watts per hour. The excess will be stored in a Lithium Phosphate battery back-up system to maintain power in the dark. SolarBar will also use low-energy refrigeration and appliances, as well as LED lighting.
One of the most unique aspects of SolarBar is a high-speed phone-charging portal with six code-secured phone lockers, cords, and charging ports. Another feature—one sure to attract children—is the Crusher. Passersby can bring cans to crush, then drop them into a clear chamber, hit a button, and watch the cans shoot up into a glass chamber, where they will reside until given to nonprofit Recycle for Good.
"Environmental sustainability and serving our community are two of our biggest priorities, and we will do both in this unique way," Iverson says in a press release.
The developers of Lee + White are focused on creating community as well and recently built a Great Lawn with a stage for public events. A food hall is planned for the fall. For now, SolarBar will primarily open Friday afternoons through Sunday evenings, depending on the weather. "Our hope is to give people more reason to come out," Iverson says.