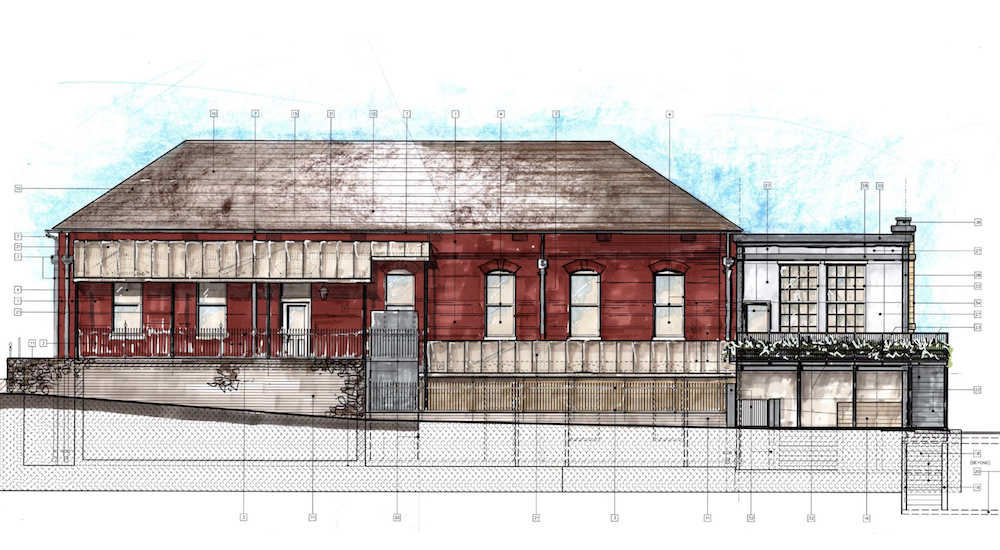 In January, the Inman Park space formerly known as Parish (which closed in early 2021) will welcome guests once again. It's a full circle moment for Justin Amick, who is turning the building into Painted Park, "a recreational place of assembly, green space, and private events venue." Amick served as Parish's general manager for approximately five years, while it was owned by Concentrics Restaurants (his father's company). It was there that the younger Amick met his current team, Painted Hospitality executive chef Thomas Collins, director of service and hospitality Jessica Rucco, and director of operations Robert Nonemaker. "That space has a special place in all of our hearts," Amick says. "It's a beautiful, historic structure, but when it opened, the BeltLine wasn't there, and it wasn't able to capture the bar scene."
Amick, who is opening Painted Pickle in November, is set to change that, demolishing the parking lot behind the building, and transforming it into a greenspace that connects the BeltLine to Painted Park. "The biggest challenge was that connection point," he explains. He's bringing in faux AstroTurf, a Great Gatsby-style hedge line, gas lanterns, and a gazebo bar. There will be vintage beach and lawn games since the BeltLine—being a main attraction—could be considered Atlanta's "beach."
A patio—once seating for the Market at Parish—will serve as a vintage gaming parlor with table games, pub games, and board games, complete with branded playing cards and dice. Inside, new hardwoods are being installed to cover the industrial concrete. A stone-topped bar spans two dining rooms, while a DJ booth "floats" above the staircase. Expect a small dance floor and strategically places flat-screen TVs for watching major sporting events. Amick describes the decor as "very chic and sexy, with modern and classic elements."
Another patio fronts Highland Avenue. A third dining room comes from a 1,000-square-foot addition upstairs overlooking the green. Called Mirror Bar, it will have its own small bullet-shaped bar with a mirrored face, onyx stone backlit top, and an antique mirror behind it. With a gas fireplace and soft seating, it's intended to be lounge-like.
Drinks will play a central role in Painted Park. Painted Hospitality beverage director Julian Goglia is designing the beverage menu with classic and signature cocktails, including a Miami Vice slushie. "The BeltLine is our beach. It's party in the front and party in the back," Amick says. An Advanced Sommelier, he will be creating a wine by the glass program. Local and craft beer will be available as well.
Collins will return to the space to launch a menu of shareable small plates, bar fare, salads, and bowls. A classic sandwich section may include a tuna melt, shrimp po boy, reuben, banh mi, and burger. A frites section will offer steak frites, fish 'n' chips, moules frites, and more. There will also be baskets full of wings, chicken fingers, and frito misto. Brunch—which maintained its popularity through the end of Parish—will be served on the weekends.
And to pay homage to the space's past, Painted Park's signature drink will be served in a hurricane glass.