On Monday, the winners of the 2019 James Beard restaurant and chef awards will be announced. And for the first time ever, Atlanta has not one but two local establishments on the shortlist of five finalists for the Outstanding Beverage Program award: both Ticonderoga Club and Kimball House, who will compete with bars in New York, San Francisco, and Chicago. Atlanta is the only city with two nominees in the category. (Other Atlanta Beard nominees include Miller Union for Outstanding Wine Program; Hugh Acheson for Restaurateur; and Staplehouse's Ryan Smith for Best Chef Southeast.)
Though Ticonderoga and Kimball House are very different bars—the former, a rollicking and clubby den of good times; the latter, an exquisite and exacting ode to the classics—their histories, and those of their founders, are closely intertwined. Barmen Greg Best and Paul Calvert of Ticonderoga, and Miles Macquarrie of Kimball House, have collectively worked to elevate the city's drinking culture for more than a decade.
Cocktail culture in Atlanta has seen an extraordinary progression in that time, and nowhere is that growth more evident than the city's backbars. At Ticonderoga Club and Kimball House, the backbars are living libraries of the beloved, sometimes obscure, and always richly interesting spirits that reflect the curiosity, passion, and daring of the barkeeps who share them with Atlanta.
Below, Calvert and Macquarrie walk us through some of the most prized bottles on their ever-changing shelves:
Kimball House
Kimball House is an ode to history and classicism, and the structure of the backbar itself speaks to that: due to the building's historic status, Macquarrie and his team had to configure the shelves around the original 1891 glass windows, without covering them up—or putting their collection of roughly 300 bottles at risk of sun damage by placing them in front of the glass. The Tetris-esque arrangement lends itself well to Kimball House's aesthetic. "I think if it was just bottles all the way across, without those nice breaks of sunlight coming in, it wouldn't be as special-looking," Macquarrie says.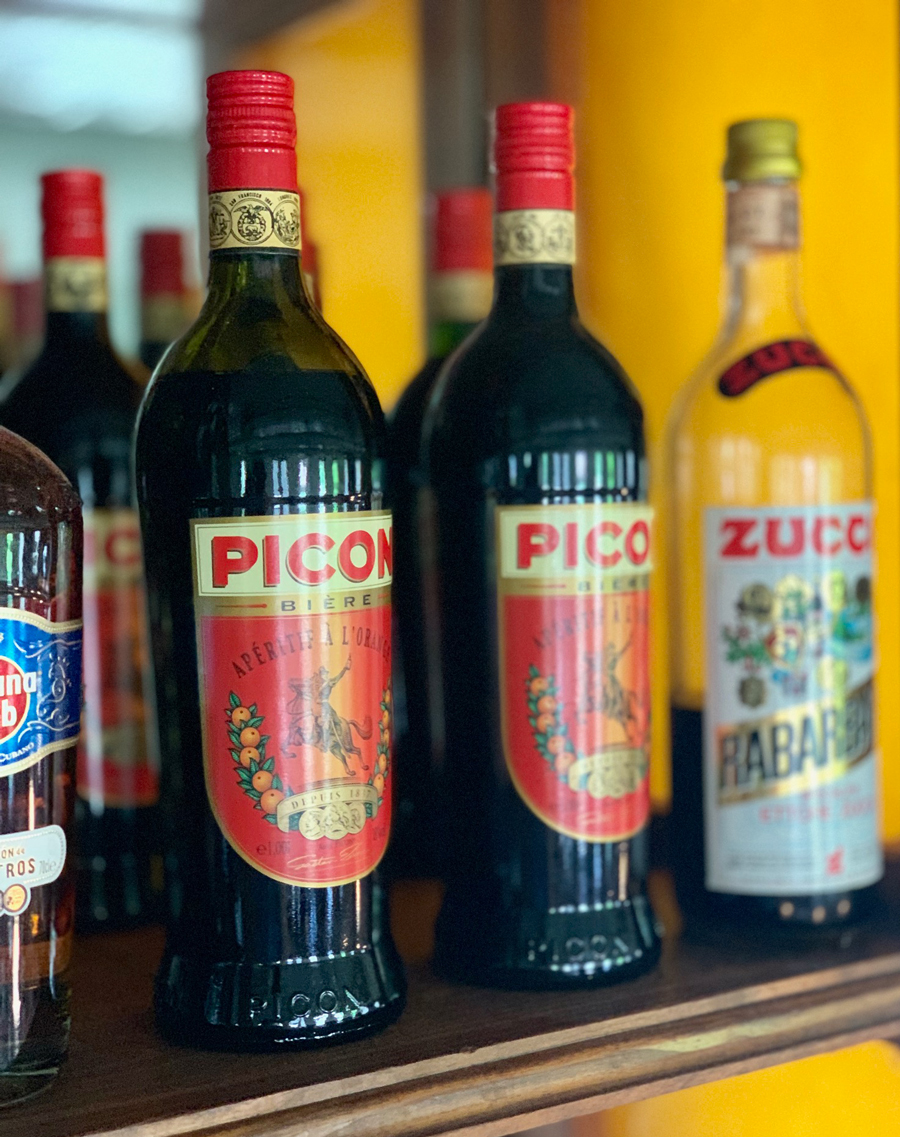 What's your most prized possession on the shelves?
The biggest one, because we started collecting it before we opened, is Amer Picon. It's the quintessential ingredient in a Brooklyn, one of my favorite cocktails of all time, and we always use Amer Picon for it—we would never make it with one of the substitutes available in the market. The formula that's available in France now, it's not available much outside of France, and certainly isn't anywhere in the United States.
When my wife Leigh Anne and I got engaged [before Kimball House opened], we did a little European tour, and I said, "We have to get Amer Picon." So I got a suitcase. I got 12 liters of Amer Picon in Paris, and carried it from France to two cities in Belgium to Amsterdam. We flew back into Atlanta, and my suitcase didn't show up. [Later] I was at work, bartending, and Leigh Anne called me and said, "Your suitcase is here, I opened it, and there's broken glass everywhere." Eight out of 12 bottles survived. I took one or two to the bar I was working at, I gave one to Paul Calvert, and one to Greg Best—this was way back in the day, before they were working together—and I kept one for home and saved the other four for Kimball House until we opened. So now, any time any of our regulars or staff go to France, we say, please bring back some Amer Picon. We now have over six liters of Amer Picon and are always looking for more. That's enough for 792 Brooklyn Cocktails.
The other one that's really very special is one of our Chartreuse bottles, the Chartreuse Centenaire. This is also not available in the U.S. A lot of people say it's like a blend of green and yellow Chartreuse—yellow is 80-proof and a little bit sweeter; green is 110-proof. It's a very special blend that they do not export. [The label] is all in French.
Did this also come to the bar in a suitcase?
It did. Bryan Rackley, one of our partners, found this at a specialty wine and spirits store in France. The guy who sold it to him said, "This is kind of alive in the bottle, and it's best if you don't open it for five years." We'd been open for not quite a year at that point. So, I think the plan is to crack it on our seventh anniversary and drink it. It's always been a showpiece.
Any other booze from afar?
[Cuban] Havana Club rums, which are available everywhere except the United States. The three-year white is so good in a daiquiri, I think because there's a sense of place since it's where the daiquiri was invented. Legally, we can't sell that, but we sell guests the lime juice and sugar, and they get the Havana Club for free. But we'll only do it in daiquiris. We don't do it in other drinks or neats. If you want the Havana Club, it's going in a daiquiri. That's another one where, if anyone travels anywhere, we can get some bottles back.
Is there anything that Atlantans can only find at Kimball House?
The Kimball House private label rums have always been really important to us. We got to taste through select barrels of Plantation Rum, and what we have now is the absolute last of it. It's a blend of many different islands; it's aged for eight years in the Caribbean and then two years in Cognac, and they finish it in an additional year in a peated single malt scotch barrel. You can only find it here.
What about staff or personal favorites?
David Chapman, the bar manager, says Hakushu whiskey is his favorite. The Kimball House rum is probably mine, because it was so off-the-wall for rum. It's from Guyana, Barbados, Trinidad, and Jamaica. They all have such unique [characteristics]: Barbados has that vanilla profile, Guyana's that rich demerara style, Jamaica's pot-stilled and funky, and Trinidad finishes dry. So all those blended together into this unique monster that's aged for eight years in the Caribbean, and then put into Cognac barrels, and then put into peated Scotch barrels . . . it's wild. If you smell it, you can tell—it smells like a cocktail in itself.
Atlanta's drinking palate has broadened so much in the 10 years. Is there anything that, when you opened, you never would've imagined selling as much as you do now?
We use a lot of modern techniques, but there's supposed to be a sense of classicism to this place. It's classic stuff you maybe would've seen at a bar in 1891: a lot of whiskey, a lot of rum, a lot of brandy. Rum, I'm not that surprised that people drink it, but we can sell a good amount of brandy. We don't have trouble selling Cognac, and I think that's really cool.
Your favorite Georgia-made spirit?
I think Richland Rum is excellent, and I also really like the American Spirit Works apple brandy. The fact that we have both a state-grown, cane-based rum, and an apple brandy made from Mercier Orchards apples in Georgia is awesome. I also would give a shout-out to the Old Fourth bourbon. A lot of people rush it, but they did actual bottled-in-bond, four-year, 100-proof bourbon, and I commend them for that. They came out with an excellent product for their first round.
If you could have a bottle from any time or place, what would it be?
People have their notions of what things used to taste like. I would really love to taste an actual Cuban rum from the 1920s. All the stuff we use in cocktails now, that we say is the most historic for this drink—was it really? How do we know? No one who has tasted that is alive anymore. In classics, representing them in a historically accurate way is important, but if these drinks were so popular back in the day, I would like to make them with spirits that actually tasted like they did then. The daiquiri is such an important drink, I think. What did one really taste like at one of those bars in Cuba in the '20s? That would be amazing.
Ticonderoga Club
A lot of cocktail-focused bars tout encyclopedic spirits collections—the most whiskeys, or the biggest gin selection this side of the Mississippi, and so on—but Ticonderoga Club is not one of them. "While we certainly have had some cool and special bottles over the past three-and-a-half years, we generally get rid of them," says Calvert. "A piano could fall on you tomorrow," he adds—why stockpile the good stuff when you can share it and celebrate it?
How many bottles are usually on the backbar?
Of liquor, not wine or beer—around 50, which is the smallest number I've ever had in any bar I've ever run or been a part of. The ethic of the Club is to not have 20 different brandies, but to have one great brandy that we love, and love the story behind, and love the people who make it. And we can talk about it, and celebrate it. And when it's done, it's done. It's a little piece of history.
Are there any specific bottles that really capture the ethos of Ticonderoga?
A recent addition to our larder has been a barrel of private-label rum from Plantation Rum. They've done that for many bars over the years. Two things happened with this barrel that were really special for us: one is that it's the last time they're going to do this. And we didn't know it was going to be the last one, we just found out after we took it. The other thing is, the flavor profile—a perfect balance between the more ester-y Jamaican quality, and the fatter, rounder, richer Barbadian rums—fits the ethic of the Club perfectly to me. It's just funky enough, but also very familiar and warm. It's weird but very lovable.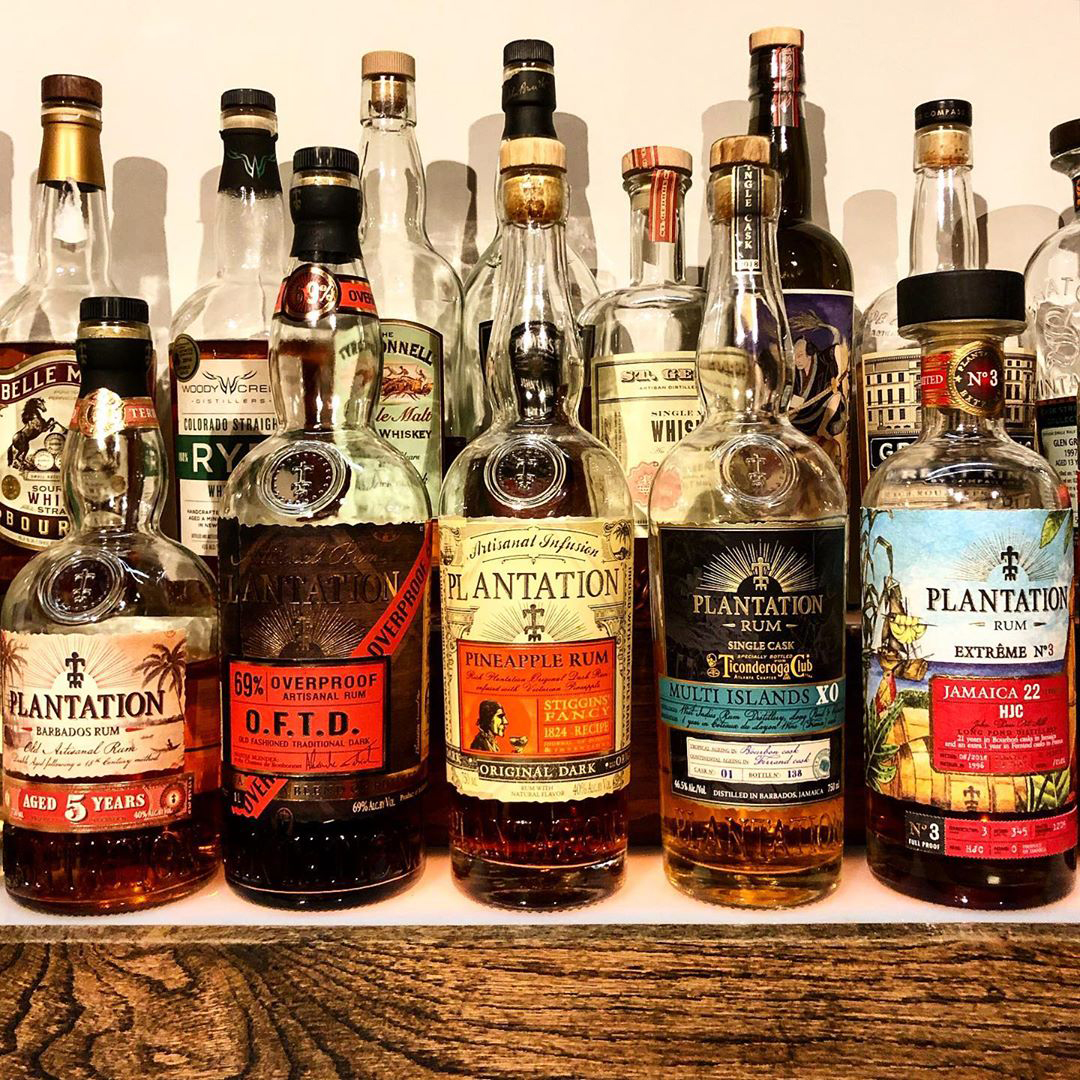 What about something with personal significance?
It's not liquor, but there's a cider producer in Brittany, Domaine de Kerveguen. That cider is very limited and rare, and we were buying it from a distributor here for the first couple years we were open. We'd get it about once a year in pretty small quantities. It's now not coming to the U.S. at all anymore. When the last batch hit the States, I bought up as much as I could—which is to say, about four cases. We sold the shit out of it at a discount because I just wanted more people to try it and celebrate it, and now it's gone.
That cider is really important to me because it's delicious, but also because my wife Sarah and our son Wally and I visited the Domaine a couple years ago. We drove for hours through the interior forest of Brittany, which has this medieval, Tolkien appearance. We went and met him, and my wife is thankfully fluent in French so she translated everything, and we had this wonderful talk, and got to see the press, the barrels, the orchards. The whole time we had Wally with us; he was ten months old, strapped into my little baby backpack. It was incredible. That relationship is really important to me. He's one of only two cider makers left in Brittany who ferments and ages in barrels, which takes a lot more time and real estate. That's a very special bottle that's long gone but very important to us.
Is there anything you sell now that you would've been shocked ten years ago to see Atlanta guests drinking?
We sell a ton of expensive vintage sherry and Madeira. By "a ton," I mean about a bottle of each a week, but we're talking about stuff I'm selling at the lowest possible markup we can do and it's still $26, $28 for two ounces. I was like, that shit will never sell. And it does.
Any sherry in particular?
We love the Lustau house, we love Osborne . . . I think if I had to pick a sherry that's very special to me, it would be the Equipo Navazos. They do almost all en rama sherry, which is straight from the barrel. Their en rama sherries are so beautiful. They taste like a humid, salty, coastal afternoon in southern Spain. They have this salty, wet rock quality.
What about favorite spirits made locally, or regionally?
Regionally, Belle Meade makes really wonderful whiskeys every year. They did a Cognac cask, an XO-finished whiskey that was out of this world, the perfect balance of fruit and wood. They did a sherry finish and a Madeira finish, too—all of those finishes were very Ticon-appropriate. The Cognac was probably my favorite of the finishes.
Locally, I think the American Spirit whiskeys are very good, especially the Resurgens Rye, which gets better every year. We have carried them before and we will again. I also think Independent Distilling's white rum is fantastic. It makes a killer daiquiri.
How about staff favorites?
The staff likes to toast with our house Amer Ticon. We try to get closer to the original flavor of Amer Picon. Ours is a blend of a couple different vermouths and a couple different bitters, and we always have it—that's a favorite bottle on the backbar.
If you were to celebrate a momentous occasion with your staff, what would you open? (Besides Champagne.)
I'd probably grab the Darroze Armagnac we have on the bar right now. I believe it's a 20-year, and it's not been proofed down like a lot of brandies. Armagnac had always been a bit higher-proof and had more sharp edges and elbows. If I wanted to toast the staff in an extremely meaningful way, that would be the one I'd pull off the backbar.
If you could find a bottle from any place or time to add to Ticonderoga's collection, what might that be?
If I could go back in time, it'd be the time of great vintage Cognac and Armagnac. There was a time here in the States when you could get a more rustic, straight-from-the-distillery style of brandy from France, vintage brandies of wildly different proofs. Once the world of Cognac was like, "oh, wait, we can sell this stuff in magazines, but we need to flatten it out a little bit and make it more palatable and cheaper," then I think a lot of the great vintage brandies of the world became harder and harder to find. I wish that would come back.
Tell us about some of the non-liquid items displayed here.
Our backbar is filled with knick-knacks. The booze goes, and we drink it and sell it and everyone hopefully enjoys it, and we move on. But the knick-knacks, they stay. We have a stockpile of crappy shot glasses that our regulars bring us. They make their way out to the tables, and people drink their Amer Ticon or their shots of mezcal in them. My favorite one, which everyone else hates, is a porcelain udder. It stands up on its teats. It's black-and-white spotted on the outside, and the inside of the bowl is pink. Written on the inside of the lip, it just says, "Iowa."
We also have special cups for special regulars: one regular, Jacob, drinks draft beer out of his father's military stein, and we have a Coney Island carnival glass for [spirits historian] David Wondrich when he comes in. I went to Oaxaca years ago and bought five handmade clay copitas for each of the partners; they're all human heads, and each face vaguely resembles one of us. That stuff is very important to me, in some ways more important than the booze.