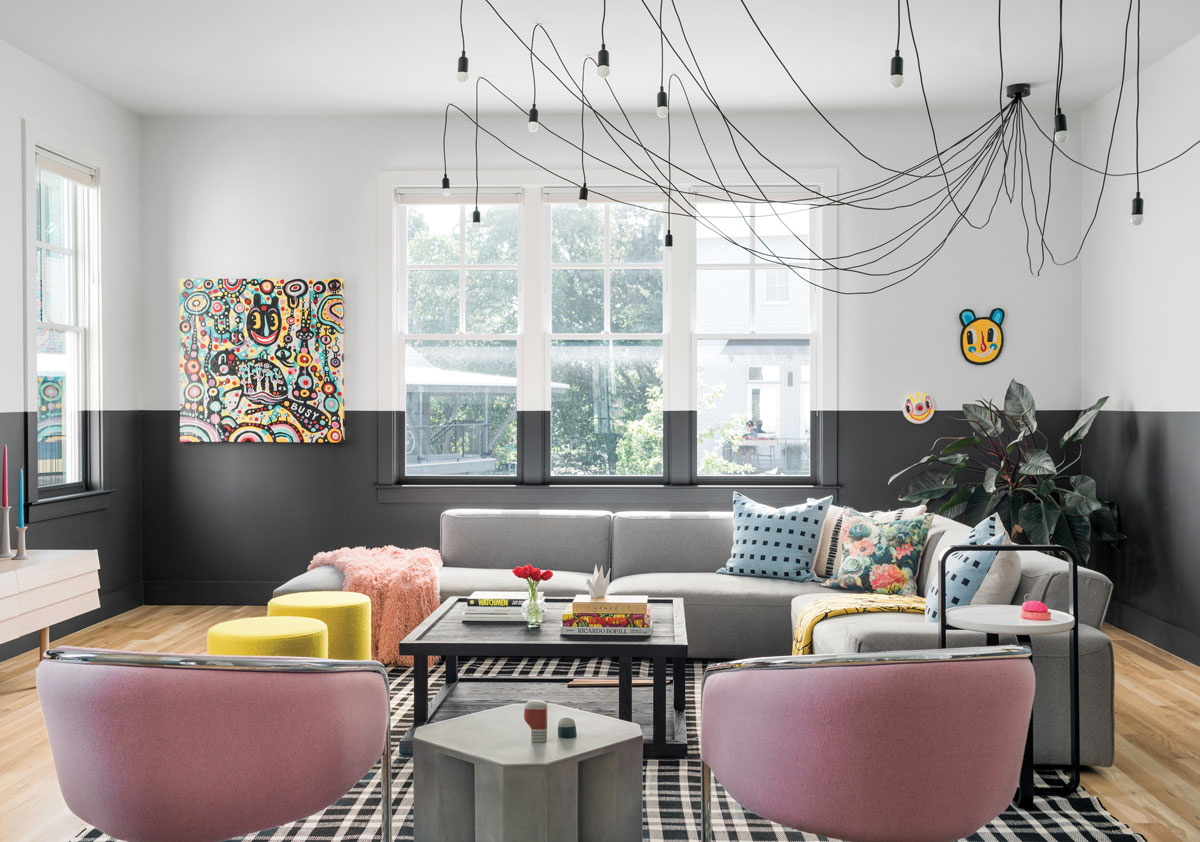 Niko Rigney and Jon Boykin knew they wanted to marry their affinities for Japanese wabi-sabi, Scandinavian design, street art, punk rock, and gaming (both the video and board varieties) in their new three-story townhouse in Reynoldstown. But pulling it off in an elevated fashion was a different matter.
They first got stuck selecting tile—and realized they needed help. Research online led them to Lake Claire–based Kate Hayes Design and designers Kate Hayes and Krista Sharif. But at their first consultation, the couple hired the team on the spot for the entire house, top to bottom.
"We thought it was going to be a quick consult," says Kate. "But we really hit it off."
They landed on a gradient from the first floor to the top, with the first floor (home to the game room and music studio, where both Niko and Jon play punk and metal) getting the wildest, rawest treatment and then a progressively more reserved vibe moving up the floors to the colorful but grounded bedroom and serene, spa-like bath.
Jon, a marketing and tech executive, and Niko, a neuroscience PhD student, were drawn to the designers' ability to pull all of their interests together in a sophisticated way—and ultimately gave them free rein to experiment. "We really got to 'go there,'" says Kate. "That freedom is rare."
Tiny but mighty
"There's no point in trying to make a small bathroom look big," says designer Kate Hayes. "But you do have an opportunity to go wild with it." Here are some tricks Hayes and Krista Sharif of Kate Hayes Design used in Niko Rigney and Jon Boykin's Reynoldstown townhouse.
Create a jewel box.
Layer in the color and pattern. Try picking up the wildest hue in your house palette and expanding it in your bathroom. "Maybe it's a color you wouldn't do in your kitchen," says Kate, "but it would be really dramatic in a powder room." Don't balk from statement tile—but if you are feeling timid, you can use it in small spaces for an accent, like a shower stripe or a backsplash. Kate and Krista find themselves often turning to Clé Tile, Fireclay Tile, and Specialty Tile on Miami Circle. "Wallpaper—always" in a powder room, though it's not a good idea in full baths that are frequently used because of the humidity and moisture.
Light it right.
If it's not your master bath where you're putting on makeup and staring at your pores, you want soft, warm light. "Take out your daylight bulbs or you'll want to cry every time you walk in the bathroom," says Kate. Put everything on dimmers and opt for 2700K LED bulbs—or even multiple 40 watts. Don't be afraid to branch out of the bath section when it comes to fixtures for something a little bit more chic.
Know where to stay simple.
Kate and Krista love wild walls but clean and simple plumbing fixtures. "You don't want to do anything too much of a statement with plumbing because it's hard to change out," says Kate. They're currently feeling polished nickel and unlacquered brass finishes. The Kohler Purist line is a go-to favorite, but you'll also see them installing Newport Brass, Rohl, and Kallista.
Add some jewelry.
The place you can really go crazy is cool accessories. "We really think of them as conversation starters for guests," says Krista, who picked up the blue submarine soap dispenser in the "David Bowie" bath from Seletti. Waste bins are another place to add whimsy. "There's a way to elevate designs with small, inexpensive items." The pair often turns to European sources like the Danish Design Store for little things that are a bit tongue-in-cheek.
Nail the scale.
"We love a petite mirror in small bathrooms," says Kate. They leave more wall space—either for that wallpaper to shine or for an airier vibe. "And for mirrors, we love to go vintage."
Resources | Game room Console: vintage, Coming Soon, comingsoonnewyork.com. Palm lamp: CB2, cb2.com. Sofa: Urban Outfitters, urbanoutfitters.com. Rocking lounge seats: Softline, softline.dk. Coffee table: CB2. Rug: Terry Frost for Christopher Farr, christopherfarr.com. Neon lights: The Neon Company, 858 Dekalb Avenue, theneoncompany.com. Downstairs bath Vanity: Ikea, ikea.us. Tile: Clé Tile, cletile.com. Sconce: Schoolhouse, schoolhouse.com. Mirror: CB2. Living room Sofa: Interior Define, interiordefine.com. Coffee table: Arteriors, arteriorshome.com. Chrome chairs: Decades Antiques and Vintage, 1886 Cheshire Bridge Road, @decadesantiquesandvintage. Media console: Blu Dot, bludot.com. Rug: Annie Selke, annieselke.com. Light: Seletti, seletti.us. Side table by sofa: Ligne Roset, 275 Buckhead Avenue, ligneroset.com. Side table between chairs: CB2. Ottomans: Blu Dot. Kitchen Tile: Clé Tile. Sconces: Tom Dixon, tomdixon.net. Pendants: Roll & Hill, rollandhill.com. Stools: Muuto, Muuto.com. Hardware: Buster + Punch, busterandpunch.us. Custom hood: Ryan Hancock, Hancock Fine Furniture, hancockfinefurniture.com. Dining room Pendant: Jaime Hayon, hayonstudio.com. Table: Room & Board, Westside Provisions District, roomandboard.com. Dining Chairs: Design Within Reach, Westside Provisions District, dwr.com. Dining sideboard: Hancock Fine Furniture. Mirror: Concrete Cat, concretecat.com. Bird sconce: Mooi via Switch Modern, 670 14th Street, switchmodern.com. Large art: Sarah Emerson via Whitespace Gallery, 814 Edgewood Avenue, whitespace814.com. Master bedroom Custom headboard: Design by Kate Hayes Design via Embry Hills Upholstery, 3983 Lavista Road, 770-938-4682. Hanging light: Flos, flos.com. Swing-arm light: Andrew Neyer, andrewneyer.com. Side tables: CB2. Rug: Pieces Home, pieceshome.com. Chair: Bolia, bolia.com. Sconce: Cedar and Moss, cedarandmoss.com. Roman shade: Schumacher "Queen of Spain," ADAC, fschumacher.com. Art: Amy Pleasant via Whitespace Gallery. Master bath Tile: Bisazza via Specialty Tile, the Shops of Miami Circle, specialtytile.com. Mirrors: Menu, menudesignshop.com. Lights: Sonneman Lighting, ylighting.com. Office Rug: Aelfie, aelfie.com. Light: Chairish, chairish.com. Lamp: Etsy, etsy.com. Guest bath Sconce: Forestier, ylighting.com. Mirror: Rejuvenation, rejuvenation.com. Pendant: Normann Copenhagen, normann-copenhagen.com. Ribbed wall tile: Walker Zanger, the Shops of Miami Circle, walkerzanger.com.
This article appears in our Fall 2020 issue of Atlanta Magazine's HOME.