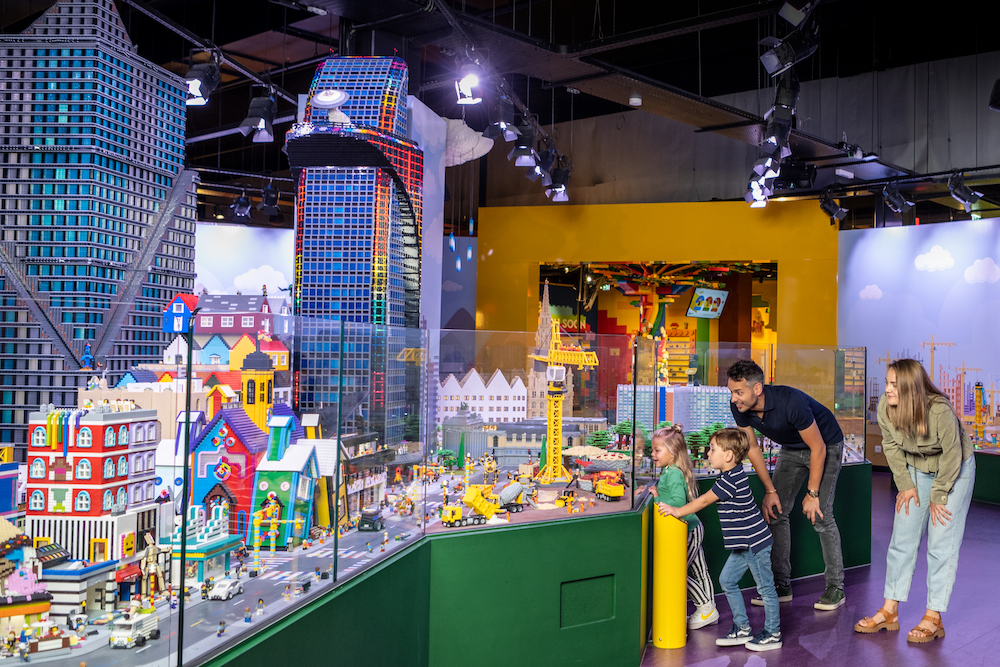 After 10 years on the third floor of Phipps Plaza, the Lego Discovery Center shut its doors for renovation in September 2022. Today, it reopens with four new activities, plus additional reinvigorated areas. The $5 million-dollar renovation covers more than 35,000 square feet and 10 zones ranging from building areas to a 4-D theater.
"We always want to bring something fresh and new to our attractions," says marketing manager Caroline Ruthven. "By transforming the center, we are reimagining the way people can play with Lego brick."
Appropriate for ages 3 through 10, Lego Discovery invites children and their parents to create, play, dine, and shop. The average visit lasts two hours, and tickets range from $28.99 for base admission to $41.99 for a package that includes a virtual reality ride, digital photos, and a take-home Lego minifigure. You'll want to at least spring for the middle-of-the-road option, which costs $36.99 and includes the minifigure. The last thing you need is to spend nearly $100 and hours of your life only to watch your child's smile disappear when a Lego employee confiscates his carefully crafted minifigure at the exit. (Trust me.)
I visited with my husband and two kids: Sammy, 6, and Sydney, 4. What follows is a summary of our experience, so you can make the best of yours.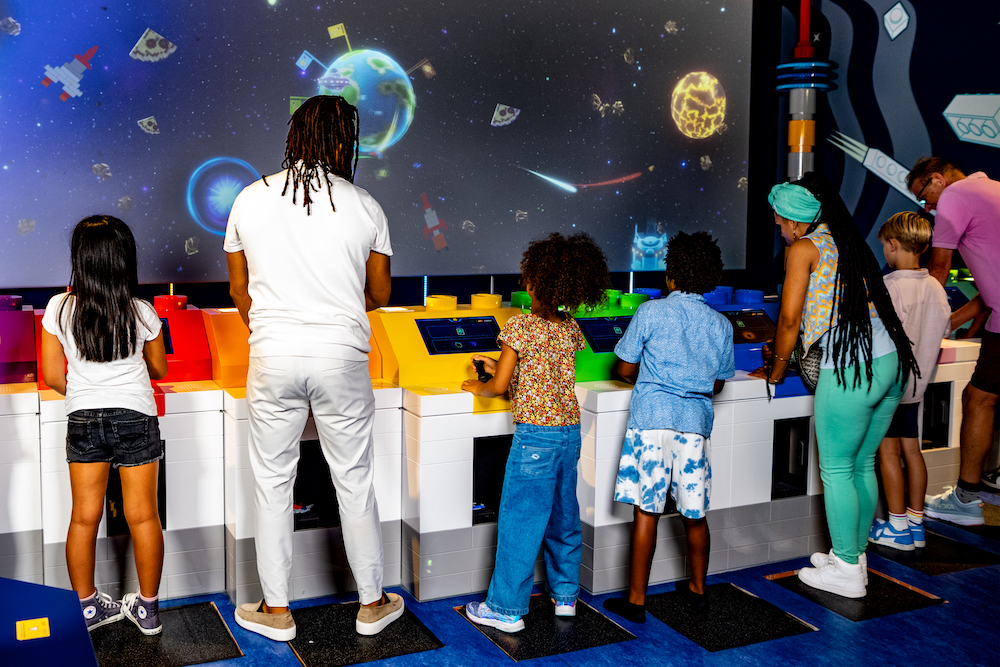 After entering, we encountered four bins of minifigure pieces. We dug through each one (head, torso, legs, and hair) until we assembled the perfect characters. If there was a sign that said what to do with them, I missed it. So, we each carried ours with us. It only took a couple of near losses before I insisted on holding them for the whole family. (Make sure you have a purse or backpack for this purpose.)
Nearby stands a machine that takes the digital photos referenced in the two higher-tier admission tickets. I was handed a business card with a QR code on it at the center's entrance but never given any instruction. Note to self: Keep it handy for photos that you'll never look at again.
Next came Mini Land, an existing Lego city depicting iconic buildings around Atlanta. My kids had fun calling out Ponce City Market, Zoo Atlanta, and the King and Queen towers as they spotted them. There are also buttons to push, eliciting music and small movements.
In Kingdom Quest, a four-person cart moves slowly along a track confronting both mock and digital targets, including spiders, rocks, and "bad guys." The riders' job is to shoot these targets and save the princess. The "guns" vibrate when targets are hit. We rode twice. It was enjoyable but inconsistent. The first time my son earned zero points; the second he had 2,570. Luckily, he didn't notice.
Another existing attraction is the two-seat virtual reality ride. It costs $6 per person (paid on the spot via QR code) and has a height requirement of 40 inches. This prevented my daughter from participating, but she would have been scared anyway. The two-and-a-half-minute ride combines physical movement with virtual screens. It felt like we were in a Mario Kart game—albeit with Lego characters. Sammy took great pleasure in loudly announcing each turn ("I'm in the river! A volcano!") He loved it. Since you wear a headset, I couldn't see Sydney during the ride. If the center had been busy, I might have been more worried about this. As it was, she sat under the watchful gaze of the Playmaker assigned to the area.
Finally, something new! Duplo Park is designed for preschoolers. It features a manpowered carousel with ride-on dinosaurs, a small slide, and plenty of Duplo blocks to build with. My kids liked the carousel, but it made Daddy tired.
By this point, we were all hungry and thirsty. Thank goodness the Café is nearby. The updated offerings are basic and predictable—pizza, burgers, nachos, cookies, chips, and the like. The best deal is a prepackaged Uncrustables sandwich for $1.50. My advice: save money and time by bringing your own snacks. Parents need a pick-me-up? Starbucks drinks are available.
Better hurry—a 4-D movie is starting. We knew this because a Playmaker announced it multiple times, which succeeded in motivating us to move. These 12-minute shows have loose plot lines and water and bubbles spray to make up for it. Warning: You will get wet (but not soaked). My kids cheered and pointed as colorful Lego bricks appeared before their eyes, thanks to the VR glasses. I was less impressed, but we weren't there for me.
When the movie was over, everyone needed to stretch their legs. Pirate Island Adventure indoor playground was just the place. It's like a thematic version of a McDonald's PlayPlace, interspersed with a few tables of Legos. Sydney loves playgrounds, so she was happy to run, jump, and climb here.
Sammy quickly tired of the playground and set about building a car in the new Build Adventures area. Here, he could test, learn, and adjust as he raced it on three different themed tracks. He was thrilled when his car completed a full 360-degree loop. He could have sat there all day; his sister not so much.
Our last stop was the new Spaceship Build & Scan. Here, you can build a Lego rocket ship (or borrow one of the models). You scan it using the provided machines and then watch it fly into cyberspace on a wall-sized screen. Sydney and I didn't really understand it, so we focused on watching Sammy race his car instead.
Bottom line: If you have a Lego lover in the family, Lego Discovery Center is the place to be. If not, other Atlanta attractions may go over just as well.