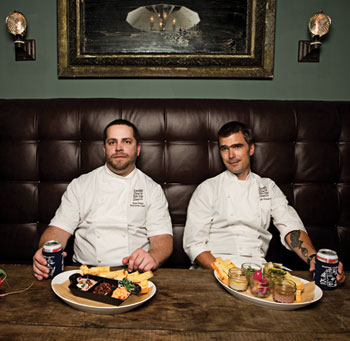 How do you describe Southern food? Pursuing that answer is as much the daydreamer's indulgence as the academic's conundrum. It's a workman's meal of sugarless, butter-smeared cornbread, swiped through a bowl of potlikker and crumbled into the mouth. It's an antebellum fever dream: she-crab soup, shad stuffed with roe, and the sherry-soaked dessert called tipsy squire consumed using weighty silverware on snowy linens. And it is, of course, an unconquerable buffet of fried chicken, fried green tomatoes, baked ham, candied yams, black-eyed peas, and small plastic bowls filled with peach cobbler sweet enough to give you the sugar jitters.
Pork belly over creamed kimchi with smoked peanuts, a recent special at Midtown's new Empire State South, owns a place alongside those other dishes. It captures this moment in the evolution of Southern food, particularly in Atlanta. The pork belly isn't one of those jiggly specimens: It's a fist-sized hunk of dense, striated bacon. Southerners love creamed vegetables, and dairy tempers the kimchi's fire and ferment without extinguishing its character. All those Korean restaurants on Buford Highway and in Duluth? They're now influencing Southern flavors the way that Mediterranean and Indian spices, via coastal ports, have seasoned our foods for centuries.
Hugh Acheson, chef-owner of Empire State South, revels in this kind of commingling. He opened Five and Ten in Athens a decade ago and helped re-ignite enchantment with our regional cooking.
But he didn't accomplish it by mastering the perfect biscuit or deifying caramel cake. A Canadian who worked in some of San Francisco's most ambitious kitchens and then moved to Georgia for love, he fuses European and Southern ideas with clever respect. Skate wing with brown butter and capers may be straight from the French lexicon, but Acheson paired it with a mound of Red Mule grits at Five and Ten, and it resonated in the soul of any local who's partial to a simple plate of fish and grits. He married sweetbreads and succotash with unexpected harmony, the union strengthened by tarragon jus that bridged their flavors.
After partnering on another restaurant, the National, and a wine shop in Athens, Acheson felt that Atlanta was ready for his brand of individualism. He announced Empire State South last year, and public expectations simmered as the opening date was pushed back from early spring to late summer.
Yet when you walk into the restaurant, housed in the back of the 999 Peachtree building, all the antsy anticipation dissipates. The room has the relaxed air of a saloon—a sprawling come-hither bar, navy walls, knotty heart pine and pecky cypress that cover the floors and border the doors, light fixtures that resemble inverted woks. A wash of milk paint in the private dining area (often available for regular seating) colors the paneling an otherworldly gray, a hue that conjures the moss-covered trees that grow around dilapidated plantation houses in the Louisiana swamp. It puts one in the mind for whiskey.
All this—and an outdoor bocce court to boot—is a much more stylized atmosphere than Acheson's funkier Athens ventures, and the diverse Atlanta crowds have arrived to show their approval. On any given night, a gay couple will be comfortably holding hands while a Buckhead matriarch holds court two tables away. The twenty-somethings tend to eat at the bar. Everywhere, fingers hover over smart-phone keypads, recording each course for soon-to-be-texted bragging rights.
Like the Southern food it serves, Empire State South is in a continuous state of evolution—all for the better. Just a month after the restaurant launched, executive chef Nick Melvin bowed out, and Ryan Smith, most recently chef de cuisine at both Holeman and Finch and Restaurant Eugene, replaced him.
Smith's changes, with Acheson's blessing, were swift and unflinching. Out with the sentimental, in with the ballsy. An "antipasti platter" of tea sandwiches, deviled eggs, spiced pecans, cream cheese, and pepper jelly disappeared, replaced by a cheeky collection of jarred lamb rillettes, chicken liver pâté, and boiled peanut hummus (major cool points for that last one), along with palate-reviving pickles. A roasted baby carrot salad gave way to smoked sturgeon, fanned like sashimi over herbed yogurt and flanked with fingerling potatoes and wax beans. Smith's fine-dining take on shrimp and grits—heady with roasted peppers, pickled Fresno chiles, and earthy snatches of celery—beautifully counterpoints Acheson's signature Frogmore stew, a laid-back bouillabaisse of shrimp, andouille, and summery vegetables in tomato broth.
The biggest early change comes in the approach to entrees. Acheson originally billed Empire State South as a riff on the meat-and-three: Diners selected, say, sauteed okra and field-pea cakes from among eight or so sides to pair with their fried catfish or smothered pork chops. Smith, a chef who likes structure in the kitchen, made the decision to match sides with proteins on the menu.
If you ask, any server is quick to say that you're welcome to sub in other sides for the printed "suggestions." But they don't advertise that option, and it's no loss, really. For pan-roasted redfish glossed with sherry buerre blanc, for example, I couldn't pick more appropriate pairings than the turnip greens and wonderfully soupy butternut squash risotto that Smith chose.
One area that succeeded from the get-go: the wine program. You'll drift away from dinner conversation while reading the detailed, impassioned footnotes that wine director Steve Grubbs wrote for the list. He and his team heed your likes and dislikes, and they seem as pleased to deliver a $32 bottle of an obscure Spanish mencia as they are a $105 Beaune premier cru—described on the menu as "meaty, meaty, big and bouncy." The staff in general has become warm and professional; if you experienced early service disappoints like I did, give the restaurant another shot.
Since ESS views itself as a work in progress, I offer a short wish list: I hope the brined Berkshire pork chop becomes less of a jaw workout. While the buttermilk chess tart dissolves liltingly on the tongue, the sweets overall lack whimsy and daring. Perhaps some fruit-driven desserts?
Also, the breakfast menu needs attention. The coffee bar rocks, but while the humdrum array of chicken biscuits, hanger steak with scrambled eggs, and quick breads may quell office workers' hunger, the city is desperate for a morning meal destination. Surely two fireball talents like Acheson and Smith can grapple with these challenges. No matter how you define Southern food, these guys have already begun cooking up the future. —Bill Addison

Empire State South

RATING ***
999 Peachtree Street
404-541-1105
HOURS Breakfast Monday–Friday 7–10 a.m.; lunch Monday–Friday 11 a.m.–3 p.m.; dinner Sunday–Thursday 5:30–10 p.m., Friday–Saturday 5:30–11 p.m.; brunch Saturday–Sunday 10:30 a.m.–3 p.m.
Photograph by Alex Martinez. This review originally appeared in our December 2010 issue.