The new luxury is nothing like the old luxury. Dress codes and starched tablecloths have given way to tank tops and exposed ductwork, and informality rules in today's temples of high gastronomy. Some of the customers at the envelope-pushing Lazy Betty, which executive chef Ron Hsu recently opened in hippie-ish Candler Park (where new restaurants are as scarce as Kemp supporters), show up for the $165, 10-course tasting menu wearing shorts and flip-flops.
The inauspicious entrance to the fine-dining establishment is in the drab lobby of a squat brick building that houses social services and chiropractors. But as soon as you step inside, you'll be struck by Lazy Betty's (casual) opulence, which first hits you in the form of the spare-no-expenses open kitchen. Located right up front, where you'd expect the bar to be (and easily mistaken for one), the kitchen features such marvels as a custom hearth that resembles a sink on fire. The most desirable spot in the restaurant is a seat at that bar—er, chef's counter—where you can watch Hsu, chef de cuisine Aaron Phillips, and the rest of the team hunched over intricate presentations of ingredients such as fermented mango, preserved gooseberries, and aji potato foam.
Hsu, who competed on the recent Netflix show The Final Table, spent more than seven years at Eric Ripert's three-Michelin-star Le Bernardin in Manhattan, first as an executive sous chef, later as creative director. The Le Bernardin influence is obvious, but Hsu's food also speaks—in a tone more playful than stiff—to his experiences beyond that elite dining room, including growing up in Stockbridge as the child of immigrants.
THE TEAM
The Hsu family traces its roots to South China and Malaysia, and its matriarch, cheekily nicknamed Lazy Betty because she worked all the time, owned multiple Chinese restaurants in the Atlanta area. Hsu grew up in those restaurants and got his culinary degree in Australia. Upon his return to the States, he became a line cook and later chef de cuisine at the former Dish in Virgina-Highland before moving on, at age 24, to one of the country's most iconic restaurants.
At Le Bernardin, Hsu met Phillips, who would become not just his chef de cuisine at Lazy Betty but his business partner. They experimented with their modernist tasting menu in a yearlong series of pop-ups, hosted at the Poncey-Highland Coffee House & Cafe. The pop-ups helped Hsu and Phillips build a clientele and develop Lazy Betty's three menus: a reservation-only chef's tasting at the counter; a slightly shorter tasting menu offered in the dining room; and an a-la-carte one offered in the lounge (and eventually on the patio). Hsu's siblings, who own Sweet Auburn Barbecue, are also partners in the restaurant, and his mother's influence extends beyond the name; she showed him from a young age that hard work is the key ingredient in a true, family-run restaurant. The "family" here includes a young, savvy staff, from beverage director to pastry chef, with an abundance of talent and enthusiasm—and it shows in the quality of the food and the overall experience.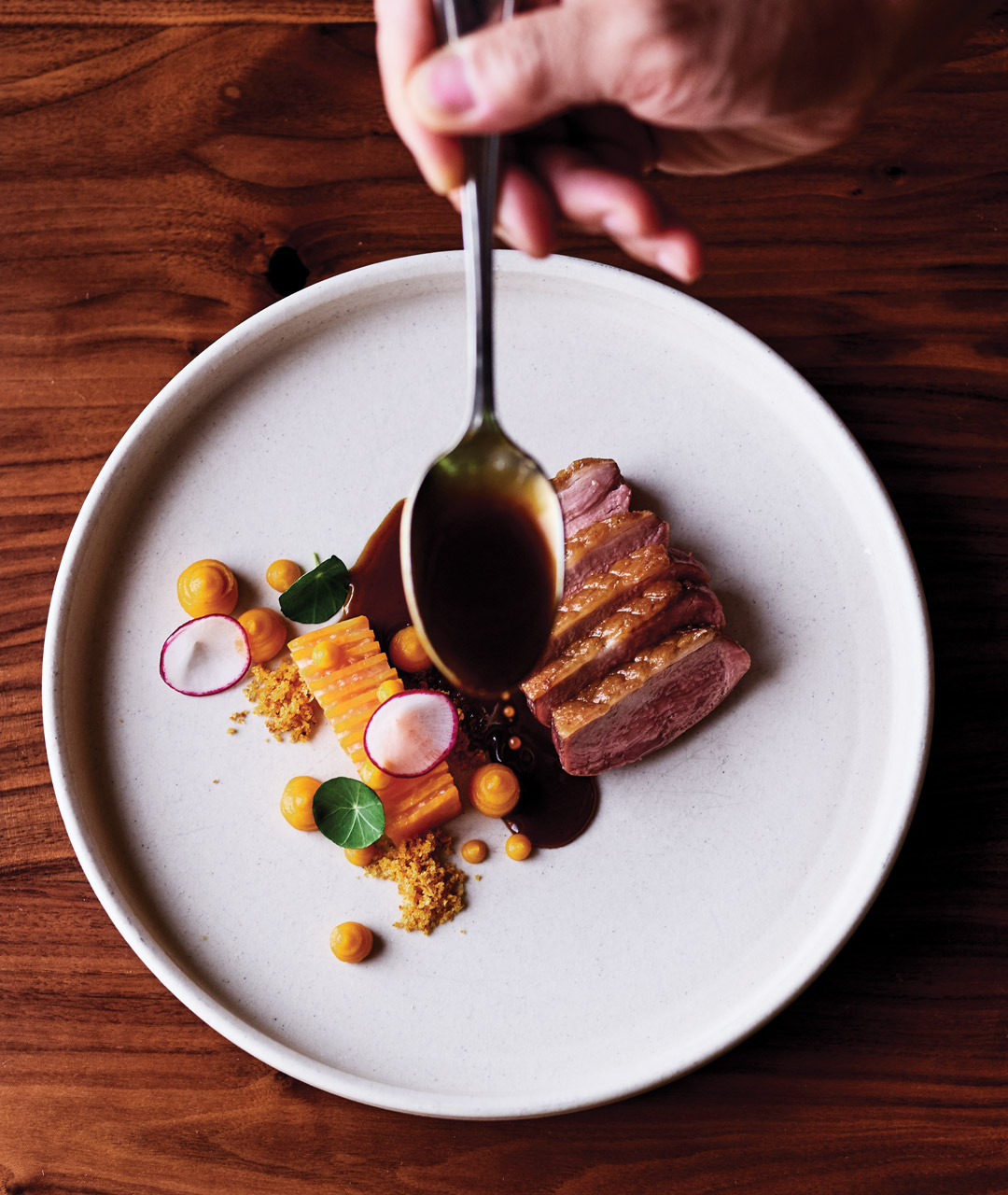 THE FOOD
Atlanta isn't much of a tasting-menu town. There are prix fixe–only places, like Bacchanalia, that offer fewer courses of more traditional portions, and other spots that offer a tasting menu as an option, but until Lazy Betty, the only tasting-menu restaurant in town was Staplehouse. Do we need another? I suppose those who can afford it might—especially one as charming as Lazy Betty. The $165 chef's tasting menu (gratuity included) is the best way to experience Hsu's gifts, but the $125 option (seven courses, also inclusive of gratuity) is still plenty prestigious.
Glorious, steamy biscuits served with aromatic kumquat butter appear on all three menus. Depending on the depth of your pockets, you can roam through sumptuous salmon tartare with Persian cucumber; sturdy little quenelles of Madras-spiced duck rillettes with sour cherries; "marrow bones" (actually crisp shells of sourdough) stuffed with smoked cauliflower puree and onion marmalade; an oyster topped with osetra caviar on a locally made pottery shell of glazed Georgia clay; a harvest of minute root vegetables strewn atop edible "soil," with a layer of black truffles buried underneath; and a charred Spanish octopus with fermented black beans and slivers of Bartlett pear that takes two days to prepare.
Most dishes are highly technical and inventively deployed, such as scales-on black bass that the kitchen cooks by gingerly basting it with hot oil in a wok before serving it with a gentle pour-over of chorizo broth. Spring onion agnolotti, with peas and young garlic, is so pure and delicate it's barely there (not a complaint). And a witty rendition of steak and eggs, composed of dry-aged strip steak alongside a slow-cooked yolk in a little package of collard greens, made me gasp in admiration.
Hsu dodges the usual criticisms directed at chefs whose meticulous garnishes and intricate plating sometimes trump their cooking prowess and a dish's overall flavor. This is food that tastes as good as it looks. The only real exception is a fussy cucumber cannelloni with horseradish panna cotta, borscht, and fennel foam: Its muddled taste betrays its outward beauty.
The a-la-carte menu is mostly snacks and bites, albeit refined ones such as the cult-worthy Georgia shrimp in a Peruvian-style causa with avocado mousse, aji potato foam, and piquant pepper relish. You might not be able to make a full meal from it (at least not without paying about as much as you would for the less expensive of the two tasting menus), but it's a good way to sample Lazy Betty's innovations.
Pastry chef Lindsey Davis's dazzling work is a fitting finale to the meal. It's hard not to ogle her splashy trompe l'oeil rendition of a giant fresh cherry, built from coconut cherry mousse and glossy chocolate ganache, or of a dewy, rosy peach, crafted with peach yogurt and jasmine sorbet (each with their own chocolate stem). Her exquisite mignardises (a collection of miniature sweets, served at the very end) will leave you wondering whether she arrived here straight from Paris. (Answer: No, but close—she formerly worked at Atlas.)
THE DRINKS
The cocktails are as clever as the food (have you ever before seen a giant cube of port wine dropped into artisanal American grappa?), and the small but growing wine list includes such delightful oddities as a Basque txacoli that doesn't fizz and a brilliant Pinot Blanc from Alsace. You will drink as well as you eat.
THE VIBE
Local firm Praxis3 took the funky digs of Radial Cafe on DeKalb Avenue and transformed them into an elegant post-industrial space. The neatly folded shawls draped over the back of the midcentury dining chairs are there to provide warmth, literally and decoratively. Tucked away in the back of the restaurant, the dining room can feel a bit unresolved, with a flock of three-dimensional clay birds hovering midflight on the walls and banquettes strewn with odd, fuzzy-shiny pillows. The lounge and its chef's counter are more posh and cheerful, with the luxe leather bar stools providing an ideal perch for surveying the kitchen's imaginative work.
THE VERDICT
Lazy Betty specializes in the thrill of high-end sensory delights—at an equally high price tag. One might wonder whether Atlanta needs another tasting-menu restaurant (we argue that it does), but there are a few things we can all agree on: the impressive level of skill and creativity among Lazy Betty's staff, the meticulousness of the restaurant's sourcing of ingredients, and the brilliant results when those two things come together under the watch of executive chef Ron Hsu. Atlanta should be proud to welcome him home.
Rating
★ ★ ★ ★
(Excellent)
Vital stats
1530 DeKalb Avenue
404-975-3692
lazybettyatl.com
This article appears in our July 2019 issue.
Correction: An earlier version of this story incorrectly identified the location of Hsu's pop-up.