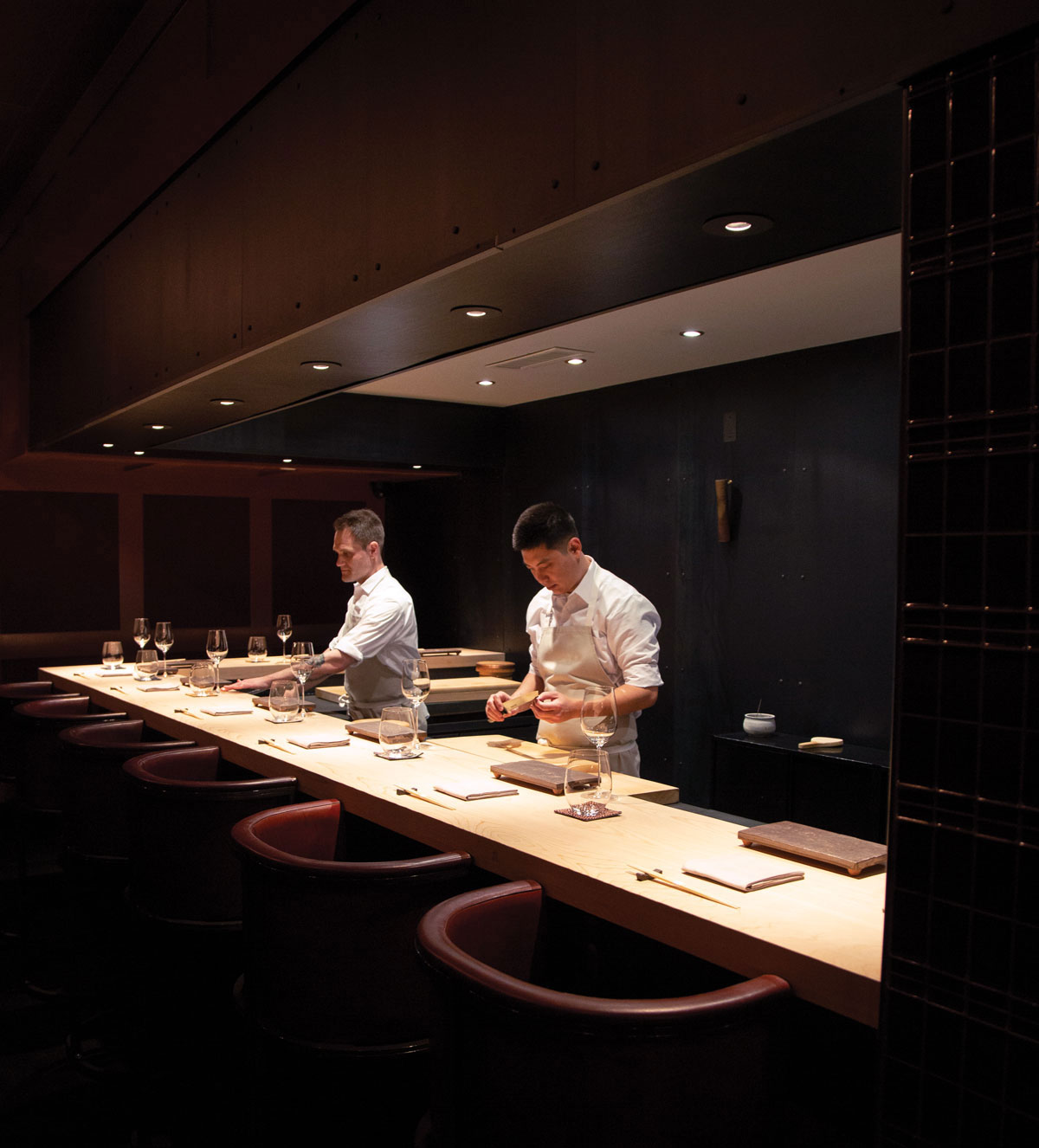 Few of us will ever own a yacht, fly on a private jet, or vacation on a billionaire's island. But some of us—provided it matters enough—may be able to save a few hundred dollars for an extraordinary meal that provides a lasting memory, and can change the way we think about food. In my life, I haven't had many such experiences, where the physical setup, exquisite service, and talent and originality of the chef have all come together to create pure joy, making me aware of how much restaurants mean to me. I'm happy to say that Mujo—easily the most refined spot to open in Atlanta in more than a decade—is luxury dining at its creative best.
Without the pandemic, it would probably have been impossible for Federico Castellucci—whose family's empire includes the Iberian Pig, Cooks & Soldiers, and the Johns Creek location of Sugo—to gather all the pieces into place to create this one-of-a-kind restaurant. Castellucci's tastebuds had been set on fire by a visit to Tokyo's Sukiyabashi Jiro—the 10-seat restaurant immortalized in the documentary Jiro Dreams of Sushi—then to several of New York's top spots. The concept he came up with for Atlanta aims to be more than a traditional sushi restaurant, Castellucci told me: "I wanted to bring back fine dining."
It took some doing to convince his family of his ambitions, then to persuade chef J. Trent Harris to move from New York. Part of the team at Manhattan's transcendent Japanese restaurant Shuko—a must for sushi fans with money to spend—Harris previously spent six months working in Japan at the world-famous Sushi Ginza Onodera. A chef of his caliber would more than likely have stayed put in New York, but the pandemic situation—and Castellucci's deep commitment—drew him south. Launching in 2020 as a pop-up out of Cooks & Soldiers, Mujo put down permanent roots in 2022 as a 15-seat, chef-curated, modern omakase restaurant serving Edomae-style nigiri sushi—a historic process dating back to an era when preserving and mellowing fish before depositing it on a finger of rice was invented.
The minute I was welcomed at the door by maitre d' Katy Reese—impeccable in a Sid Mashburn suit—and led into a small room where darkness and light each play a part to focus the attention, I was entranced. Putting my hands on a naked counter smooth as a baby's bottom (a single piece of unfinished cypress, freshly sanded every evening after service) reminded me less of Japan, where I often dined on the cheap, than it did of the single best (and most expensive) sushi experience I've had: Masa, chef Masa Takayama's Michelin-rated omakase restaurant in Manhattan's Time Warner Center.
A typical meal at Mujo consists of three or four small kitchen dishes (braised octopus, truffled egg custard, dashi broth with white kimchi and chives) followed by exactly 10 pieces of nigiri sushi orchestrated by a chef who will lead you from light (red sea bream, golden-eyed snapper) to progressively richer (horse mackerel, lean bluefin tuna, fatty tuna, sea urchin) treasures of the sea. Seasonal items such as threeline grunt, fully mature winter yellowtail, prized pike mackerel, and monkfish liver pop up on a menu in constant evolution.
In true Edomae style, most of the fish is carefully aged/cured (between four and nine days) to let its texture relax and its umami develop fully. The catch has been exsanguinated and its nerves severed by a needle run down its spine. Often overlooked by sushi bros who want to brag about their toro (fatty tuna) and uni (sea urchin) consumption, the texture and temperature of the rice is crucial: Mujo seasons its brilliant rice with akazu red vinegar, then transfers it instantly into flat wooden boxes to keep it in its optimal state. Don't even try to ask for your sushi without it: "It would be like ordering a pizza without the crust," Harris says.
Respect for the chef's craft demands that you use your hand rather than chopsticks to bring the small nigiri wonders—best eaten within seconds, while the rice is still warm—to your lips. Often, I found myself incapable of a sustained conversation, fully immersed in silky textures and tastes I couldn't have imagined. Careful slits, magic dustings of fresh herbs or seaweed, the way a fish was turned to present its delicate veins or beauteous skin—all of this fascinated me. Careful attention by members of the minuscule serving staff, such as the ceremonial wiping of any traces of fish off my personal trivet between bites, had me under a spell all the way to the end.
Supplements such as caviar service or hairy crab from Hokkaido are available, and the meal ends with a small dessert (e.g., roasted sesame ice cream with miso caramel) followed by a mignardise and a gift of Japanese incense in a glass tube. Wine, champagne, and sake pairings can be coordinated by the sommelier, and there's a tiny bar reserved for diners to begin or prolong their evening. Reservations for the precious seats are released at the beginning of every month. Plan to spend at least $300 per person, but remember that this isn't about the money. Enlightenment and pure pleasure will be your reward.
This article appears in our December 2022 issue.