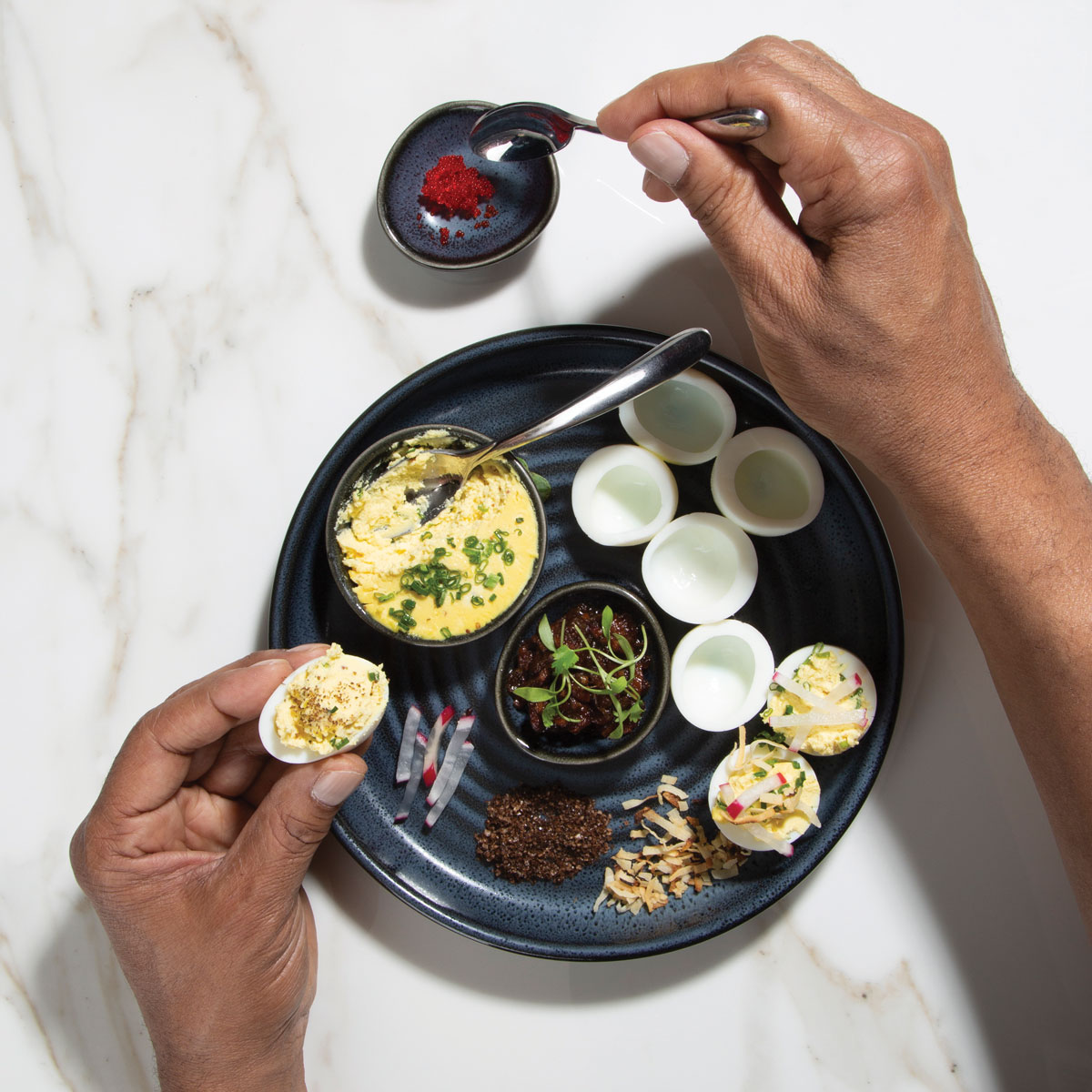 Landing at Terminal E, formerly Hartsfield-Jackson's international terminal, always feels special. Even when the time isn't right to hop a seat at the bar at One Flew South—for me and many travelers, the best airport restaurant in the country—my heart always beats faster when I spy this sacrosanct spot. Opened in 2009 by Duane Nutter and Todd Richards, both seasoned chefs who met at the Four Seasons, the restaurant aimed to take the stress out of traveling. It also garnered recognition from the James Beard Foundation for its excellent service and acted as a launching pad for Black culinary talent—not just Nutter and Richards but also Tiffanie Barriere, whose phenomenal cocktails made her famous, and Cedric McCroery, who succeeded Nutter as chef. The then unknown Allen Suh, meanwhile, provided sushi. "Why sushi?" I asked Richards. "Because we were close to Korean Air," he told me.
The same crew, minus Nutter and Barriere, is reunited in the brand-new location of One Flew South on the BeltLine, where it has replaced the laudable but ultimately unsuccessful Hazel Jane. A huge photographic mural of lush trees on the back wall, the same as at the airport, visually ties together both restaurants, though this dining room has a warmer emotional feel. In both places, McCroery points out, the world walks by.
I love the patio but often head for the sushi counter inside, where Suh, assisted by an intense 17-year-old high school student who has to take two buses after school to report for the job, creates little marvels with premium raw fish. What he accomplishes within the genre is terrifically sophisticated. I almost never order rolls at sushi restaurants, much less a spicy tuna roll, which usually serves as a catch-all for mediocre fish. Suh calls his version a "hot tuna roll," with velvety maguro spiced with shichimi oil contrasting with crunchy English cucumber, perfect vinegared rice, and togarashi spice. The gorgeous salmon roll comes wrapped in white seaweed with Vidalia onion and avocado. A beautifully cut sea bream sashimi with white watermelon kimchi, a nigiri-style lean bluefin tuna aged nine days in the Edo style, and even adorable miniature Rice Krispie treats topped with a dollop of University of Georgia caviar demonstrate the progress the talented Suh has made over the years.
On the main menu, items such as McCroery's short ribs (Sichuan-spiced, but cut in the style of Korean kalbi and surrounded by tiny croquettes of fried coconut rice), hot "drunken" chicken on mochi waffles with an egg on top and plum chutney on the perimeter, and bourbon miso black cod with creamy grits are representative of the South-meets-Asia genre Richards and his crew have developed. Dishes such as coffee-rubbed lamb riblets with fig puree and collard green ramen, both hits at the airport, have found another home on the BeltLine. One fun item created for the new restaurant is a make-your-own deviled eggs "experience," in which customers stuff mashed yolks, crispy shallots, bacon jam, tuna poke, and even caviar ($50!) into eggs that have been cut across the short side to accommodate more fillings.
At 51, Richards, a college dropout and musician who has opened 20-odd restaurants including a soul food counter in Krog Street Market and the recently closed Lake & Oak Neighborhood BBQ in East Lake, told me that he is "finally becoming" the chef he wants to be. He cares as much about the mental health of his employees as he does about their cooking. "We chefs, we are artists," he said, communicating the vulnerability and intensity their work entails. Now that his employees don't have to go through security and he can bring in ingredients he couldn't have delivered at the airport, the kitchen can focus on using sophisticated techniques such as smoking tiny black sesame seeds or making its own chili oil. Born and raised in Atlanta, McCroery has a particularly Southern way of bringing heat into typically mild Japanese dishes. He told me he's proud of the way he has developed his own voice after replacing Nutter.
I am not impressed with the restaurant's signature cocktails, or the beverage program in general, but I recognize a good vesper when I see one. I also wonder whether typical BeltLine users have it in them to pay top dollar for creative sushi. I am, however, fully committed to participating in the energetic vibes of this magic ribbon of concrete, sitting side by side with my dining companions so as not to miss the view of folks who are far more active than my schlumpy self.
This article appears in our November 2022 issue.