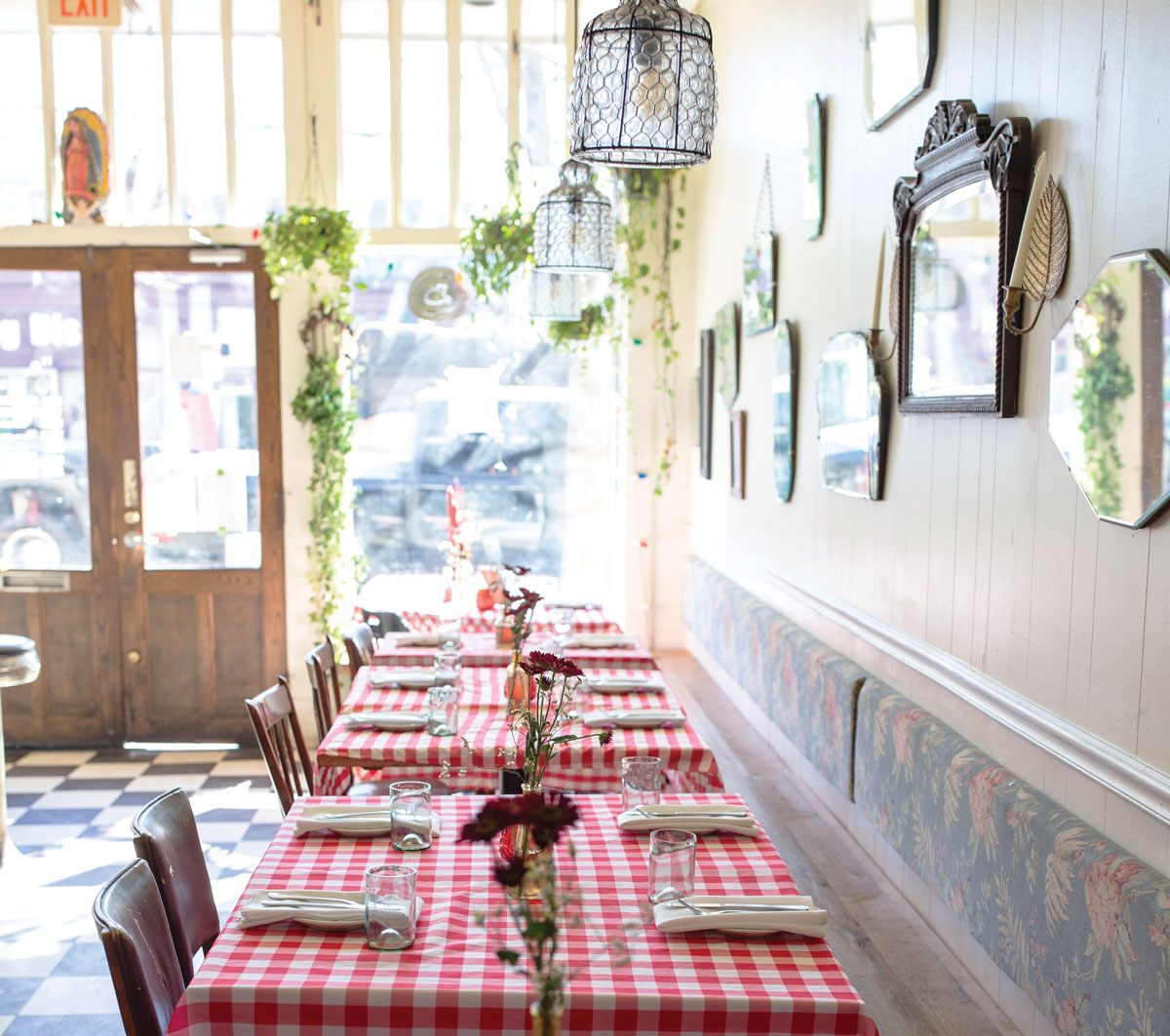 Atlanta has Italian restaurants of all stripes, but what it has lacked—until now—is a place combining the cheesy romance of an old-school Italian American red-sauce joint with modern culinary techniques and refined presentations. The idea for Gigi's Italian Kitchen came to Eric Brooks in 2019 while he was visiting North Beach—San Francisco's bustling Little Italy neighborhood, where famous chefs like April Bloomfield had injected new energy into beloved classic places like Tosca Cafe. Why, he asked himself, don't we have something like that in Atlanta?
Brooks and his friend Jacob Armando had been talking about launching a pop-up; in 2019, after San Francisco, they began laying out the vision for what would be Gigi's, and began doing gigs around town. Their current situation is a three-night-a-week residency at Gato, Nicholas Stinson's Candler Park restaurant that, over the years, has served as an incubator for a wide array of talented chefs and promising concepts. (See sidebar at the end of this article.) Gigi's menu changes significantly from week to week; the constant is the thoroughly impressive food.
THE TEAM

Both partners are young Southern dudes with experience in fine dining—they met in the kitchen at Bacchanalia, where Brooks was a sous chef. Armando, who recently turned 28, grew up in Stone Mountain and Decatur, where his family ran a humble meat-and-three. Brooks, 30, was born in East Point. His father has a small organic farm in Fairburn and has sold vegetables to places like Bacchanalia and Kimball House. Helping his dad out gave Brooks his entry into the restaurant world, and gave him a nickname: "Green Guy," shortened to "GG" and eventually the inspiration behind "Gigi's."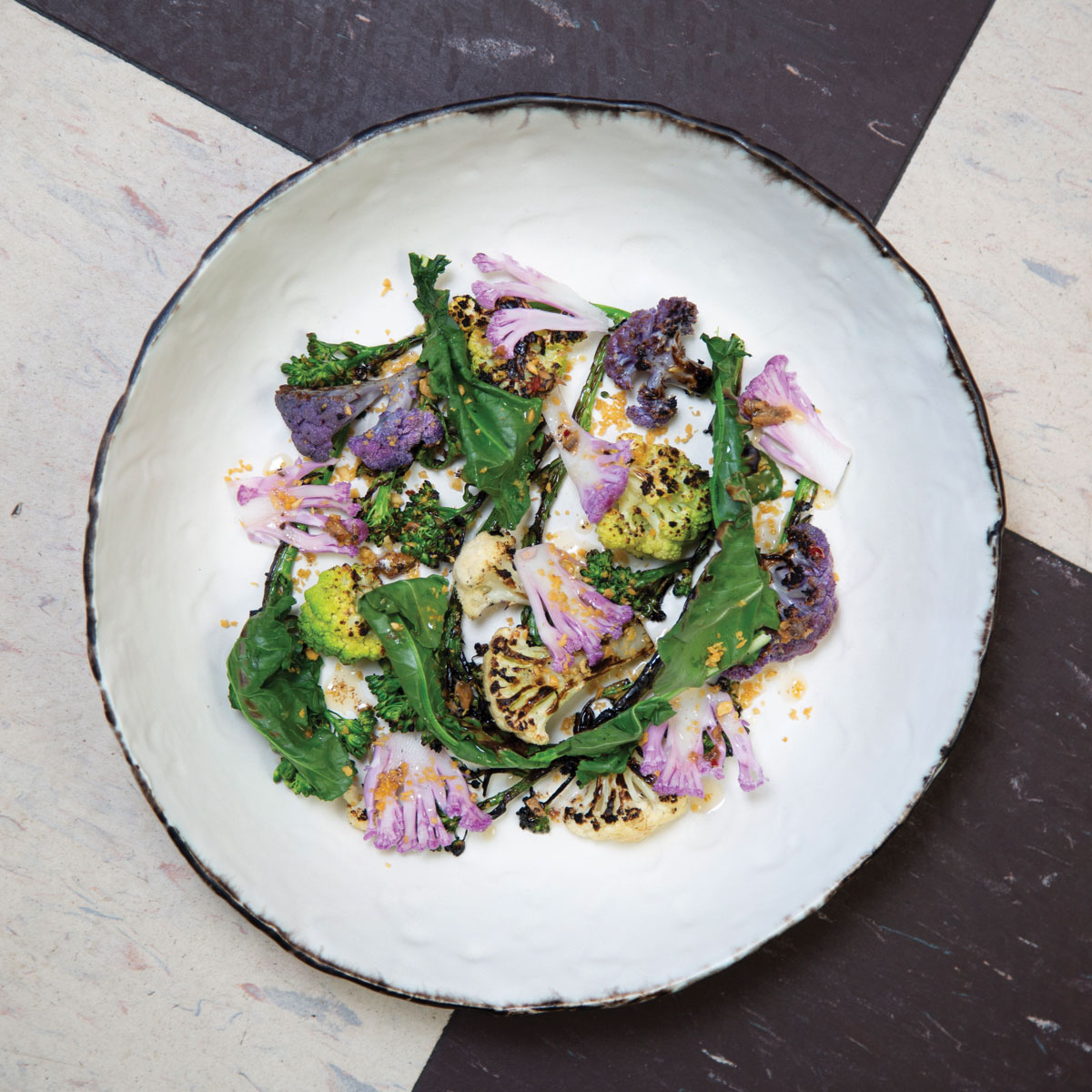 THE FOOD
"Don't give people too many choices," Armando told me. "They'll make the wrong one." I truly appreciate the partners' tightly curated menu. The ultrathin eye-of-round carpaccio—painted with a lick of arugula salsa verde and showered with young arugula leaves, torn rice crackers, and large flakes of Manchego—is magical in its tender intensity. The exquisite fried polenta cake with creme fraiche and caviars (both trout roe and sturgeon eggs) blew me away the first time I stopped by. The chefs also have a way with brassicas, as evidenced by a mixture of cauliflower, broccolini, cabbage, and broccolo fiolaro (from Bartram Trail, a farm in Winterville specializing in seasonal organic vegetables for chefs) that they cook over coals on a yakitori grill, season with Calabrian chilis, and serve with a briny white anchovy condiment.
Brooks and Armando employ the same yakitori contraption—which has been used at Gato for years—for a six-ounce prime New York strip, which they plate with bordelaise and collard greens (from Brooks's dad's farm) glazed in cacio e pepe sauce. There's usually a single pasta, made in-house: spaghetti alla chitarra in tomato sauce, or cavatelli with paper-thin hakurei turnips, fleshy maitake mushrooms, and a sauce of pureed turnips. Everything on the menu, from crab-stuffed arancini to chicken Milanese, is as precisely prepared as anything you'd find in a fine-dining establishment. For dessert, the partners got a recipe for cloudlike, classically constructed tiramisu from Poor Hendrix's Aaron Russell—a friend, as well as one of the city's best pastry chefs.
THE DRINKS
The limited beverage options, curated by Brooks, Armando, and Stinson—a few cocktails, a short wine list—are clever and appropriate for so small a menu and so tiny a crew. I was quite a fan of the Godfather—a smooth, two-ingredient cocktail of Scotch and amaretto—but preferred, in general, to stick to wine, especially the white Monferrato from the Piedmont.
THE VIBE
Operating Sunday through Tuesday, Gigi's transforms Gato's narrow, intimate dining room into a space that Stanley Tucci would surely appreciate—checkered tablecloths, candelabras dripping with wax. The latter are family heirlooms purchased decades ago by Armando's grandmother, an antiques dealer and restaurateur. Gato's diner-style counter serves as a hangout for those who like to watch the cooking and, almost like in a sushi restaurant, receive their food directly from the hands of the chefs.
THE VERDICT
Gato keeps finding perfect roommates, and Gigi's shares some of the love for fresh produce and fine detail as the restaurant whose space it occupies part-time. Seasonal, spontaneous in the best of ways, the cooking takes full advantage of the setting. The chefs will undoubtedly switch to a place of their own. Catch these young talents early, and support a career that holds many promises.
Rating
★ ★ ★ ★
Excellent
1660 McLendon Avenue, Candler Park
@gigisitaliankitchen
All Gato's children
Since taking it over a decade ago, Nicholas Stinson has turned his Candler Park spot into a launchpad for ambitious food pop-ups—some of which have gone on to become full-fledged restaurants.
Little Bear
Before settling into his Summerhill brick-and-mortar, Jarrett Stieber made a name for himself with Eat Me Speak Me, a pop-up series that served as a showcase for his particular art: high-concept food that doesn't take itself too seriously.
Talat Market
Parnass Savang and Rod Lassiter's endlessly interesting culinary project—Thai technique meets Georgia produce—came to prominence through a residency that launched here in 2017. Now, they have Summerhill digs of their own; their many fans, meanwhile, enjoy more consistent access to Talat's crispy rice salad.
Mighty Hans
No permanent space yet, but here's hoping. Since last year, Fu-Mao Sun has been drawing crowds on Saturdays with fantastic Taiwanese breakfast dishes, including scallion pancakes with bacon, egg, and cheese, and fan tuan, a handheld snack of sticky rice wrapped around assorted savory fillings, including pork floss and pickled radish.
This article appears in our March 2022 issue.