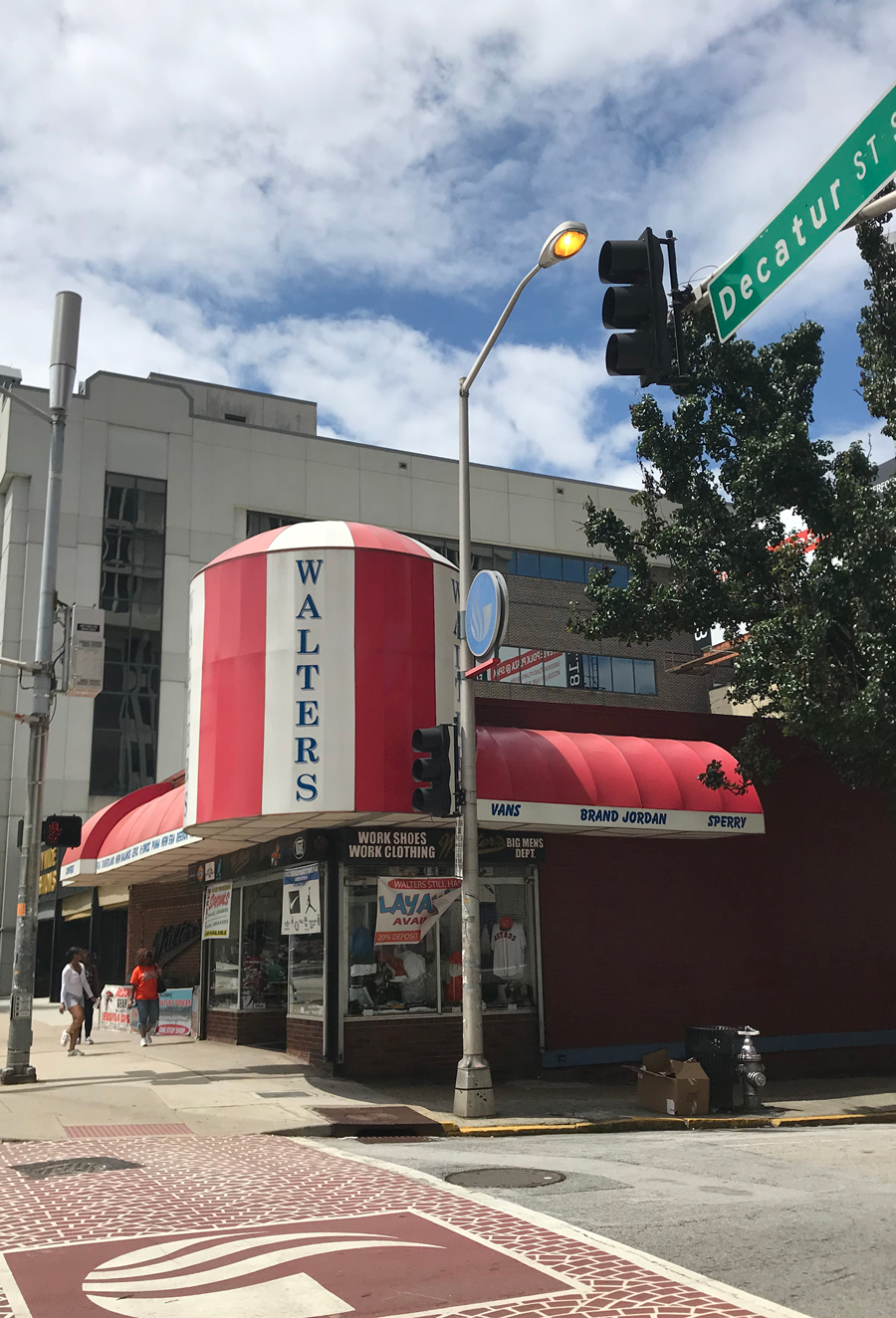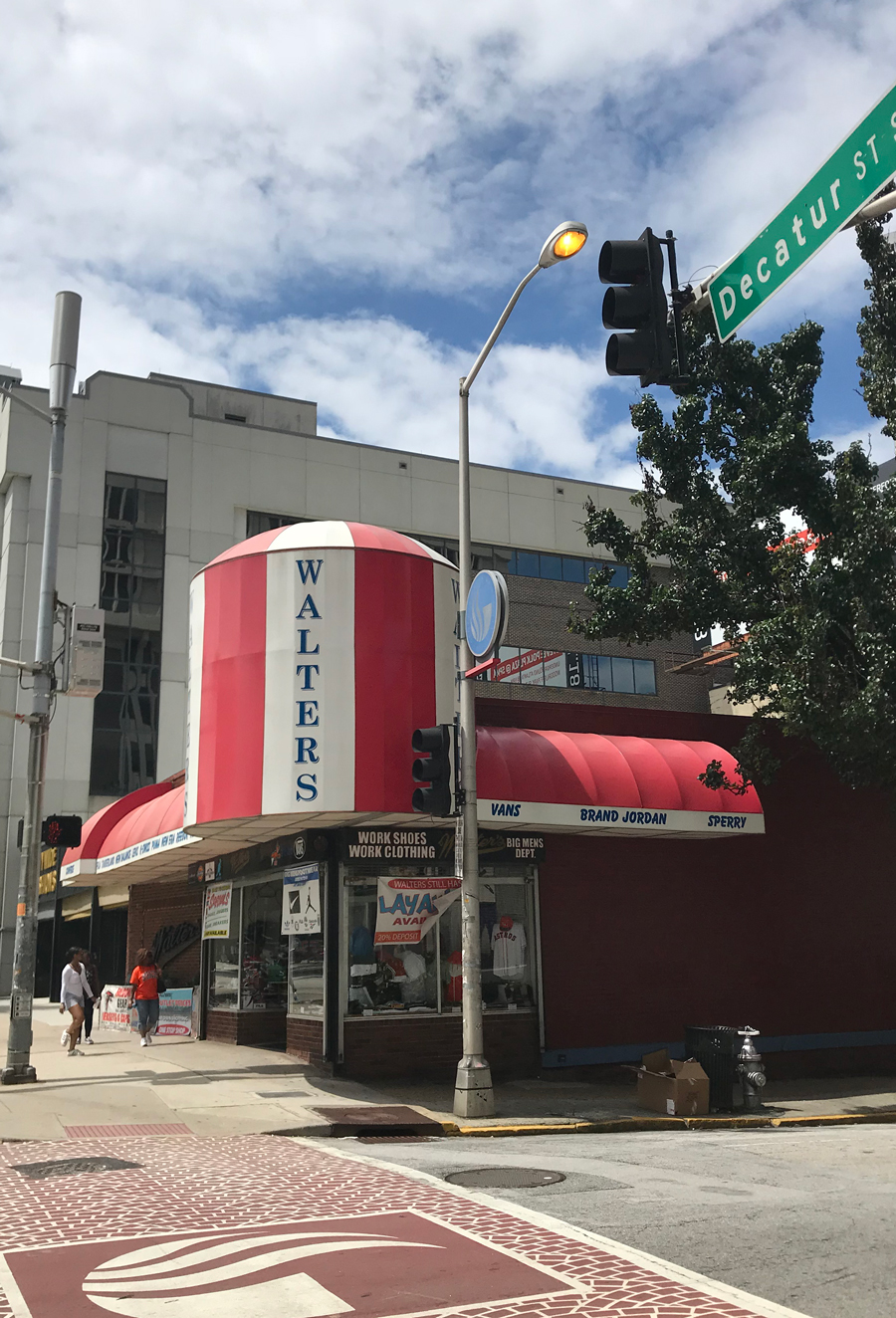 Nick Love has never forgotten the first trip he made to Walter's Clothing. It was 1992, and the Decatur native was in elementary school and in need of shoes to start the new year. In the past, his parents had taken their son to the Payless at South DeKalb Mall, or, if finances allowed, they'd go to Foot Locker. Then Love's folks, who both worked downtown and shared a car, had the idea to visit to the little sneaker shop nestled next to Georgia State University.
What Love remembers the most is how the store's makeup threw him into a rush of confusion and excitement as soon as he opened the door. "The employees didn't have uniforms," says Love, an entrepreneur and self-proclaimed Atlanta ambassador. "So you didn't know who was a customer and who was an employee. I always found that to be super odd. But one thing I do remember about Walter's is they had everything."
The young Love stood in the cramped space staring in awe at the plethora of options for everything from Reebook Classics and Nike Cortez sneakers to socks, white T-shirts, and ball caps. He was hooked, and continued to shop there throughout grade school and later as a student at Georgia State. "I dropped off a number of student loan checks and book stipends from the HOPE [scholarship] over at Walter's," he says jokingly.
Love's story is one shared by countless Atlantans, GSU students, and out-of-town visitors who've made the pilgrimage to the little local shop at the corner of Decatur Street and Central Avenue. The red-and-white awning that boasts "WALTERS" in large, blue block letters has stood out like a beacon of ATL pride since 1956 when the shop's founder, Walter Strauss, first opened its doors. Strauss died on July 25 at the age of 94.
Since Strauss's death, the shop and social media have been filled with condolences, dedications, and stories that speak to the legacy of Walter's, its owner, and the business's influence on sneaker retail in Atlanta and beyond. Whether it was former Atlanta Mayor Kasim Reed reminiscing on trips to Walter's in his youth, or Atlanta music legend DJ Greg Street paying his respects, it's clear the building and its namesake inspired many.
In fact, the phrase "sneaker boutique" wasn't common in Atlanta until Walter's emerged, according to Gerard "G-Roc" Smith, who founded the popular sneaker news site, The Shoe Game in 2006. After news of Strauss' death broke, Smith tweeted, "RIP to the founder of legendary Atlanta sneaker store Walter's. The sneaker community lost a legend today, Walter Strauss. Walt [had] been in business 60+ years and paved the way for a lot of shops [and] boutiques. You will be missed, Walt."
Like Love, Smith, an Atlanta native, has been a customer of Walter's since his school days and over time developed a relationship with the shop's staff and current owner, Jeff Steinbook.
"Before there were any boutiques or before the term 'boutique' even existed for sneakers, you had Walter's," Smith says, adding that Walter's forged the path for boutiques such as Wish, Epitome, Rare Footage, Laced Up, Sol Monki, and the original location of Standard. "He's the godfather of sneaker culture and retail in Atlanta."
Before he became sneaker royalty, Strauss's story was one of survival. To escape the horrors of Nazi Germany, Strauss's Jewish parents sent him to the United States to live with a Jewish family in Bluefield, West Virginia. The family patriarch worked in shoe sales, something that stuck with Strauss, who later enlisted in the service during World War II, working as a German map interpreter.
When Strauss arrived in Atlanta, living with another Jewish family, he worked in shoe warehouses. His dream was to be able to make enough money for his parents, brother, and sister to join him in the States. In 1952, he purchased a space 50 yards from Walter's current location, selling clothing, and later bought the remaining shoe inventory from another local shop owner for $2,500.
In the late 1950s and early '60s, the country was in the throes of the civil rights movement, with Atlanta at its epicenter. Urban renewal was altering the city's infrastructure and growth, and Georgia State was purchasing land downtown. While Strauss was moving shoes to Walter's current location, construction workers actually tore the roof off of the old location with Strauss still inside.
Strauss opened the doors of the new Walter's to the local community, with a staff and clientele consisting mostly of African Americans. Whereas other shops in the city wouldn't allow nonwhites to try on clothes, let alone work in retail, Steinbook says Strauss made it a point to take a more progressive approach.
Steinbook, Strauss's son-in-law who purchased the business in 1996 along with his then wife Sandra Steinbook and her sister Michelle Schwartz, says Strauss was "the guy that did the right thing in the tough time." Evidence of Strauss's commitment to customers and staff shows through the employees who have been working in the shop for decades, and in the older generations of black Atlantans who bring their children and grandchildren to buy that first pair of Air Jordans.
On top of that, with the exception of Steinbook and his two sons, the entire staff—about a dozen full-timers—is a product of the high school work program. Strauss and his wife Estelle hired high school seniors through work-based learning programs from City of Atlanta, Fulton, and DeKalb County Schools. Their hope was that by working at Walter's, the students would go on to become hardworking adults. Steinbook notes one employee went on to start his own heating and air business in Atlanta, while another was a recent pre-med graduate.
Part of the Walter's mystique is that, according to Smith and Love, you'll find shoes in the shop you can't find anywhere else in the city. In fact, when Nike released the Air Jordan 23 sneakers in 2008, only 23 shops in the country were selected for the limited run, Walter's among them. Smith remembers one of the most popular posts on The Shoe Game was a video he recorded of customers lining up outside of Walter's a day before the exclusive kicks were released. The highlight of the video is Smith interviewing a man who drove from New York City to Atlanta to secure his pair—and pay his respects to the institution. If nothing else, Walter's proved to retailers and shoe die-hards that there was money to be made in sneakers if your store's selection was on point and the pricing was reasonable—and done if done right, Smith says, your shop could outlast even the big-name stores.
Atlanta style and retail stalwart Sid Mashburn says it was Strauss's vision as "the Sneaker King" that brought the shop universal respect. "I loved being in his shop and seeing sneaks that were nowhere else," Mashburn says.
Beyond the shelves of sneakers in the store, Walter's influence is also felt and seen throughout Atlanta's pop culture exports. Since Jermaine Dupri's "Welcome to Atlanta," tons of Atlanta-filmed music videos have included footage of Walter's. Current and past customers include Outkast, Ludacris, DJ Khaled, Dave Chappelle, Dr. Cornel West, Congressman John Lewis, and the Baldwin family. Yes, those Baldwins.
But anyone who was close to Strauss will tell you that the hype and fanfare behind Walter's was the last thing on his mind. Steinbook says even after he purchased the shop, Strauss continued to work there, without pay, until 2013. "Walter never intended for this to be anything other than an opportunity for him," he says.
For Atlantans like Love, that opportunity changed lives. He recalls thinking that shop was black-owned, and, before meeting Strauss, assumed one of the older employees behind the register was the store's namesake. Upon finding out that Walter was, in fact, a white Jewish man with no familial ties to the black community, Love wanted to frequent the store even more. Walter's was a place where everyone was welcome, and now, at 38, Love says he still shops there with the childlike wonder of the school kid getting fresh for the first day.
Love says Walter's is as synonymous with Atlanta as Chik-fil-A, Delta, and Waffle House.
"I think since the Olympics, for people who are born and raised here, there's been a struggle to really establish what Atlanta's identity truly is," Love says. "A lot of us have really fought to maintain and preserve the identity of true Atlanta. Walter's is one of those things that is uniquely ours."