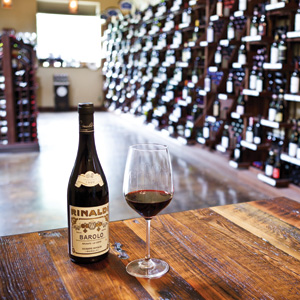 Photograph by Christopher T. Martin
It would be easy to label wine as the redheaded stepchild of our drinking scene. Artisan cocktails and craft beers monopolize most of the attention these days. It's not that we reject vino altogether. We just sip it with less enthusiasm than in other parts of the country: Georgia's wine consumption grows around 2 percent annually; the average national market rate increase is closer to 4 percent. (The typical American now consumes 2.6 gallons of wine a year.) And wine lovers certainly felt the loss when fine-dining restaurants like Joël; the Dining Room at the Ritz-Carlton, Buckhead; and Craft closed in the last few years. Each had eccentric, encyclopedic beverage programs that appealed to a wide swath of tastes and, yes, budgets.
Despite its diminished profile, a devoted group of restaurant and retail pros keeps our wine culture quietly advancing. In place of exhaustive tomes, most of the city's intriguing restaurant lists are now smaller and more personal, curated by wonderfully opinionated wine directors like Steven Grubbs of Empire State South and Athens's Five and Ten. He'll happily sell you a bombastic California Chardonnay or Cab, but he'd rather introduce you to a lemony Falanghina from Campania, Italy, or an earthy, cherry-scented Pinot Noir from Burgundy. Grubbs, in turn, praises smaller distributors like Atlanta's Quality Wine & Spirits and Duluth's Avant Partir, who import lesser-known, often–Old World boutique wines and offer more personalized service than mammoth wholesalers like Southern Wine & Spirits, which has offices nationwide. One major frustration voiced by Grubbs and other sommeliers: Georgia law doesn't allow restaurants to buy from private collectors, from whom they could purchase, say, a properly stored 1982 first-growth Bordeaux that would thrill moneyed aficionados.
In 2008 Georgia legislators did gratify oenophiles by passing a direct-ship rule, which allows state residents to order online from wineries and have up to twelve cases a year delivered to their doorsteps. And in order to avoid the flagrant markups and limited selections at some restaurants, many wine lovers stay home for their most serious imbibing. The change in restaurant climate has given rise to specialist shops (my favorites are listed in the following pages) that cater to the precise tastes of their clienteles.
The nectar of the vines might find more of an audience if it had a messianic voice or pulpit proselytizing its virtues. Cocktails have Holeman and Finch's Greg Best, beer has the national huzzahs bestowed on Brick Store Pub; wine needs a similarly charismatic booster in Atlanta to achieve the wider recognition and enjoyment it so deserves.
Check out our list of the best places to drink wine
This article originally appeared in our June 2012 issue.