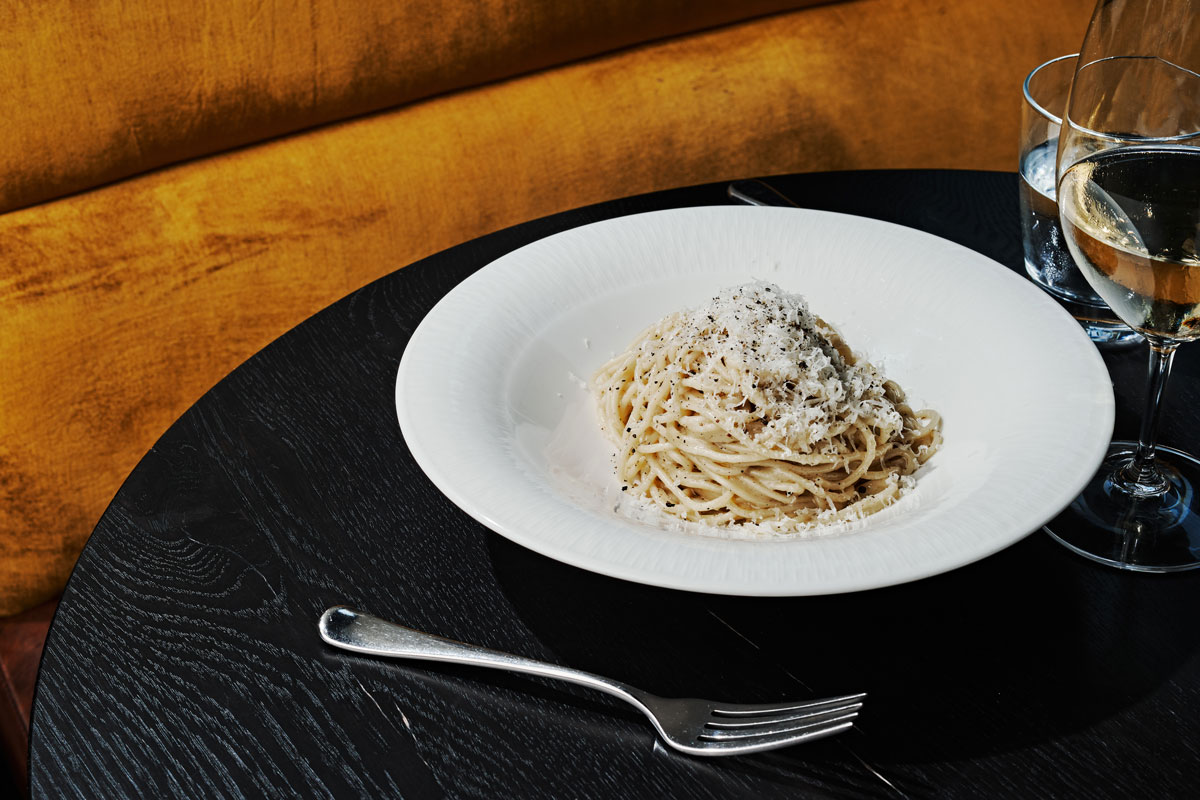 Catching a show at the Fox Theatre is a treat. Whether it's the upcoming musical Hadestown, the captivating Riverdance, or an evening with former Daily Show host Trevor Noah, there are plenty of reasons to plan a visit to the Atlanta institution in the new year.
Besides parking, one of the challenges that often arises when visiting the Fox is deciding where to eat. But depending on what vibe you're going for and how much time you can build in ahead of catching a show, there are plenty of places to grab a bite and/or a drink before a show. A word of caution: places that accept reservations book up quickly, so plan ahead.
If you want the whole shebang: Lyla Lila
We're guessing that theater goers did a little jig when this Southern European restaurant opened its doors literally across the street from the Fox. Book a table or try to sit at the bar if you want to enjoy a cocktail—the citrusy Stop Making Sense is a good stand-in for a Martini with olive oil-washed vodka or gin, vermouth, and orange bitters, or they have nonalcoholic offerings like the Pomp and Pride with espresso, grapefruit, lavender, tonic, and lemon juice—and one of Craig Richard's pasta dishes, like the duck lasagna. The crispy artichokes and wood grilled mushrooms are also must-order dishes.
If you want a revelrous atmosphere: Negril ATL
Just around the corner from the Fox, Negril ATL serves up Caribbean dishes in a former firehouse. The catch: it's currently only open Friday through Sunday. There's upbeat music and flavorful dishes such as jerk wings, a curry goat bowl, and oxtail pasta. Don't skip the tropical cocktails, such as the Jungle Bird with rum, campari, grapefruit juice, and bitters.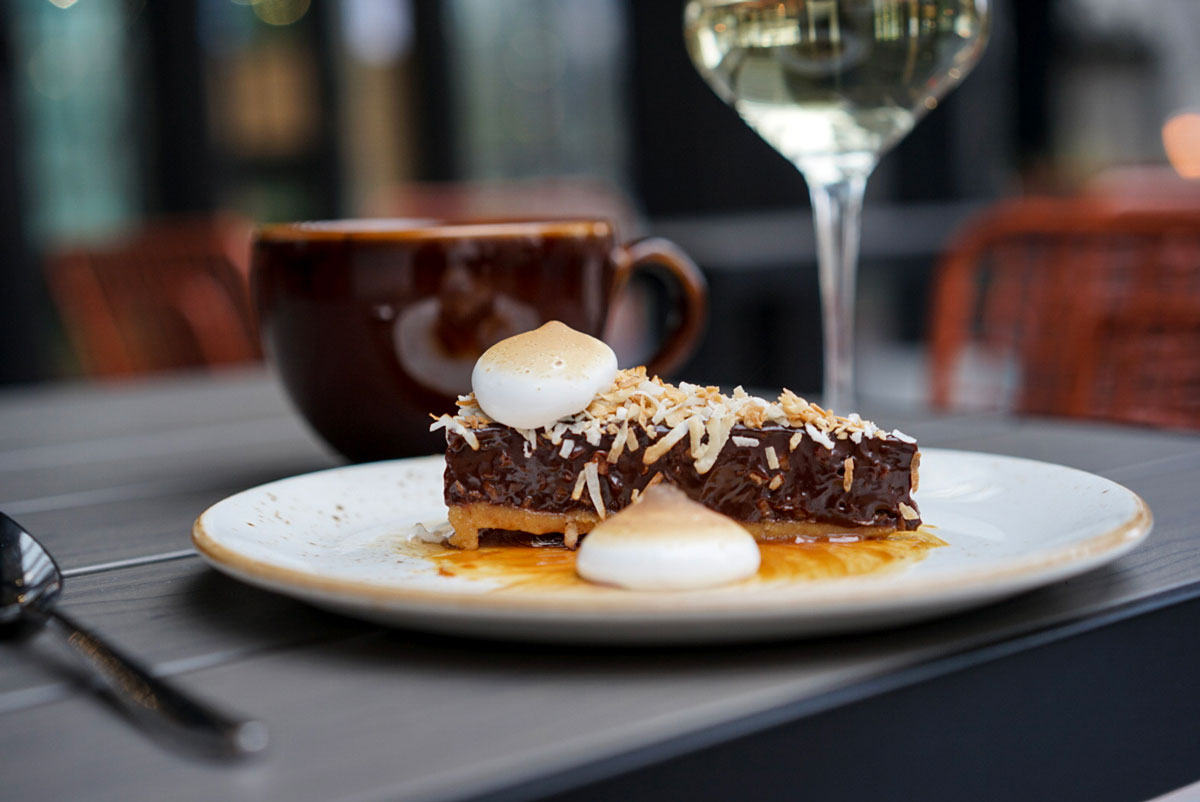 If you're looking for something more happy hour-style: El Viñedo Local
The earth-toned restaurant with copper accents and plenty of natural light is an inviting spot in busy Midtown. The name translates to the "the local vineyard" which means, yes, there's plenty of wine on hand. The emphasis is on South American wines (i.e. from Chile, Argentina, and Uruguay) but there are few others from around the world, too. Order a glass or a flight to be enjoyed alongside arepas, empanadas or heartier dishes like lomo saltado and ceviche.
If you want no-frills pub fare: Publik Draft House
Sure, PDH doesn't have frills, but it's right next door to the Fox and it has an absinthe bar —that might just be enough! Dishes here are what you'd expect: there's a giant Bavarian pretzel with beer cheese sauce, burgers, and fried chicken. One thing you might want to take note of is a late night menu that runs until 11:00 p.m. Sunday through Wednesday and until 1:30 a.m. Thursday through Saturday. This will come in handy when those hunger pangs kick in after a show.
If you want to get away from the kids: The Vortex
The Vortex isn't the only adults-only place in Midtown, but it's probably the one that makes the most sense before catching a show at the Fox—it's just under a half-mile walk, after all. It's also just great, gluttonous fun, from the kitschy decor to the over-the-top menu items like towering burger stacks and "disco taters" covered in sausage gravy and cheese.
If you're feeling fancy: Marquee Club
The 10,000-square-foot club located within the Fox Theatre is a beaut—there's a five-foot blown glass chandelier and plenty of space to spread out from the mezzanine lounge to the rooftop—and it costs about $55 for single event access (that price can change depending on the show, availability, etc.). Your pass includes early access to security starting one hour before show time, complimentary food and desserts, and expedited bar access. The thing that might really make it worth it? Expedited bathroom access—have you seen those lines?? You can also buy a membership if you want to make this a pre-show ritual.
If you're craving pho: Anh's Kitchen
A quick, not even 10-minute walk up Peachtree lands you at Anh's Kitchen, on the ground floor of an apartment building. Here, you'll find a cozy atmosphere and delicious Vietnamese dishes including banh mi, vermicelli bowls, clay pots, and fried rice. (And for folks with cars, if you park in the deck, they'll validate up to two hours.)
If you want a quick bite:
Maybe you want to save the razzle dazzle for the performance. In that case, something quick and casual might be in order. Consider Taste of Greece, which has the classics like gyros and Greek salad and is only a two minute walk from the Fox. Or there's the Collective Food Hall at Coda—home to El Burro Pollo, Aviva, Humble Mumble, and SmoQ'n Hot Grill—which may be the way to go if you're dining with someone who wants to eat something completely different from what you're craving. Further north is Rreal Tacos, with al pastor on a spinning trompo and deep fried avocado.