Atlanta summers always encourage patio-seeking behavior, but in 2021, specifically? Sitting in a well-ventilated spot with a drink in hand is practically an obligation. Whether you're looking for fancy cocktails, family-friendly fare, French bistro affectations, or just french fries and beer, here's where you can do your duty.
---
Nicest patio in town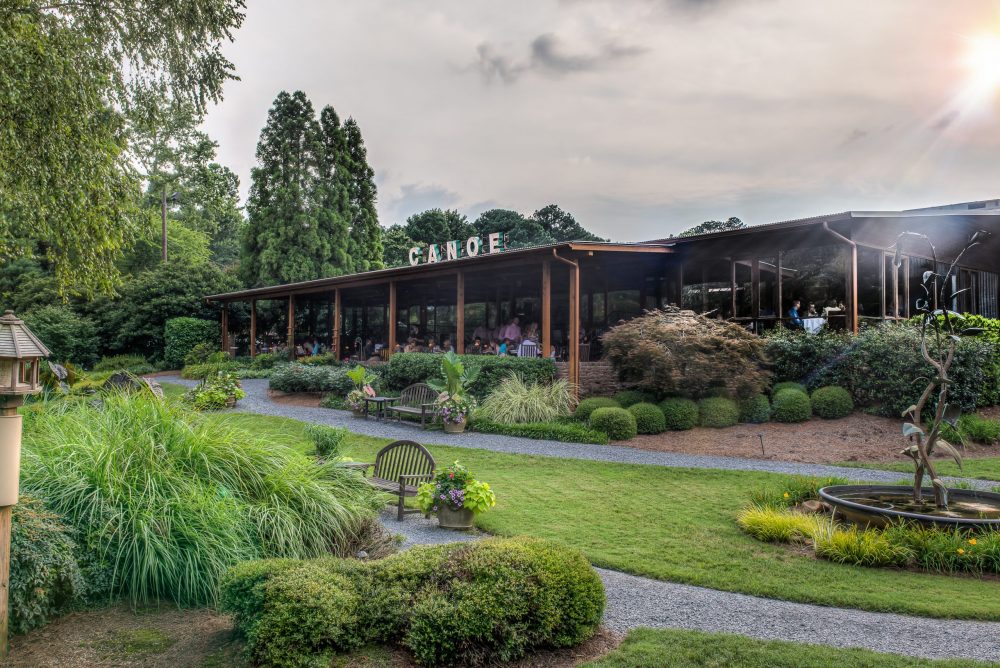 Canoe
4199 Paces Ferry Road Southeast, Vinings, 770-432-2663

The scene: Words like "bucolic" were coined to describe the al fresco situation at Canoe, which makes the most of prime Chattahoochee-facing real estate with a covered patio, lawn seating, and a riverside bar ideal for an early-evening aperitif. Plus, there's live music every Wednesday night through the end of June.
The food: If you're not set on an evening engagement, the best way to fully appreciate this patio is Sunday brunch and its terrific Georgia pecan sticky buns and brioche French toast. The duck-and-beef burger doesn't disappoint, either.
The drinks: Keep it classic with a mimosa or a bellini.
---
Morning cup of coffee
The Chastain
4320 Powers Ferry Road Northwest, Chastain Park, 404-257-6416

The scene: It was once the Horseradish Grill, but an extensive renovation transformed this space into the Chastain, a Napa-meets-Atlanta bistro. Boasting an oversized fire pit, no shortage of greenery, and ample spaced-out seating, the huge patio is especially lively in the morning, when families from the surrounding neighborhood gather for counter-service breakfast.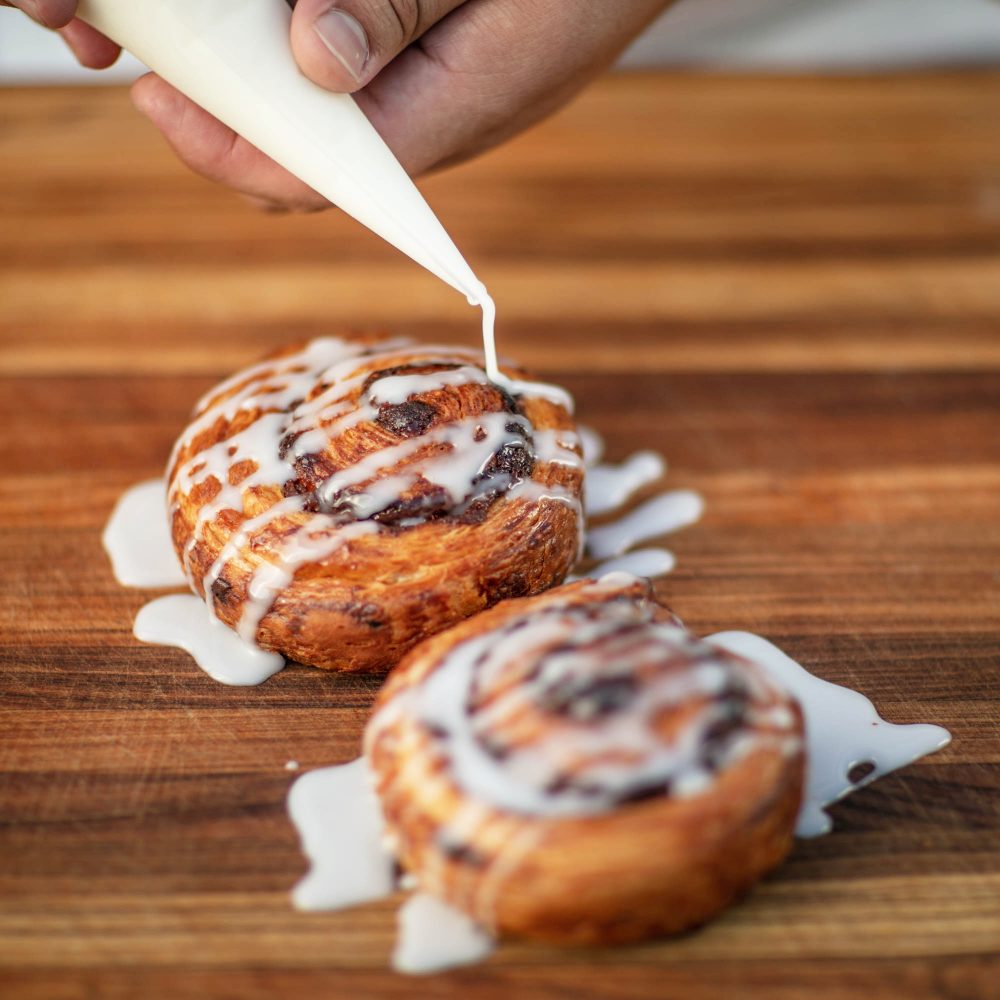 The food: Decadent pastries including croissants and a chocolate hazelnut roll; a hearty bacon, egg, and cheese biscuit; sheep's milk yogurt topped with fruit
The drinks: Hot tea, locally roasted Brash coffee
---
Good old southern summer
Anna's BBQ
1976 Hosea L Williams Drive Northeast, Kirkwood, 404-963-6976

The scene: Anna Phelps keeps it casual and convivial at this neighborhood spot. Order some of her famous slow-cooked brisket or pork at the counter and grab a seat at one of the outdoor picnic tables, but be warned that Anna's closes once the food sells out—best to get here early.
The food: Classic meat platters and sides like mac and cheese, plus hefty sandwiches such as Destiney's Smoked Fire Drill: pulled pork (or chicken), cheese, jerk sauce, hot sauce, and ranch
The drinks: Strawberry lemonade, fountain drinks. If you want something stronger after eating, head to Taproom Coffee & Beer across the street.
---
Can't sit still
The Interlock
1115 Howell Mill Road Northwest, Westside

The scene: An open-container license means you can grab a drink and wander throughout the Interlock, a new mixed-use development with more than 100,000 feet of retail space at 14th and Howell Mill Road. It's anchored by the Bellyard hotel, with several restaurants and bars throughout.
The food: Wander around and find out! At the very least, you'll bump into French pastries at St. Germain Bakery and small bites at Drawbar, a restaurant in the Bellyard.
The drinks: The open-air Holiday Bar specializes in craft cocktails, while self-serve beer is available at Pour Taproom. Coffee's the ticket at Prevail Union.
---
Adult-friendly + kid-approved
Wade's
1061 Concord Road Southeast, Smyrna, 678-239-4147

The scene: At this spot overlooking leafy Concord Road Linear Park, kids can romp while parents converse at picnic tables on a ground-level terrace space. For a more adult vibe, head to the upstairs patio, open for the 21-and-up crowd from late afternoon into the evening.
The food: Fun spins on bar food, like fried cheese curds with roasted garlic ranch and the Shotgun Wedding, a turkey burger topped with peach chutney, capers, and cacio e pepe mayo
The drinks: Standard bar stuff, plus fruity and citrusy original cocktails like the Strawberry Fields on Fire (jalapeño-infused tequila, lime juice, agave, and strawberries)
---
Skyline views + street snacks
Hotel Clermont
789 Ponce De Leon Avenue Northeast, Poncey-Highland, 470-485-0485

The scene: A handful of floors above Atlanta's iconic strip club, the Clermont's rooftop bar offers sweet panoramic views of the city and beyond. The vibe is Mad Hatter's tea party, with astroturf, colorful garden tables, and lounge chairs.
The food: From the same kitchen as downstairs French joint Tiny Lou's but more low-key—think chili cheese fries, cheddarwurst, pit beef sandwich
The drinks: Rosé (of course), a few local beers, and well-crafted cocktails like the boozy Bramblin' Man (bourbon, cassis, ginger liqueur, and ginger beer)
---
French fries + fancy cocktails
Leon's Full Service
131 East Ponce de Leon Avenue, Decatur, 404-687-0500

The scene: Once a gas station, as the name suggests, this hotspot in the heart of Decatur retains some retro flair. Lit with twinkling lights, the covered gravel patio is prime people-watching territory.
The food: Leon's has got the range, with the ability to turn out both thoughtful, locally driven dishes (rainbow trout with spring veggies from Tucker Farm) and satisfying bar fare (bucket of fries with a choice of two sauces—get the smoked tomato mayo).
The drinks: Seasonally changing cocktails range from inventive—an amaro daiquiri with blood orange, lime, and bitters—to classic, like the Bee's Knees with gin, honey, and lemon. Bonus points for well-crafted zero-proof options.
---
Madrid by way of Sandy Springs
Under the Cork Tree
5600 Roswell Road Northeast, Sandy Springs, 404-228-7470

The scene: Bistro lights and red umbrellas create an inviting ambience at this Sandy Springs Mediterranean-inspired restaurant, which has live music on Fridays and Saturdays—making it well worth lingering here over a bottle of wine.
The food: Spanish-accented, with paella, jamon serrano, and tapas including salt-cod croquettes and saffron mussels
The drinks: Pitchers of sangria, wines like Pinyolet Garnacha from Montsant, Spain
---
En plein air
Bread & Butterfly
290 Elizabeth Street Northeast, Inman Park, 678-515-4536

The scene: Alexa, play "La Vie en Rose." The porch at Inman Park's Bread & Butterfly is downright chic, with steel doors that let in air and sunshine, stamped tile floors, bistro chairs, and a wall with green subway tile. Seating spills out onto the sidewalk, and there's a covered patio as well.
The food: All-day breakfast (highlight: the giant pancake) and lunch items like the burger Americaine, topped with Gruyère, roasted onions, grain mustard, and aioli and served on a brioche bun
The drinks: Coffee bevs in the a.m., aperitifs (or a glass of rosé) in the afternoon
---
You can still get Pix fixe during a pandemic
Lazy Betty
1530 DeKalb Avenue Northeast, Candler Park, 404-975-3692

The scene: Chef-owner (and Le Bernardin alum) Ron Hsu and team were able to build a patio that's stylish and comfortable despite being steps from the parking lot. Parking will be the last thing on your mind, anyway, once the plates start arriving.
The food: Four-, seven-, and 10-course tasting menus change frequently to reflect the season but are unchangingly fantastic. One recent dish: celery root tortellini with chive oil, Parmesan fondue, and truffle vinaigrette.
The drinks: Classic cocktails like the Aviation (gin, Luxardo, lemon, creme de violette), Alta Alella brut rosé, and a rotating shrub for the booze-free crowd
---
Brews in the burbs
Gate City Brewing Company
43 Magnolia Street, Roswell, 678-404-0961
The scene: Roswell is a happening suburb—need proof? See this convivial brewery in two former mechanic shops just off Canton Street. Blurring the line between inside and out, giant garage doors open from the taproom onto a laid-back exterior space with plenty of picnic tables.
The food: None prepared in-house, but you can order from nearby restaurants (there's a taco place just next door . . . ), and food trucks sometimes park here
The drinks: Five core beers—from an amber ale to an IPA—join seasonal options like the Tarty McFly (raspberry sour ale), adding up to 20 pours on tap at any given time.
---
Big garden-party energy
Willow Bar
374 East Paces Ferry Road Northeast, Buckhead, 470-531-8902

The scene: Grand picnic, but without the ants/black flies/grass stains. Located behind the Kimpton Sylvan, this elegant new watering hole boasts a wicker-accented marble bar and covered outdoor-dining area—so you can lounge in the shade even when it's scorching out.
The food: Plant-forward as befits the overall vibe, with snacks like a seasonal pickle plate, charred cauliflower with avocado, and a falafel burger. Also, oysters and charcuterie.
The drinks: Easy summer sippers (sparkling wines, whites, rosés) and herby, fruity cocktails like a G&T with shochu and yuzu herb tonic
---
Tacos to treasure
El Tesoro
1374 Arkwright Place Southeast, Edgewood, 470-440-5502

The scene: This Edgewood treasure (literally, that's "tesoro" in Spanish) expanded its patio during the pandemic into a festive, over-8,000-square-foot space under brightly colored awnings and umbrellas—the better to accommodate the throngs lining up for some of the best tacos, burritos, and tamales in town.
The food: Chef Cristina Lugo Soto and her daughter, Mayra, make barbacoa with chili guajillo salsa; spicy pork in green sauce; tamales filled with creamy poblanos, mushroom, and squash; and much more besides, including breakfast on weekends. Don't skip the churros.
The drinks: Housemade horchata, Topo Chico, Counter Culture coffee, plus a full bar
---
By the BeltLine
Ladybird Grove and Mess Hall
684 John Wesley Dobbs Avenue Northeast, Old Fourth Ward, 404-458-6838

The scene: People flock (sorry) to this BeltLine fave, which goes for a summer-camp vibe (but with booze and, frankly, much better food): lots of outdoor tables, lawn space, and hanging lights overhead.
The food: Smoked salmon dip, smoked chicken wings, smoked chili cheese dogs—sensing a theme?
The drinks: Local beer, Bloody Marys for brunch
---
Bosnian in a brewers' haven
Best End Brewing
1036 White Street Northwest, West End, 404-590-3681

The scene: For travelers on the BeltLine Westside trail, this spot is hard to miss—look for the vibrant murals on the side of the rambling Lee + White adaptive-reuse complex, which also houses Monday Night Brewing, Wild Heaven, and kombucha makers Cultured South. Best End is hip but very much come-as-you-are, with no shortage of outdoor seating, from Adirondack chairs around fire pits to communal tables.
The food: Sourcing from a butcher in Lawrenceville, chef Adi Komic draws on his heritage to assemble Bosnian charcuterie and dishes like the Balkan burger, topped with American cheese, the Bosnian cream cheese kajmak, slaw, and sweet pickles. There's also pizza and wings.
The drinks: Well, beer—Best End brews more than a dozen, including limited releases and the Neopolitan Dino Might, a milk porter with vanilla, chocolate, strawberries, and lactose—plus hard seltzer and tiki-ish cocktails
This article appears in our June 2021 issue.