Two years ago, chefs Parnass Savang and Rod Lassiter launched Talat Market as a humble pop-up at Gato in Candler Park. Their unique concept—Georgia-inflected Thai food—was a hit with crowds and critics, landing on Bon Appétit's list of the country's 50 best new restaurants and earning Savang a spot last year as a James Beard Award semifinialist. The duo's Kickstarter for a brick-and-mortar restaurant raised $21,565, and now, after ending the Gato pop-up last August, they're at work on a 1,700-square-foot, full-service version of Talat Market in Summerhill, which they say will open this summer.
Located in a former market at 112 Ormond Street, Talat Market will have a seasonally changing menu with 12-15 dishes—similar to the pop-up. Savang says the plan is to incorporate locally sourced ingredients as much as possible, as well as an unusual one here and there.
"When I go to a restaurant, I like to order one thing that's crazy," he says. (His first menu at Gato featured fried chicken feet.) "So we'll always have one dish that will test people's palates, like pig brains grilled in banana leaf."
While the menu will rotate, there will always be two stir-fried dishes and two large-format dishes—think whole fried fish with fried shallots, garlic, and lemongrass, paired with a tart dipping sauce, or braised five-spice pork leg with pickled cooked mustard greens, chilies, and fresh garlic.
The menu will also feature two soups, such as geng jeut muu (pork broth with pork ribs and daikon) and yum phonlamai (seasonal fruit with shrimp powder); two salads, such as green mango with dried squid; and two relishes (dips), such as nam prik ong, a pork-and-tomato dip seasoned with fish sauce, curry paste, and fermented soybeans. Talat Market will offer two curries, including geng dang gai (red curry chicken with pineapple).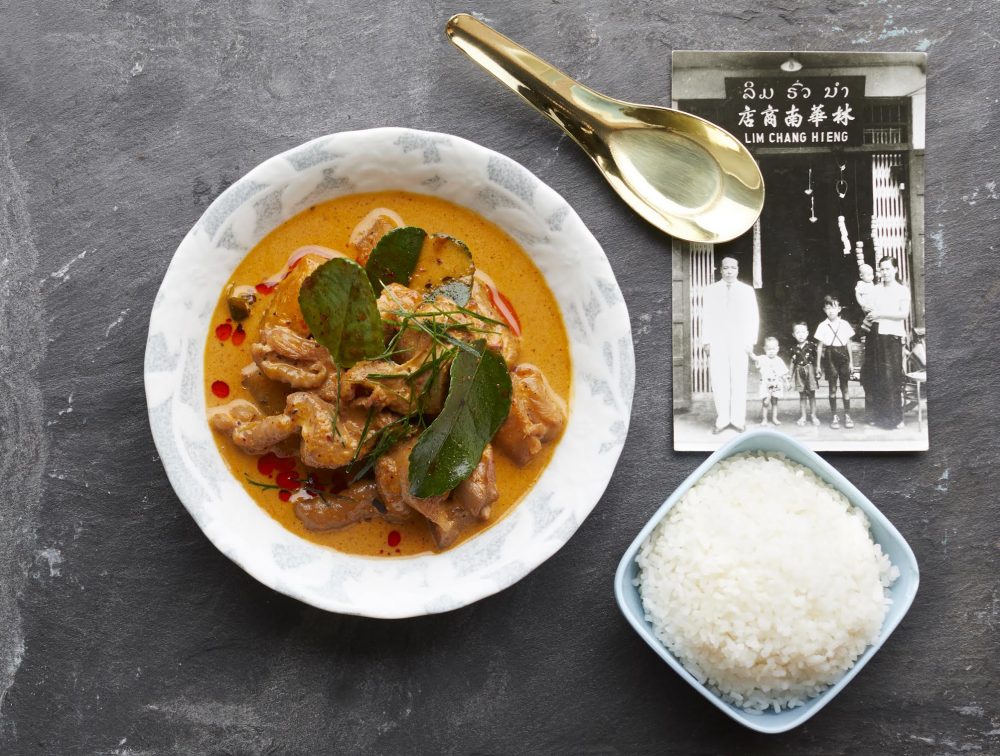 "Talat" means "market" in Thai—a nod to the Thai and Lao markets Savang's family frequented.
"My mom grew up in a fruit market in Thailand and I spent summers there, so we'll always have a fruity salad," Savang says. "[One of the curries will be] a red one—a dish that harkens back to my paternal grandma."
The restaurant's bar is designed to look like boat as a "throwback to my maternal grandma, who sold watermelons on a boat in the floating market in Thailand," Savang says.
Talat Market will offer a small beverage program of Thai and Lao beers, wine, and cocktails. During a visit to Thailand, Savang also purchased a machine that turns bottled beer into slushies.
The dining room will be designed to feel like a mid-century Thai home but with some American touches. It'll have 1960s-style cabinets, cable-reel tables with Lazy Susans, and a painting of Savang's paternal grandmother on the wall, along with a large picture of the former Thai king, purchased from a museum in Bangkok. The antique plates and decor come from Chiang Mai. The restaurant seats 40 people inside and 10 on the patio.
While preparing to open Talat Market, Savang has stayed busy hosting pop-up events around town, including a recent Thai New Year celebration at Empire State South with Snackboxe Bistro's Thip Athakhanh and a late-night pop-up at Brush Sushi Izakaya. Keep up with the progress and pop-ups on Talat Market's Instagram.