Chef Jarrett Stieber, of the long-running pop-up Eat Me Speak Me at Gato and later S.O.S. Tiki Bar, is just about ready to open his first brick-and-mortar restaurant, Little Bear. Located in Summerhill, the intimate, 30-seat spot will serve seasonal small plates made with local ingredients.
Stieber describes the food as "locavore satirica gastronomica" or "New American fine dining without the price tag or the attitude." He says it's whimsical, playful and "very Southern" in its ingredients. As for style, the menu takes influence from Korea, China, South America, and the Mediterranean.
"For people who are familiar with Eat Me Speak Me, it's a continuation of what we started—a more complete picture of what the food was before. We're going to try to push it a little more, too," he says.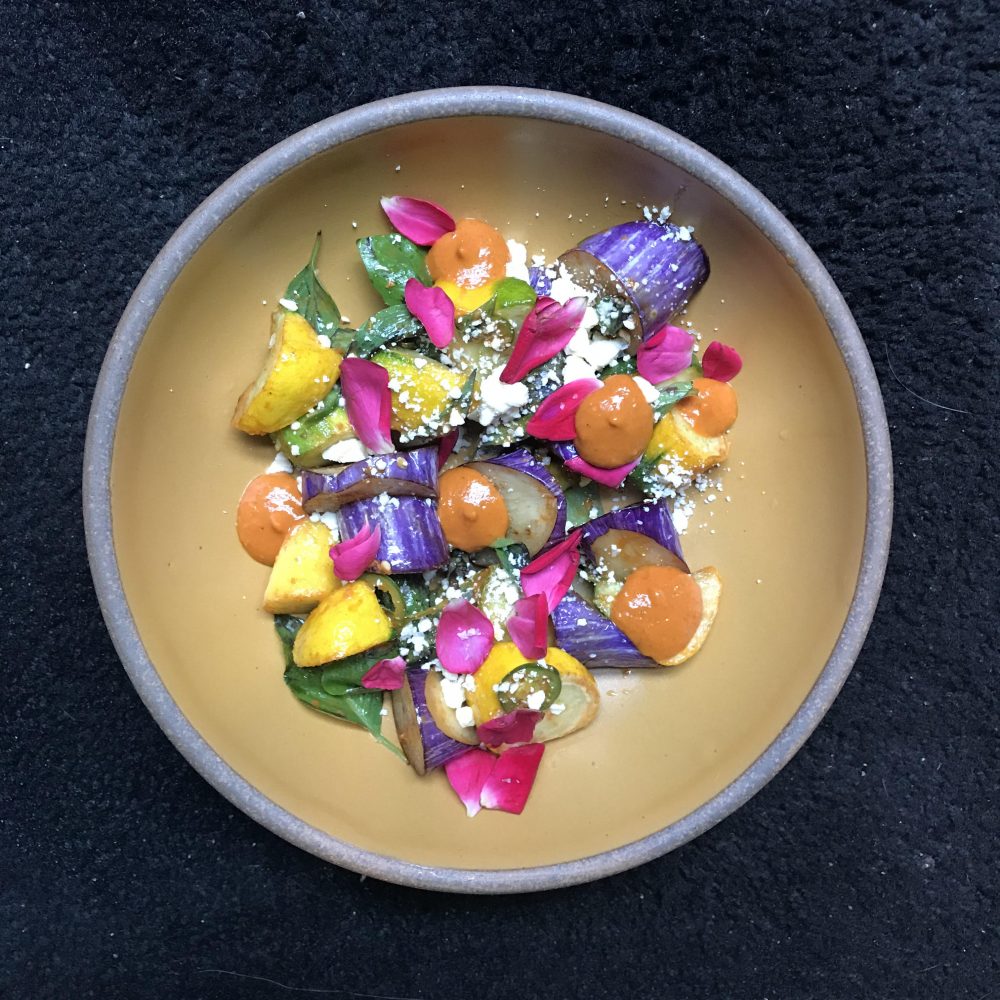 The menu is divided into "hot," "cold," and "sweet," with items ranging from $7 to $13. The menu will change two or three times a week to reflect the produce in stock. Though it will be vegetable-forward, it will likely include a sausage dish, a beef tartare or sashimi, and blondies in whiskey milk for dessert. There will be two styles of tasting menus: the "omakase" features six courses of smaller versions of menu dishes for $50-$60, while ordering "F*ck Me Up Fam" offers the entire menu at a discounted price.
Little Bear's beverage program will be led by Kate Flowe (previously of Watchman's, Kimball House, Staplehouse, and Octopus Bar.) Her drink list is categorized into "light," "medium," and "heavy."
"The idea is to demystify the wine, beer, and cocktails," Stieber says. "We're not going to be so concerned with pairings. Our food tends to be very herbaceous or spicy, so we're looking for food-friendly wines that drink well with different flavors."
Wines will primarily be biodynamic, all sourced from small producers by Avant Partir distributors out of Portland, Oregon. There will be six by the glass, and a couple will change weekly. Beer is limited to four options, including one from Halfway Crooks across the street. Like the food, the cocktails will use ingredients made in house, including shrubs and vinegars.
Stieber says Little Bear will also push drinking desserts, such as "handshake-sized pours" of amaro, vermouth, and raspberry eau de vie, as served in Montreal, Canada.
"It's a fun, hospitable type of thing," he says.
Named after Stieber's Great Pyrenees dog, who looks like a small bear, the restaurant is designed to reflect the original brick and exposed rafters of the 1900s building it's housed in. Local artist Wihro Kim is creating a mural on the bar top, and the space will be decorated with string lights and shades of eggshell. One wall will display on-sale paintings and crafts from local artists.
"We want it to be warm, well-lit, and have a funny, nostalgic feel," Stieber says.
When Little Bear opens in December, it will serve dinner five nights a week—reservations accepted. [Update 2/7/20: After delays, Stieber announced on Instagram that Little Bear will officially open on February 26, 2020.] Stieber may host some additional preview dinners, but for now, you'll find him at a taco pop-up every other Monday at Halfway Crooks.