Takoyaki at Daisuki Sushi Izakaya
Johns Creek
If a restaurant has takoyaki on the menu, I am going to order it, no questions asked. Typically filled with octopus, green onions, and pickled ginger—then topped with a Worcestershire-like sauce, Kewpie mayo, and bonito flakes—the little battered balls are a street food staple in Japan, where you'll find piping-hot trays served at festivals, markets, and restaurants. It was the very first thing I ate on a visit to Tokyo a few years ago, when my husband and I split a tray at a train station for quick energy as we navigated our way from the airport to our hotel. For harried travelers, the warm, savory dish was pure comfort.
When I moved from intown to the northern suburbs, I once again found comfort in takoyaki—this time at Daisuki Sushi Izakaya, which opened in 2021 in Johns Creek. Calling in a takeout order, I was thrilled to find not only that my little Styrofoam carton had stayed warm on the short drive home but also that it was some of the best takoyaki I'd had. We quickly got to know the owners and looked forward to orders of fresh yellowtail rolls and eel bowls. We placed little paper cranes that arrived in our takeout bag on our mantle. Daisuki served our anniversary meal two years in a row.
As good as the takeout is, nothing beats ordering a boat of takoyaki at the restaurant itself, which my husband and I did on a recent dreary winter day. Sipping a frosty Sapporo lager and occasionally chatting with the owner behind the sushi bar, I couldn't help but be grateful that somehow I'd ended up close to this wonderful little neighborhood restaurant. —Myrydd Wells
---
Home away from home at the General Muir
Druid Hills and Sandy Springs
To New Yorkers, Avenue A is the street that runs north to south on the east side of Manhattan. To me, it's the name of one of the best breakfasts in Atlanta, courtesy of the General Muir: a plain bagel covered in cream cheese and Nova smoked salmon, then adorned with grapefruit and avocado pieces, dill, red onion, and cucumber. It's total eye candy (just scroll through the pictures on my phone), but it's also a bright twist on a classic deli combo.
The open-faced bagel sandwich first captured my attention when I moved to Atlanta in the fall of 2013. I grew up in South Florida, and the General Muir was a reminder of home, where no-frills New York–style delis abound. But the stylish yet comfortable restaurant, with its lofty ceilings, white subway tiles, and milk-glass lighting fixtures, was also not like home—it was shiny and new, and to a couple living in an unfamiliar city, that was exciting. The bagel, a cup of coffee, and conversation with my husband made for some great weekend mornings. Even when we moved to Smyrna, we were happy to occasionally make the 35-minute drive back. Now we live in Dunwoody, and there's a second location of the General Muir just 15 minutes away in Sandy Springs. This location has that beautiful subway tile, too.
But we're different now. We've lived here almost a decade, and when we go to TGM it's with our toddler in tow. She's a great breakfast date, even if that means I have to share a bite of my Avenue A—a problem I'm happy to have. —Lia Picard
---
Parathas from the freezer aisle
My family has a dependency on frozen parathas—and I know we're not alone.
A flaky and buttery flatbread traditionally made at home by rolling out little mounds of dough, folding them into layers, and inserting generous amounts of butter or ghee in between each layer, parathas are (I think) among the most exciting staples of South Asian cuisine. Still, homemade parathas are rare at our house—not just because I don't always have the time or patience to make them, but because the frozen ones have a star power all their own. You can find them at most South Asian groceries, stacked humbly in the freezer alongside the samosas or garlic naan. I recently bought some from Al Barakah on DeKalb Industrial Way, but you'll also see them at Cherians or Patel Brothers, often in bright red or green packaging bearing words and phrases like "homemade style," "value pack," and "authentic." (Tip: The best ones are "Malaysian-style.")
If anything, the frozen paratha companies are underselling their products. We once had guests over for Thai takeout. I was concerned we didn't have enough, so I quietly asked my husband to heat up some frozen parathas to fill out the meal. They were eaten within minutes, while the containers of green curry and pad thai sat idly by. My kids love them too. They complain about my humdrum weekday dal and rice dinners, but when I have parathas in my freezer, I don't need to worry about any looming food tantrums—I have an effortless secret weapon that will elevate any meal. —Sophia Qureshi
---
Halfway Crooks' nostalgic currywurst
Summerhill
In 2013, I experienced currywurst for the first time on a work trip to Berlin. I fell in love with the area quickly and, in particular, I fell in love with currywurst. I ate it every day, and enthusiastically visited the Deutsches Currywurst Museum (RIP)—still one of my top 10 museum visits ever. In a few short days, I became a diehard currywurst enthusiast.
Back in the U.S., there wasn't a currywurst in sight. For years, I've tried making my own, but with limited success. I've experimented plenty, but nothing really captured the flavor I came to love in Berlin. Imagine my joy, then, when Halfway Crooks added a currywurst to its Oktoberfest menu. And imagine my absolute elation when they kept the currywurst on the menu after Oktoberfest was over!
Currywurst is simply a sausage with curried ketchup, but to do it right takes finesse. Halfway Crooks does it right: Their currywurst is the only one I've had stateside that transported me back to Berlin with the first bite. It's one of my must-try foods in Atlanta, and one I get almost weekly on my frequent Halfway Crooks visits. (Check out the upstairs area: It's perfect for enjoying the nice weather, sitting with a book, or meeting friends.) —Julia Skinner
---
A cold beer on the patio at El Tesoro
Edgewood
There's no wrong way to enjoy Atlanta's Best Patio, but this is how I do it. First, I put in a to-go order for my family: a Frontera burrito done "vegetarian" for my wife, with black beans and no rice. (Tesoro's rice is cooked in chicken stock.) A fish taco on corn for my five-year-old. Queso for the whole team. My order varies: sometimes a barbacoa mulita, sometimes a puerco verde burrito with charro beans, sometimes a couple-two-three tacos.
But then the most important part of the experience: a local, ice-cold, draft lager while I wait. If they have something by Halfway Crooks on tap, I order it—doesn't matter what. For my money, the Summerhill brewery makes the best lagers in the Southeast. I take my local lager back to the northeastern corner of the patio, the 21-plus area, where I find a table or lean on the fence. Then it's a mix of people-watching and Twitter-scrolling, two of my favorite activities. Kids pummeling each other. Couples with a day-drunk glow. Folks yelling at soccer. A bunch of dumb posts on the hellsite. It's just about perfect. I sip my beer, everything is beautiful, nothing hurts.
If it's above-average hot out or I'm feeling a little mischievous, I might drink my lager quickly and get another before the food is ready. If not, I luxuriate in it. No wrong answers. Just satisfying beer and ATL bustling around me. Long live Tesoro's perfect patio. —Austin L. Ray
---
Kouign-amann wherever it can be found
The kouign-amann craze has come and gone, but some of us are still holding on. The French pastry started gaining traction in the U.S. several years ago, possibly linked to the passion for things sweet, buttery, and flaky—remember the cronut? The croffle? The cruffin? But the kouign-amann preceded all those, no mere 21st-century Frankenpastry but something with deep roots in Brittany, where it was invented in the 1800s. The name combines the Breton words for butter and cake: It's a laminated dough, like croissant or puff pastry, but with sugar between the layers and all around the outside. The sugar darkens in the oven; the butter seeps out from the dough; the finished product is one of the best things I've ever tasted, its bronzed, caramelly shell concealing a rich and fluffy interior. It's a reminder of the magic of pastry, in which the same few ingredients can be endlessly remixed and, frankly, alchemized: You take flour, butter, and sugar and end up with gold.
The basic version's good enough. But in one variation at Evergreen Butcher + Baker (Kirkwood), the kouign-amann's million buttery layers enwrap a gooey little dollop of bittersweet chocolate—in other words, absolute perfection. Down the street at Perc Coffee  in East Lake—and across town, at Perc's Virginia-Highland location—the kouign-amann is filled with fruit jam, which provides a slightly tart counterpoint to all the sweetness and light. Little Tart Bakeshop has been known to do a matcha-and-strawberry version; no doubt the variations are endless, hopefully ensuring the kouign-amann's reign among pastries for centuries to come. —Sam Worley
---
Crispy pork hot pot at Chong Qing Hot Pot
Chamblee, 770-936-1379
When Chong Qing opened in the early aughts, there weren't many restaurants offering Sichuan food in Atlanta. In that way, the city was like rural Alabama, where I grew up. So when I moved here in 2017, eight miles from the Chinatown Mall, Chong Qing Hot Pot's crispy pork hot pot was a revelation. It still is: The $12 dish can feed two people and is served in a large metal bowl, filled to the brim with a spicy, garlicky, chicken-broth base; slices of zucchini, carrot, napa cabbage, and tofu; glass noodles; and, most importantly, breaded and fried strips of crispy pork—over a bit of jellied alcohol lit on fire at your table to keep the hot pot hot.
Even when my husband and I bought a house directly across the metro, and even after a pandemic hit a few months later, we still made the (now 20-mile) trek often, masking up to order the hot pot to go and then eating it outside, in a courtyard at the center of the mall, next to a garden with Japanese maples, statuaries, and a red footbridge stretching over a little koi pond. Chong Qing offers free, all-you-can-eat egg drop and hot-and-sour soups, and jasmine tea while you wait, but save room for dessert from nearby Dinho Market. And give yourself time to wander around the mall: Comedy Plus often has a small and delightfully random assortment of plants for sale on the sidewalk. —Heather Buckner
---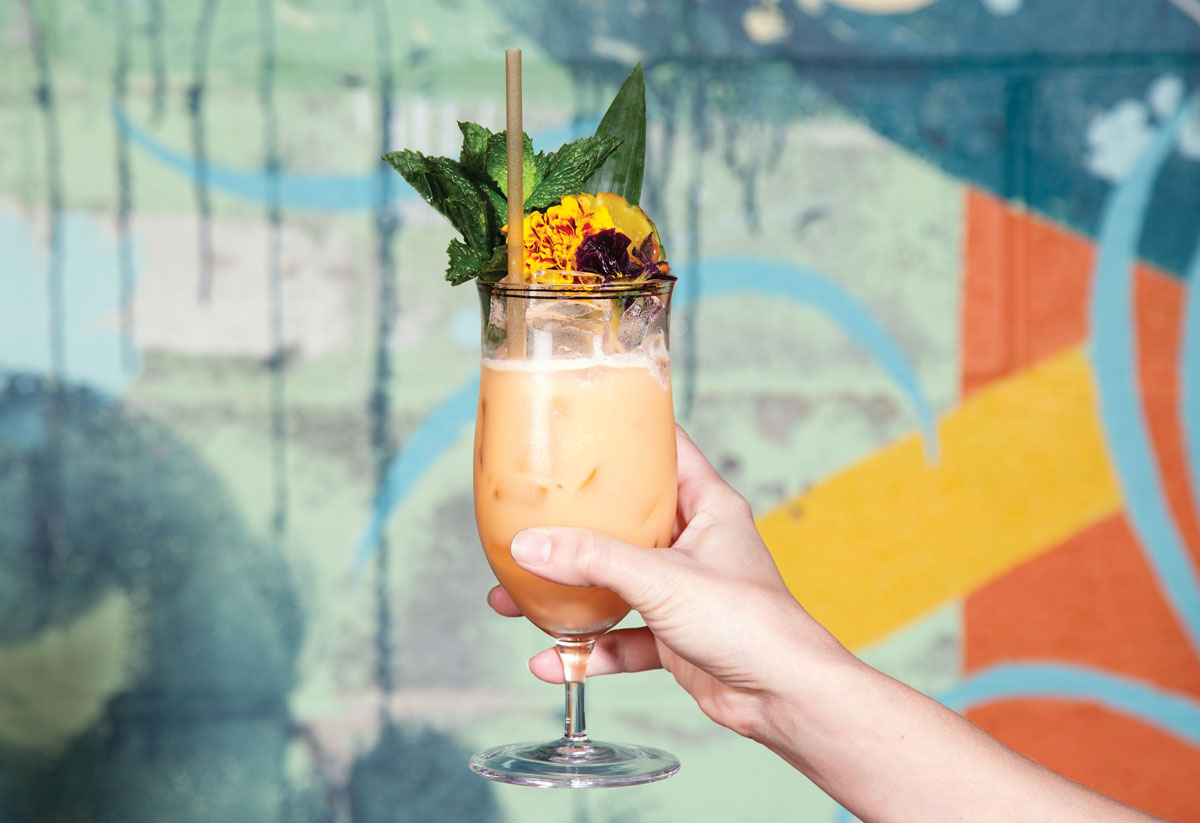 The colorful Thai Tea-ña Colada at Talat Market
Summerhill
If you asked Adrian, the bar manager of Talat Market, what my favorite drink on the menu is, she'd say it's the house martini with gin. And that might be my usual—but it's the Thai Tea-ña Colada that stole my heart and remains my true favorite.
What makes this version special is the pineapple juice, which is pressed fresh in-house. So is the coconut milk for the coconut cream—Talat makes good use of the traditional Thai coconut press in the kitchen. Then of course there's the Thai tea, whose spices—cardamom, cinnamon, star anise—complement everything perfectly. The drink is garnished with an over-the-top assortment of herbs and seasonal, edible flowers, with each barkeep adding their own flair; watching them work is half the fun. The result of all these steps is everything a colada should be: creamy, fresh, and refreshing, with the right amount of sweetness. It makes sipping through all the previous, subpar ones worth it. —Shannon S. Evans
This article appears in our February 2023 issue.