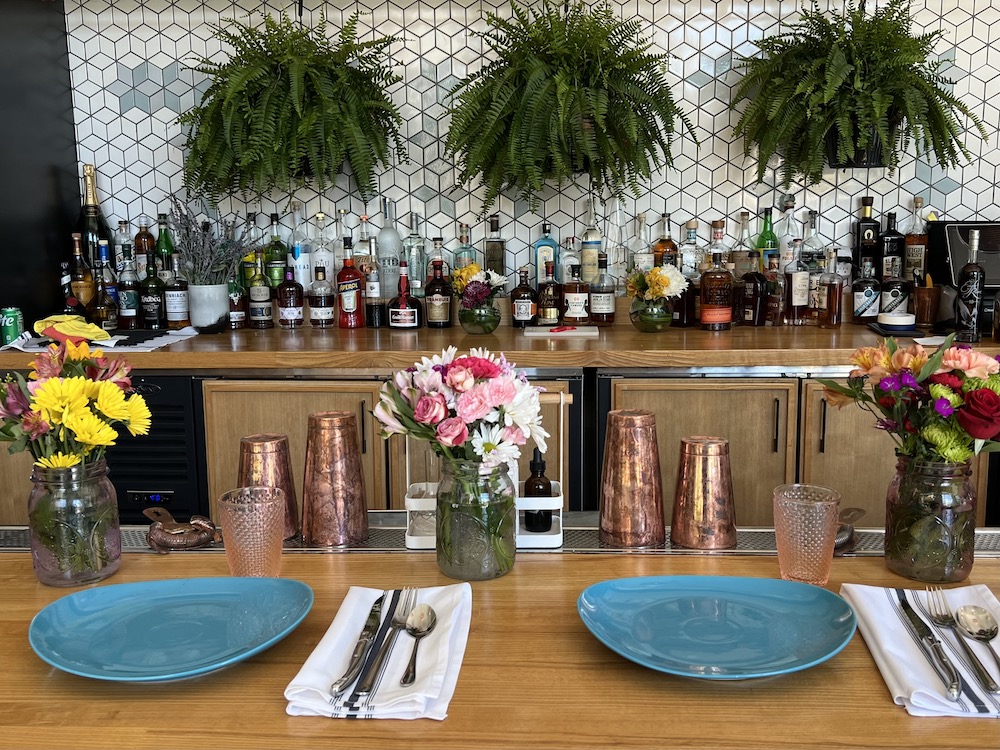 A new, seasonally changing bar has risen on the Westside. Formerly Tin Tin, Spring Bar is chef Nick Leahy's latest creation, serving small plates and specialty cocktails inspired by the seasons. Located in the space most recently used for overflow from Nick's Westside, Spring Bar will evolve with the weather, becoming Summer Bar, Autumn Bar, and eventually, Winter Bar.
"It's a natural extension of Nick's Westside," Leahy explains. "It takes our ethos of local farms and global flavors and gives it another layer."
He envisions guests starting at Spring Bar for a drink and appetizer before moseying over to Nick's for dinner. "That was the rhythm we saw when we [used the space] for St. Nick's Holiday House of Cheer [pop-up]," he says. But instead of Christmas trees and gifts, the space is adorned with greenery and springlike art.
The menu follows suit, with options like ropa vieja empanadas with turnip tops and spring vegetable salsa verde, whipped goat cheese crostini with English peas, mint and radish, roasted scallop ravioli with shrimp brodo and spring-herb butter, and artichoke barigoule with Georgia Grown pork and spring herbs. "Spring is one of the more exciting seasons as a chef because it's nice to see the green vegetables spring up after cooking root vegetables for so long. The gardens coming back to life," Leahy says, noting that he'll likely update the menu weekly.
Much of the produce will come from the onsite garden, which features figs, persimmons, peaches, herbs, microgreens, tomatoes, peppers, rhubarb, and asparagus. "Last year, we didn't buy a tomato from June to October," he says.
The cocktails utilize a similar ethos, from the What's Up Doc, with carrot-infused Rye, carrot juice, ginger, and lemon to the Travelin' Light with orange peel-infused tequila blanco, garden rosemary-infused vermouth blanc, Triple Sec, and lime. Beer and wine lists will be shared with Nick's Westside. Diners who want to enjoy the fresh air can also sit on Nick's 50-seat patio and order from Spring Bar.
Try it while you can—summer officially starts June 21.